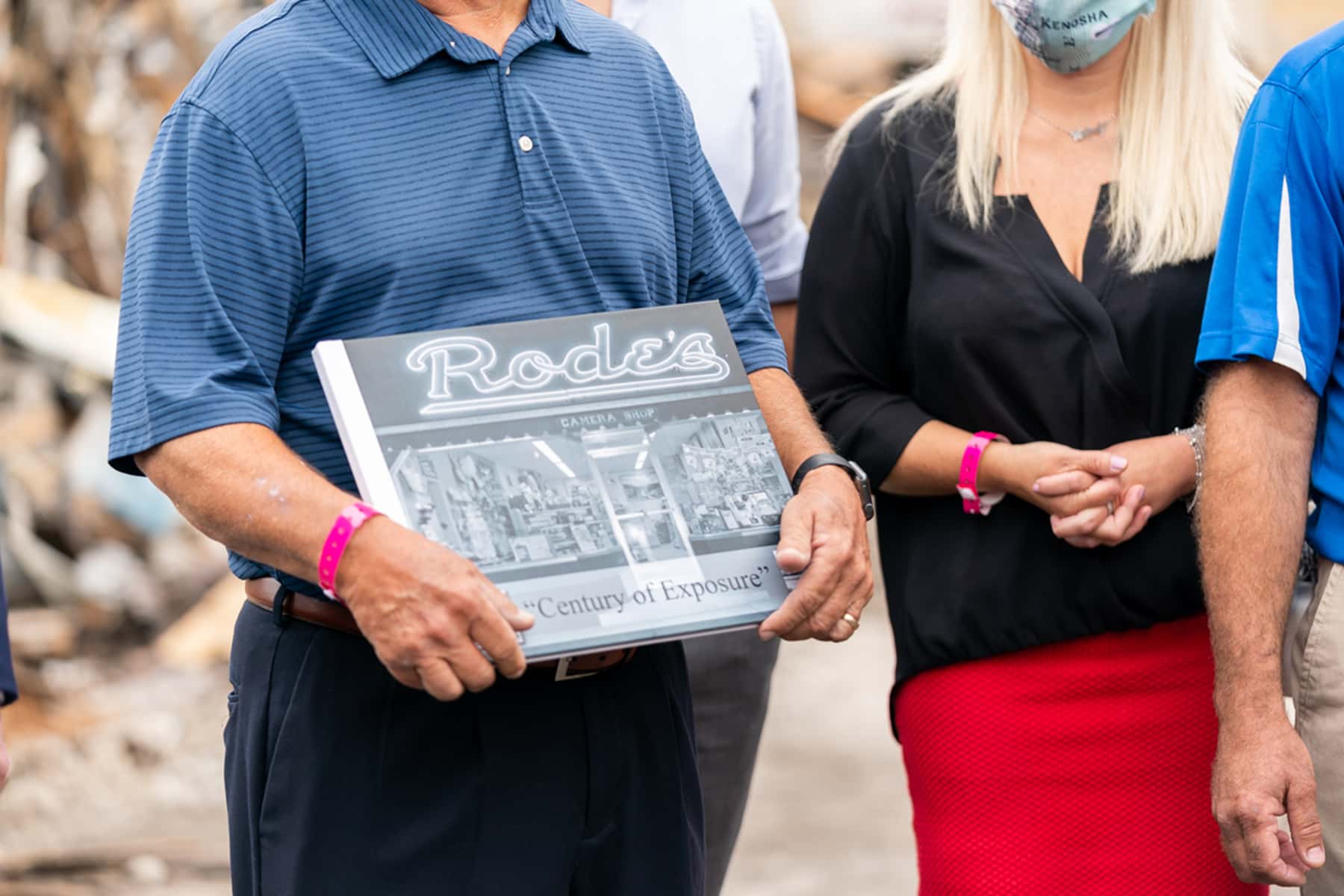 Tom Gram bought the business eight years ago though he does not own the building, which was destroyed by fire during recent protests.
The owner of a camera shop that was destroyed in Kenosha and highlighted during Donald Trump's visit on Tuesday, September 1, said the president used his store for political gain by appearing with a former owner of the business – as Joe Biden announced he and his wife Jill will visit the Wisconsin city on Thursday.
Tom Gram said he bought the Rode's Camera Shop business from the Rode family eight years ago, though John Rode still owns the property. Gram's four decades of work at the store came to an end on August 24, when the building was destroyed by fire during protests over the police shooting of Jacob Blake.
Gram said he declined an invitation from the White House to join the president on a tour to review damage in the neighborhood sustained after Blake, an African American, was shot by a white officer on August 23.
He said Trump's references to Rode during the press conference as the owner of the business were deceptive.
"I think everything he [Trump] does turns into a circus and I just didn't want to be involved in it," Gram told Milwaukee TV station WTMJ-TV.
Trump did not visit the site of the shop, but Rode met with him a few blocks away and participated in a roundtable with the president. The president did not mention Jacob Blake during his visit and has not spoken to or met with the family. Blake's father and uncle have indicated they were not interested in meeting Trump.
Trump's visit came over the objections of state and local leaders, who feared he could inflame tensions in the small city with divisive talk or actions as part of his "law-and-order" election agenda. Kenosha saw several nights of unrest after the shooting, which splintered on the fringes into violence then spiraled into chaos last Tuesday night, August 28, when armed white agitators appeared on the streets and confronted protesters.
Shealah Craighead / The White House, Еvаn Vuccі, and Google Streetview
These headline links feature the daily news reports published by Milwaukee Independent about the George Floyd protests, the revival of the Black Lives Matter movement that followed, and their impact on the local community in for 8 months from May to December of 2020.