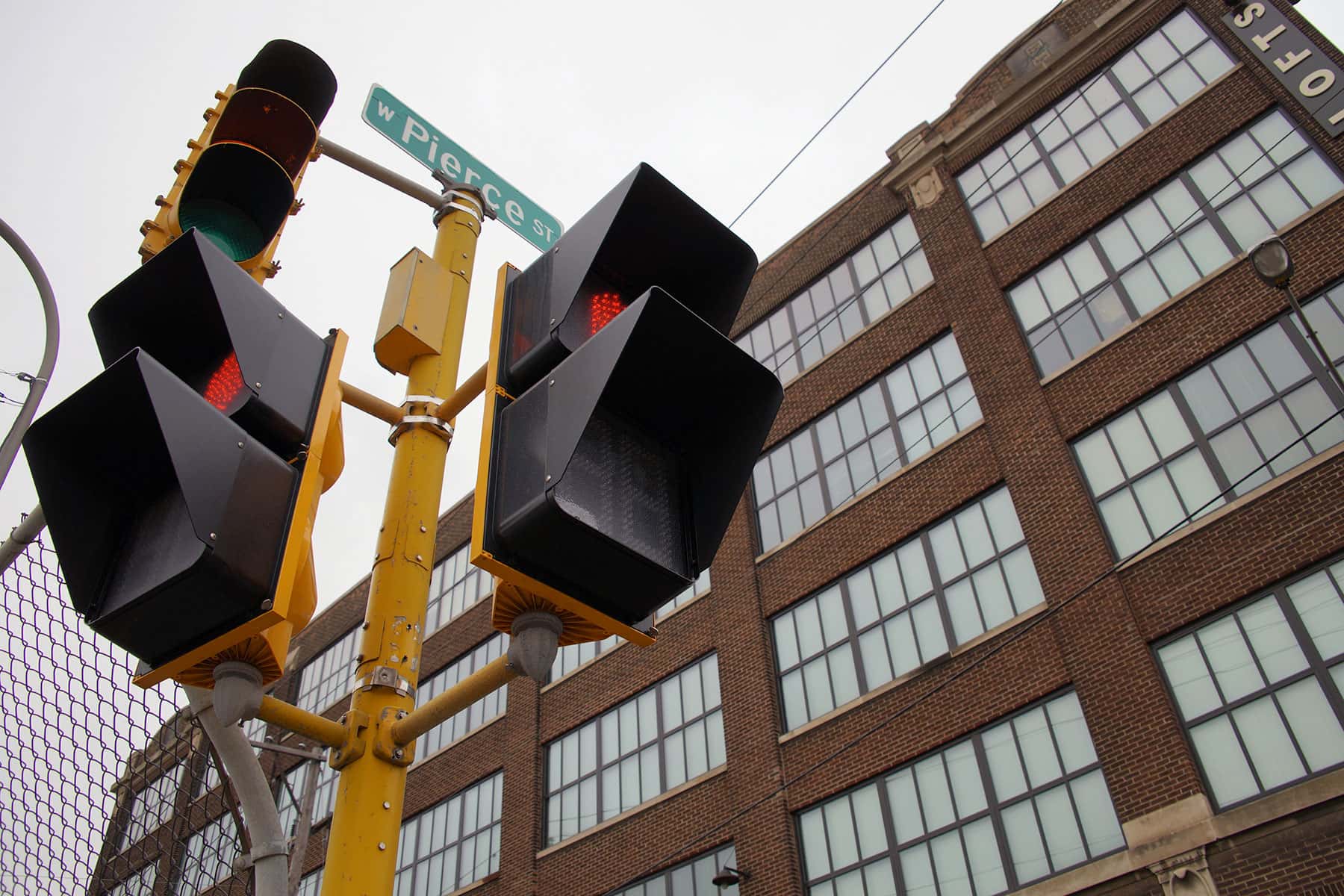 George Brittain didn't much care for the smoky, poorly ventilated and space-starved apartment on West Highland that he lived in before.
"My unit was cramped and the building I lived in was real run down," said Brittain, a soft-spoken man who stands more than 6-feet tall.
Still, he hadn't put much thought into moving until he overheard a bus conversation in early 2015 about the fancy new digs that had just opened on the northern edge of Clarke Square, a working-class neighborhood on the South Side of Milwaukee.
The conversation was about the Paper Box Lofts, a brown brick, 72-unit building at 1560 W. Pierce St.
"They sounded almost too good to be true," Brittain said.
He stopped by to take a look, and soon after, he said goodbye to his old apartment on West Highland, and hello to a two-bedroom, 958-square-foot loft. The building also offers a business center with free access to computers and the Internet, a fitness center and community room.
"It's like night and day," Brittain said, about the differences between his old and new dwellings. Now, his commute to work is shorter and his living quarters are upgraded.
"I don't want to live anywhere else," said Brittain.
Brittain doesn't fit the mold of a typical loft resident, said Falamak Nourzad, co-founder and principal of Continuum Architects, the firm that designed the building.
For one, he's not a young urban professional: Brittain is a 63-year-old part-time crossing guard at Bruce Guadalupe Community School and Kagel School.
Part of the idea behind the Paper Box lofts, according to Nourzad, was that they could help remove the stigma associated with affordable housing. "You're talking about a high-end apartment here. But, it is still affordable to all," Nourzad said.
The five-story concrete building, which was originally constructed for the Milwaukee Paper Box Company but more recently served as a storage area for pontoon boats, cars and other items, is now occupied by a mix of part-time and full-time workers. Its occupants include business professionals who work downtown as well as employees of the nearby Potawatomi Hotel & Casino.
Eighty-five percent of the building's units are classified as affordable, while the remaining are market-rate. About 10 percent of the units rent for $400-450 per month, said Paul Keenan, senior developer at Sherman Associates, a Minneapolis-based development company. There is a three-year waiting list for occupancy.
Most of the residents have children, another departure from the prototypical loft resident, said Keenan. The building on the corner of 16th and Pierce streets was identified by Keenan's firm, which specializes in high-quality redevelopment projects in urban areas, as the perfect location to develop housing for young professionals and families.
Beginning in 2011, Sherman Associates worked in partnership with the Clarke Square Neighborhood Initiative's then-executive director Ramon Candelaria, among others, to secure low-income housing credits, state and federal historical tax credits, and loans to fund the project.
Greenfire Management Services, LLC., a Native American-owned business, was brought in to construct the building. According to Greenfire senior project manager Mike Timmers, 42 percent of the work contracted out for the project went to minority-owned businesses. The company also worked with local workforce development programs including the Milwaukee Urban League and UMOS to hire graduates of their skilled trades programs to do plumbing, electrical and other skilled work at the lofts. A number of them are still working in the trades, said Timmers.
Perhaps the most challenging part of the construction process, said Timmers, was maintaining the stringent standards of reconstructing a building on the National Register of Historic Places. Each apartment features a series of huge windows similar to the ones first installed when the building was constructed in the early 1920s. The project took 11 months to complete.
The building fits with the city's comprehensive plan for Clarke Square, which called for more affordable housing and multi-family options, said Keenan, and it also serves as a gateway to the Menomonee Valley, the business district along South Cesar E. Chavez Drive and the reemerging industrial area along West Pierce Street.
The $16 million affordable housing project has already doubled the location's tax base, said Keenan.
It also brought back to life a building in an area that had become a no man's land since Milwaukee's industrial base crashed and the box company closed, said Nourzad. Soon after the building opened in 2014, a new PNC Bank sprouted up one block south.
"The building really had an impact beyond itself and its own footprint to the surrounding neighborhood," Nourzad said.
It's certainly had an impact on his life, said Brittain, as he smiled, turned the knob and entered his light-filled apartment.
"I'm not suffocating here like I did in my last place," he said. "This place is perfect for me."