Preparing for Resettlement: Fort McCoy gives medical and humanitarian services to 8,000 Afghan refugees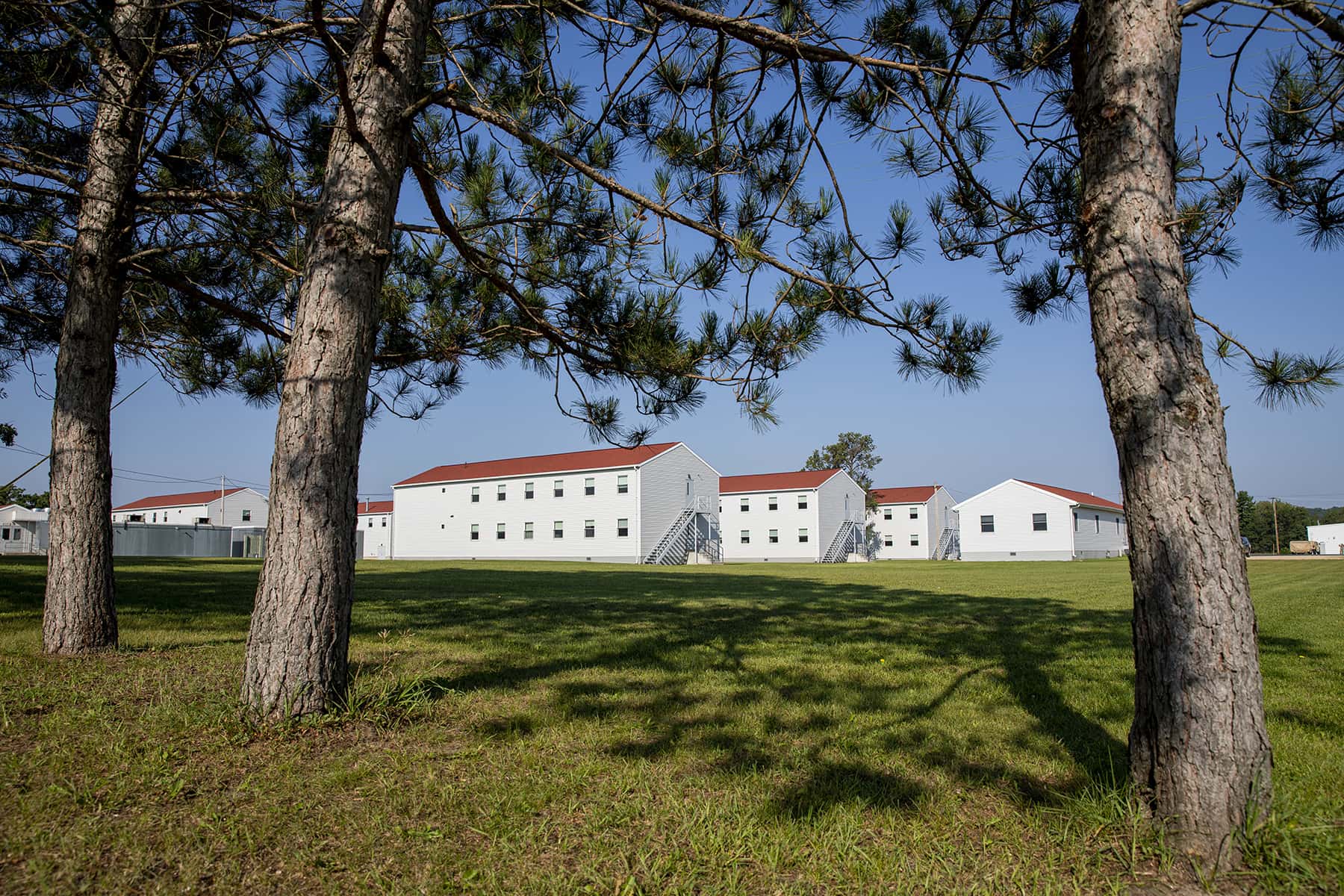 As more evacuees from Afghanistan arrive at Fort McCoy, government officials say they are focused on meeting medical needs and helping Afghans through the immigration process.
A U.S. State Department official and a senior Army official representing Task Force McCoy spoke with local press on August 2 under the condition they not be named. The State Department official said just over 7,000 evacuees from Afghanistan had arrived at Fort McCoy, which is located in Monroe County, at the time of the press conference. By August 3, that number had grown to more than 8,000 people at the base.
The base was recently asked to expand their capacity and plans to have space for up to 13,000 refugees by August 5, thanks in part to cots provided by the Wisconsin National Guard.
The State Department official said the majority of people are arriving at the base are families and a large number are children under the age of 18, including infants. There are also individual men and women, including female students from the American University of Afghanistan. The official said most of the refugees at Fort McCoy do not have special immigration visas.
"We have a whole host or spectrum of people who are in the (immigration) pipeline. They were applying for, being processed for special immigrant visas, for admissions through the United States Refugee Admissions program, but because of the speed with which we needed to act, they've … received humanitarian parole to enter the United States," the State Department official said.
Officials said some people who have arrived at Fort McCoy are U.S. citizens or legal permanent residents. A few of these individuals have left the base, but many have stayed with family members who are going through the immigration process. Officials said they have encouraged most refugees to remain at the base in order to help them through the immigration process that can normally take up to two years.
By the time refugees land at nearby Volk Field and are bussed to Fort McCoy, officials say they have already been vetted in an intermediate country like Germany or Qatar and screened by immigration officials at airports in Washington DC and Philadelphia. The State Department official said their first goal is to meet the refugees' immediate medical and humanitarian needs.
"People who are arriving here are in pretty rough condition right now. They've been through an extraordinary experience and I think a lot of emotional trauma, having fled under the circumstances that they had to," the official said.
U.S. Department of Defense medical staff are providing care on base and some refugees have traveled to local hospitals for more serious medical needs. The American Red Cross, Catholic Charities and other nonprofit groups have been providing donations of personal items and other assistance.
The refugees are also receiving the medical screening and vaccinations needed for the immigration process, as well as routine screening for COVID-19 and the opportunity to receive the COVID-19 vaccine. The State Department official said there is no set timeline for how long refugees will remain at the base, but it will take weeks for most people to go through the needed paperwork.
"This is a really unique situation. This is unlike anything since the end of the Vietnam War, that we've received this many people in this amount of time," the State Department official said. "So there are some legal and policy answers that we're waiting for, too."
For now, the senior army official said people are starting to adapt to living at the base. Families are housed together in barracks used for mobilizing soldiers, with space for up to 30 people in each building. Officials said the top request has been better Wi-Fi access and most people are staying in contact with family and friends who have been evacuated or who are still in Afghanistan.
"Even in a really short period of time, people are finding out who's here and connecting. People are contributing, volunteering to translate, to help others who have arrived," the State Department official said. "There's a famous Afghan folk singer (at the base). The other evening, I saw a group of people and he was singing. So in a pretty short period of time, you build a little bit of a community, and people I think are processing what they've been through together."
The senior army official said there are places for children to play and people are able to shop at the post's store. The official said the base has increased security at the entrances and exits of the base and military personnel are focused on providing "a safe and secure environment" for the Afghans.
After going through the immigration process at Fort McCoy, officials say non-governmental organizations will work with local faith-based and charitable groups to help the refugees resettle across the country.
Donate: Wisconsin Public Radio