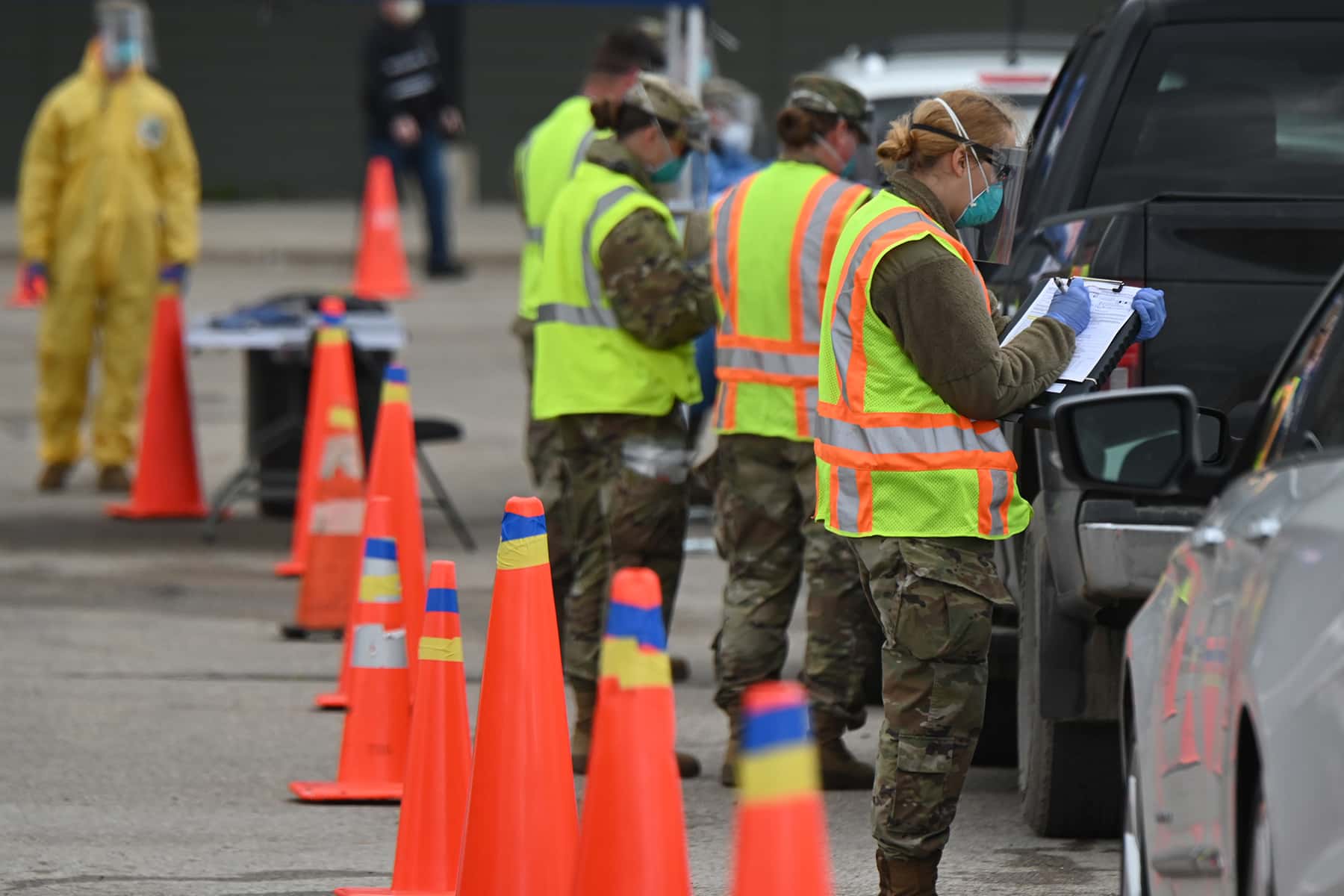 Wisconsin could lose National Guard virus workers due to the Trump administration's order ending deployments on June 24, just one day before thousands of citizen solders would qualify for education and retirement benefits.
Just before Memorial Day, Wisconsin and other states were pushed to confront the Trump Administration over the continued funding of local National Guard COVID-19 operations. U.S. Sen. Tammy Baldwin joined representatives Ron Kind, Gwen Moore and Mark Pocan in a letter to President Donald Trump to request an extension of funding for Guard support.
Their request comes as more than 120 Democratic and Republican lawmakers nationwide join their voices in urging additional aid for National Guard COVID operations. In the letter Baldwin and company highlighted that "the work of the Wisconsin National Guard has significantly advanced our response to the COVID-19 pandemic."
In Wisconsin, guard troops have participated in a variety of efforts to support the state's response. Guard members served as poll workers during the April primary, and have conducted sample testing across the state. Self-isolation and alternative care facilities for COVID patents are also being manned largely by the National Guard. Troops have also conducted extensive testing operations within some Department of Corrections facilities.
"An extension of this funding is critical to ensuring the safety and health of our citizens, as well as advancing efforts to reopen our state. The work of the Wisconsin National Guard has significantly advanced our response to the COVID-19 pandemic. Hundreds of National Guard service members have provided invaluable logistics support and are fully integrated in the Wisconsin State Emergency Operations Center. The Wisconsin National Guard is supporting taskforces working to assist local communities with creating isolation facilities and hospital surge capacity, including staffing an alternative care facility in Milwaukee. Most importantly the Guard is operating 25 field testing teams working throughout the state to provide both community and targeted testing. All of these efforts are essential to mitigating the impact of COVID- 19 on Wisconsinites, and the need for this support is expected to persist through the end of the year. We share the Governor's concern that prematurely ceasing federal funding for National Guard COVID-19 support operations will hinder Wisconsin's ability to respond and could contribute to a possible second wave of infection. In order to safely reopen the state of Wisconsin, we must continue to respond to the public health challenge before us. The Wisconsin National Guard is vital to this effort." – Baldwin, Kind, Moore and Pocan wrote to President Trump.
Nevertheless, the federal government has signaled that funding for Guard operations will cut off in late June. "The mission is not done yet," said National Guard Chief General Joseph Lengyel. "The one thing we know for sure is that this mission is going to continue beyond the 24 of June."
Over 40,000 Guard members are deployed throughout every state and federal territory testing people, transporting patients, conducting contact tracing, among many other duties. Despite Lengyel's acknowledgment that more work needs to be done, he's warning state Guard leaders to prepare for a cut-off. Some troops may be diverted to operations overseas in Ukraine, Afghanistan, the Horn of Africa or elsewhere.
The
Milwaukee Independent
began reporting on what was then referred to as the mysterious "Wuhan Virus" in January 2020. Other local media did not picked-up on the story until many weeks later. Our early features focused on the economic impact, social issues, and health concerns long before other Milwaukee news organizations even mentioned the coronavirus. Over the following year, we have published hundreds of articles about the pandemic and how it has affected the lives of Milwaukee residents. This extensive body of work can be found on our
COVID-19 Special Report
page, a chronological index of links by month. Our editorial voice remains dedicated to informing the public about this health crisis for as long as it persists.
For medical resources, please visit the
CDC's COVID-19 page
or the
Wisconsin Department of Health Services
. All editorial content published by
Milwaukee Independent
can be found at
mkeind.com/COVID19
. With a mission of transformative journalism, our staff is free from commercial bias and are not influenced by corporate interests, political affiliations, or a public preferences that rewards clicks with revenue. As an influential publication that provides Milwaukee with quality journalism, our award-winning photojournalism and features have helped to achieve a range of positive social impact that enriches our community. Please join our effort by entrusting us with your contribution. Your Support Matters -
Donate Now