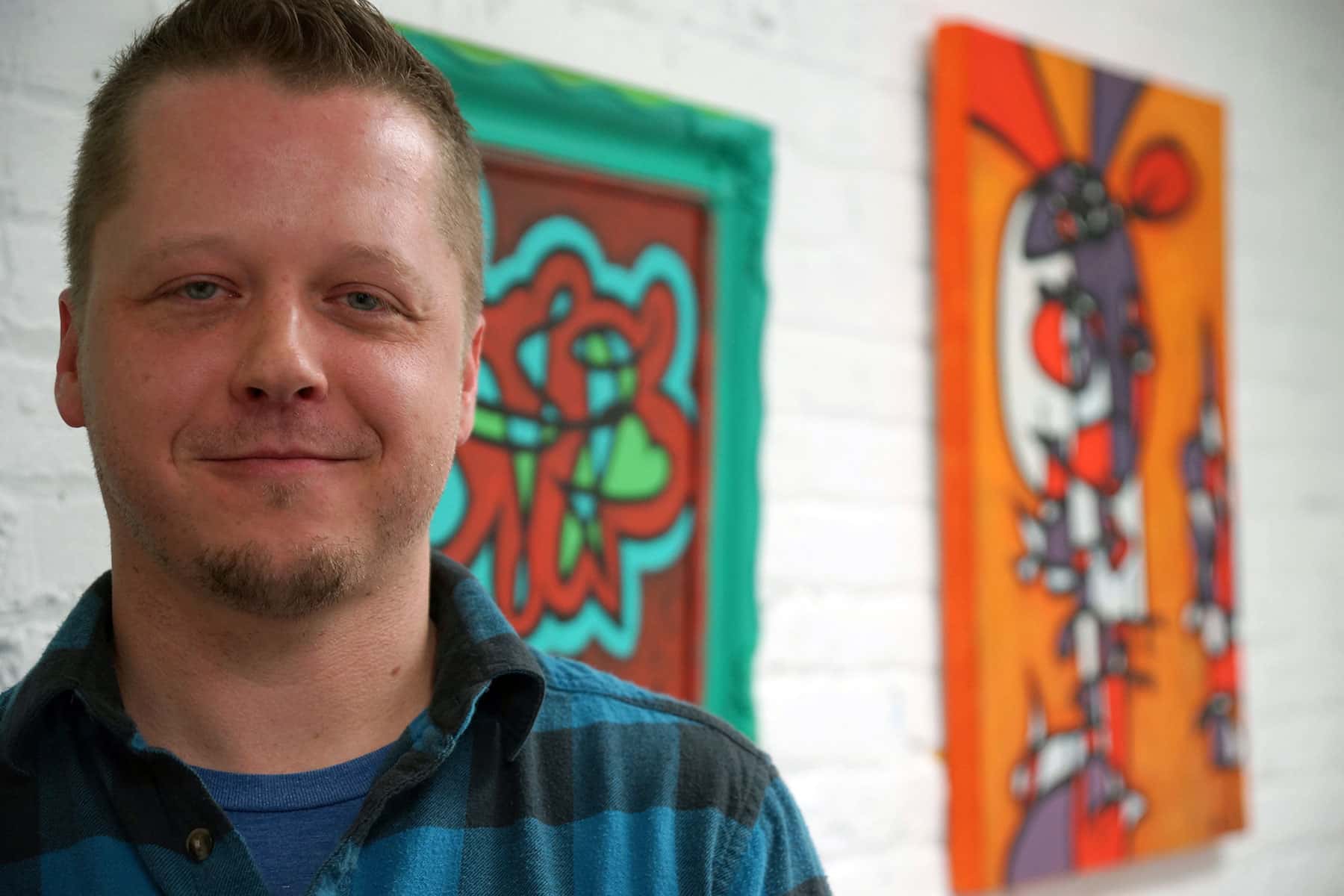 While many organizations in Milwaukee profit at the expense of local artists, Jeff Redmon freely shares his passion for creativity and community activism through his efforts to enrich the Milwaukee culture and make it a better place for everyone with art.
Milwaukee Independent: When you started your career as a graphic designer, what was the biggest misconception people had about your work?
Jeff Redmon: When I began working as a Graphic Designer, I had just graduated college and was honestly just looking for a job. I interviewed with ten different businesses and ended up working at RA Studios, an in-house design studio within the marketing department at Rockwell Automation. I think that I had misconceptions about the type of place I might work. RA was not the glamorous environment I thought that I would work in, but it ended up being a very valuable experience.
Milwaukee Independent: How would you describe the Milwaukee art scene, and where do you see it going in the next few years?
Jeff Redmon: I think that there is an incredible amount of talent here in Milwaukee, but the art buying market is very poor. It is hard to say where I see it in five years. A while back, I read an article which stated how in the years to come Milwaukee was either going to become the next Seattle or the next Detroit depending on decisions made by city and state leaders. Unfortunately I have felt that it has gone more in the Detroit direction.
Milwaukee Independent: As a painter, how would you describe your style and what does being creative mean to you?
Jeff Redmon: I describe my style as abstract contemporary, it is line driven and vibrant. Many people like to compare my work to graffiti. Aside from the people I love, creativity is what makes life worth living.
Milwaukee Independent: How does curating artwork differ from creating your own?
Jeff Redmon: Curating art is something that I just fell into. It is enjoyable to find the perfect art for a particular environment. You can do things with other people's art that you just cannot do with your own, which is exciting.
Milwaukee Independent: How has the art community helped transform Milwaukee, and is this change sustainable?
Jeff Redmon: I think that the art community has the power to turn Milwaukee into an amazing city. There are many incredible creative things happening in Milwaukee, but I do not think a renaissance has happened yet. I do feel a great surge of creative energy is happening however.
Milwaukee Independent: What inspires you to be so community driven with your art?
Jeff Redmon: I want to make my community a better place. I believe that the arts help improve the quality of life for people. I am always discussing art and the issues of the city with others.
Milwaukee Independent: How were you able to organize Milwaukee's first TEDx event, and what was that experience like?
Jeff Redmon: The idea of doing a TEDx event came out of interactions with a few like-minded people. The theme of the event was Science, Technology, Engineering, Art, Music (STEAM). The previous model of STEM made a fatal error by leaving out the Arts and creativity completely. We managed to put together an amazing group of organizers, and everyone had an important role to play. One of our team was the Executive Director of the King Drive BiD, Jerome Knapp. He was able to secure a beautiful historic bank building to hold our event at no cost. We also partnered with the Milwaukee School of Engineering (MSOE) which provided a variety of resources. We were fortunate to put together an all-star crew to make it happen.
Milwaukee Independent: How did you become involved with the cultural advocacy group, Made in Milwaukee? And how do you measure its success?
Jeff Redmon: I joined the group in 2010 when our paths collided while I was at Sweet Water Organics. I had my studio there and was doing lots of design and artwork. Made in Milwaukee was started to support and nurture the local artists, musicians, and businesses through community engagement. While many others judge their success on money or publicity, we at MiM have judged our success on the quality of our productions and the positive impacts they have on the community.
Milwaukee Independent: What is the biggest lesson you have learned from curating art exhibits at galleries in Milwaukee?
Jeff Redmon: I have learned that there is a great need for connecting businesses, non-profits, and individuals with proper artists. But almost no one wants to pay for it, which is a big problem.
Milwaukee Independent: Why was the Arte Para Todos event created to help Milwaukee Public Schools?
Jeff Redmon: The event originally spawned out of spite for our current Governor, Scott Walker, so he will probably take credit for its success. The co-founders Chuck and Josh decided to transform their anger for a system which continually makes cuts to education, specifically to the arts, into a movement which supports and cultivates the local art and music scene. Once that had been decided, I was brought into the group to help make the event a reality.
Milwaukee Independent: What does Bay View Gallery Night mean to the local community, and do you worry that the general public will have an art overload?
Jeff Redmon: We found the city gallery nights to be a bit stuffy, so we conceived Bay View Gallery Night (BVGN) as an alternative to the city gallery night. Our goal was not to copy or compete with the Third Ward Gallery night, but to create a celebration of local art, music, and community. BVGN has been an incredible success with ten events so far, attracting crowds of 10,000+ people per event, and bringing more than one million dollars into the local community since its inception. I think that there is only the feeling of an art overload when various other groups are lazy and just want to do the same thing or recycle used-up ideas over and over. We have been asked many times to start gallery nights in other areas of the city and have refused. Made in Milwaukee's formula for community growth has been adulterated for profit by many competing groups over the years. To quote Jim James, "We are the innovators, they are the imitators."
Milwaukee Independent: With Milwaukee historically being a manufacturing town, even though these industrial inventions required brilliantly creative minds, the city is not known for being creative. So what challenges do artists face in their profession here compared to other cities?
Jeff Redmon: One of the major problems that I often encounter is a lack of understanding and trust. Many people do not understand the value of a creative mind, and therefore do not trust those creatives enough to empower them. Also, many of the local arts organizations are built on boards of people who are not artists, but they are making big decisions which impact the creative community. I would not ask a bartender to take out my wisdom teeth.
Milwaukee Independent: How can the Milwaukee public be more supportive of the arts community?
Jeff Redmon: Buy original art! It is a great investment.
Milwaukee Independent: What advice would you offer to the youth of Milwaukee who are interested in art, and what can the community do to recognize and nurture these skills?
Jeff Redmon: Master your craft and surround yourself with good people. Volunteer at interesting places to build up your connections. When I was a resident at RedLine, they had a really great teen program there and the kids were doing amazing things. The community can experience the upcoming Arte Para Todos event and feel good about making a direct contribution to our creative youth while getting a real taste of the Milwaukee art and music scene.