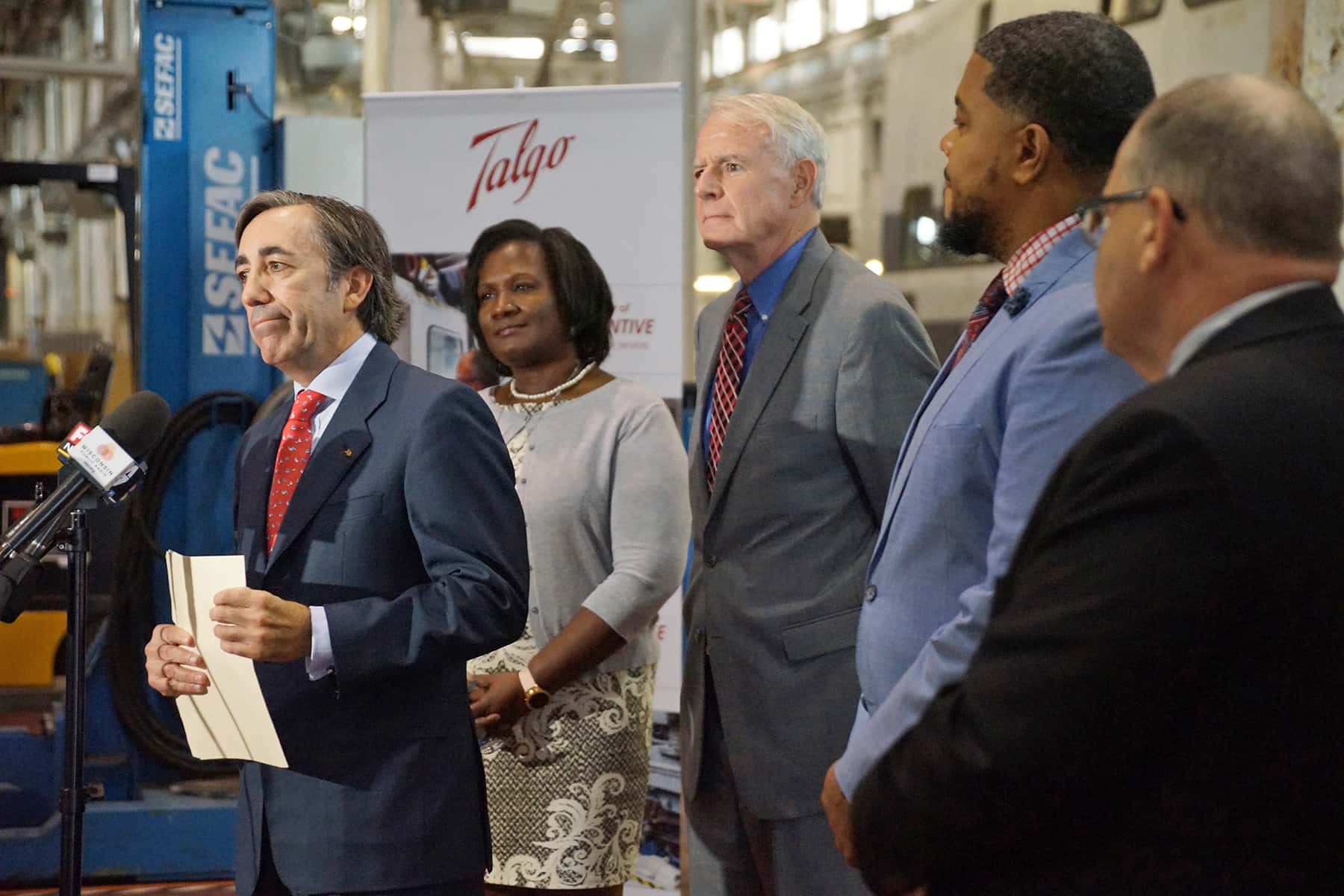 Talgo's President and CEO Antonio Perez invited Milwaukee Mayor Tom Barrett and city leaders to view their Century City facility on September 12, as the Spanish company begins hiring more local workers to support its expanding business.
The manufacturer of intercity and high speed passenger trains was recently awarded a $138.9 million overhaul project to rebuild up to 121 rail cars by the Southern California Regional Rail Authority (SCRRA). The four year contract is a joint venture with Systra, a Paris-based engineering firm, to refurbish 50 Bombardier rail cars operated by Metrolink. An additional 71 cars could extend the contract into Spring of 2026.
"Talgo has a strong history of hiring people from the surrounding community," said Mayor Barrett. "And what you are seeing right now, in real time, is the resurgence of Century City."
Talgo currently has 27 employees at its 59,000-square-foot Century City Business Park site to refurbish subway cars for the Los Angeles Metropolitan Transit Authority. Plans are underway to increase its workforce to 90 with another 63 positions. The company is considering an additional 70,000-square-feet of factory space at the location, to support its Metrolink contract. Talgo leases its refurbishing facility near 27th Street and West Capitol Drive from the city of Milwaukee.
"From the first time the City of Milwaukee offered us the opportunity to come here, they have always honored what they promised us," said Perez. "That's one of the main reasons why we are still in Milwaukee, creating jobs and developing this area."
Talgo needs to put new employees in place quickly, and Perez referred job seekers to apply on the company's Talgo-America website. The scope of the work includes updating the control voltage and battery systems, lighting, trucks, passenger communication system, remodeling restrooms, providing overhauled HVAC systems that are eco-friendly, updating door operations and controls, repainting the exterior, providing new seat cushions and installing floor coverings. The contract aims to improve the reliability and appearance of the existing fleet of passenger cars while complying with current standards and regulations for the benefit and comfort of the passengers.
"It's a very exciting day when you can tell your neighborhood that jobs are on the way," said Khalif Rainey, 7th District Alderman. "I hope to play a role in making sure these positions get filled. I know that we have the skills and the experienced labor right here in this neighborhood."
The Bombardier cars are rated for 30 years of operation, but must be refurbished after 15 years to maintain their mechanical usage and comfort for passengers. With $212 million in rehab contracts, Talgo will also be making capital investments in their Milwaukee site for a painting booth and sandblasting facility.
"I think the Mayor said it best when he talked about trust. This company really had to take a leap of faith when they came here a decade ago, because this building and site did not look like a business park," said Rocky Marcoux, Commissioner of the Department of City Development. "When Taglo came over from Spain for that visit, they made the statement that they believed in Milwaukee."
The revitalization effort for Century City required a $40 million investment, with the expectation that Talgo would be instrumental in manufacturing vehicles for Wisconsin's high-speed rail system. However, that economic momentum was derailed after former Governor Scott Walker rejected $810 million in Federal funding earmarked for the project. Projections have estimated that more than 13,000 jobs were lost, equal to the number originally promised by Foxconn in its contract to build a manufacturing plant. That $4 billion incentive package, using Wisconsin taxpayer dollars, has seen no indication of ever reaching even 10 percent of the signed deal.
Talgo's news is a welcomed relief to the city's efforts to redevelop the A.O. Smith site. It continues building on the recent revitalization energy from last year, when Good City Brewing moved into its 53,000-square-foot office and warehouse at the location, and the recently announced plans by Franklin-based Strauss Brands to build a new 175,000-square-foot headquarters and meat processing plant.