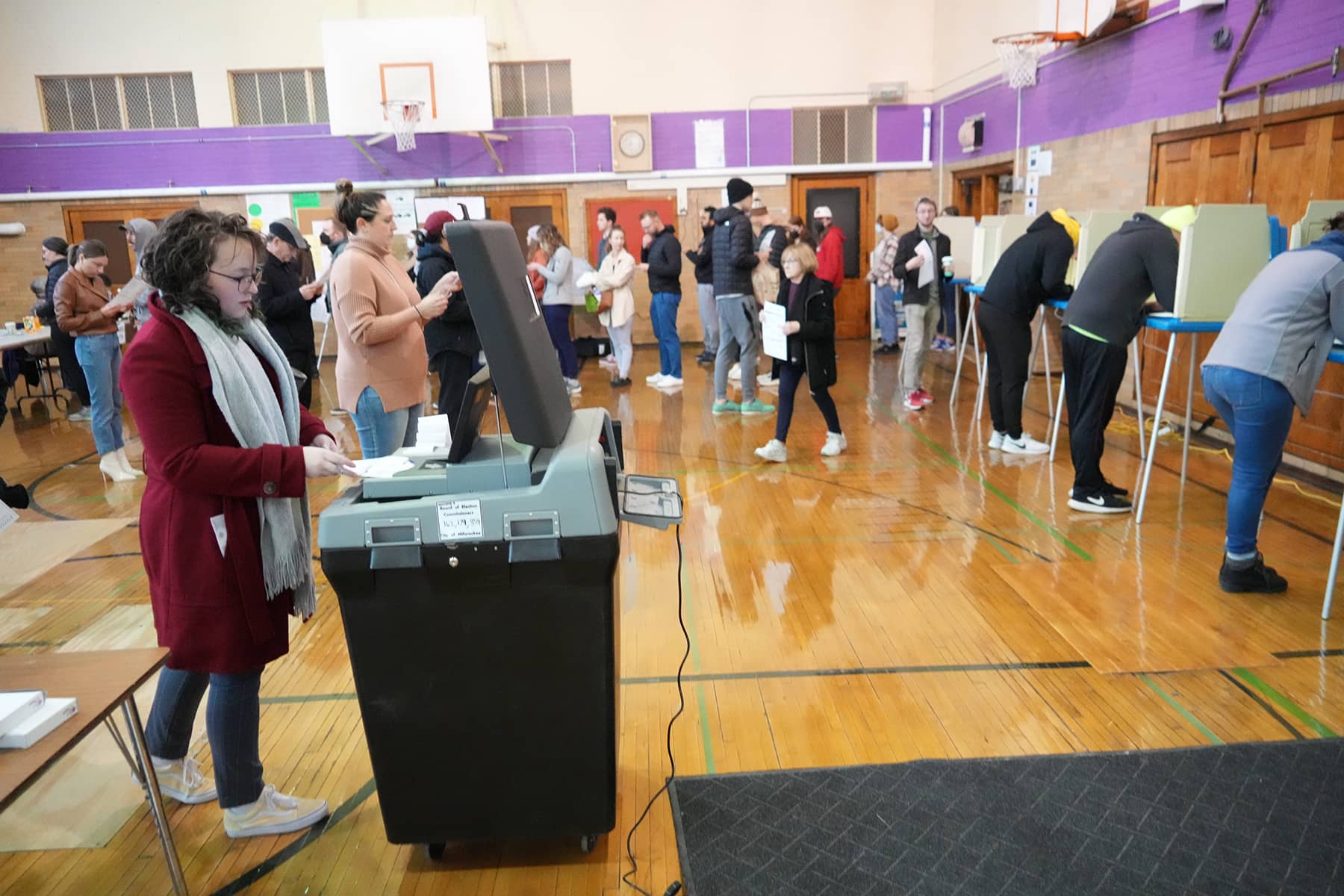 Voters in Milwaukee, Wisconsin, and across the United States cast their ballots in the critical midterm elections on November 8 to decide who controls the next Congress and key state positions.
Neil Albrecht, the former Executive Director of Milwaukee's Election Commission, held a press conference outside the election commission office at City Hall. Albrecht was assisting Claire Woodall-Vogg, the current Executive Director, who was overseeing the count of absentee ballots at the Wisconsin Center – which was being used as the central counting location for the city.
"To my knowledge, all of Milwaukee's 180 voting sites were open and operational by 7:00 a.m. this morning," said Albrecht. "We haven't had any significant voting equipment issues. We do have fairly regular contact with the chief inspectors at each one of those sites, and they are reporting a very busy election."
Albrecht said that one voting site reported lines comparable to a presidential election. He felt it was encouraging for the City of Milwaukee to have such a strong voter turnout.
"We don't have any significant concerns at this point around the operations of those sites. Everything seems to be running smoothly," said Albrecht. "Obviously, in every voting site in the City of Milwaukee, we have observers from the political parties, but also from members of the public. They seem to be enjoying their observing experience, as we haven't had any observer related conflicts reported at any of those sites."
Milwaukee has trained both election workers and chief inspectors on conflict management. Having observers present at a voting site is also critical to the transparency of democracy.
"We like to have the observers present. They're the people who can verify the integrity of the election," said Albrecht. "So far, it has been a very relaxed election, and we're happy with that."
Under Wisconsin state law, election officials are not allowed to begin counting absentee ballots until 7:00 a.m. on Election Day. This restriction has caused early in-person voting to appear misleading for which candidates are ahead after the polls close. In previous elections, like the contentious 2020 presidential race, the some observers falsely used the slower absentee ballot counting process to promote lies about voter fraud.
Reports on social media did claim minor incidents involving observers throughout Wisconsin. Woodall-Vogg said she had not had any election issues at Central Count, when she gave her follow-up press conference in the afternoon.
"Some of the things that people have been navigating with observers have included just voters questioning why someone's watching them," Woodall-Vogg. "Our election workers are well trained, our observers have been well trained. But I think that there have been some concerns from voters themselves. So we are increasing education on the role of an observer. That's really the only issue that I've been made aware of."
Albrecht said that no other industry has greater scrutiny or is more under a microscope than elections. Yet there remains a lot of politically motivated rhetoric.
"In terms of the integrity of elections, they are subjected to recounts. Observers are present for every function of an election, not just the voting sites, but the central account processing of absentee ballots," added Albrecht. "So I would say that the public should go with what is factual and not what is speculative. The City of Milwaukee has an amazing track record of election performance when it comes to election integrity."
Images from polling locations were taken at the Cass Street School, Charles Allis Art Museum – featuring the Ghosts of Segregation exhibit by Photographer Richard Frishman that explores the lingering presence of segregation, slavery, and institutional racism hidden in everyday American architecture, Frank P. Zeidler Municipal Building, Milwaukee Public Library's Central Branch, and Diercks Hall at Milwaukee School of Engineering.