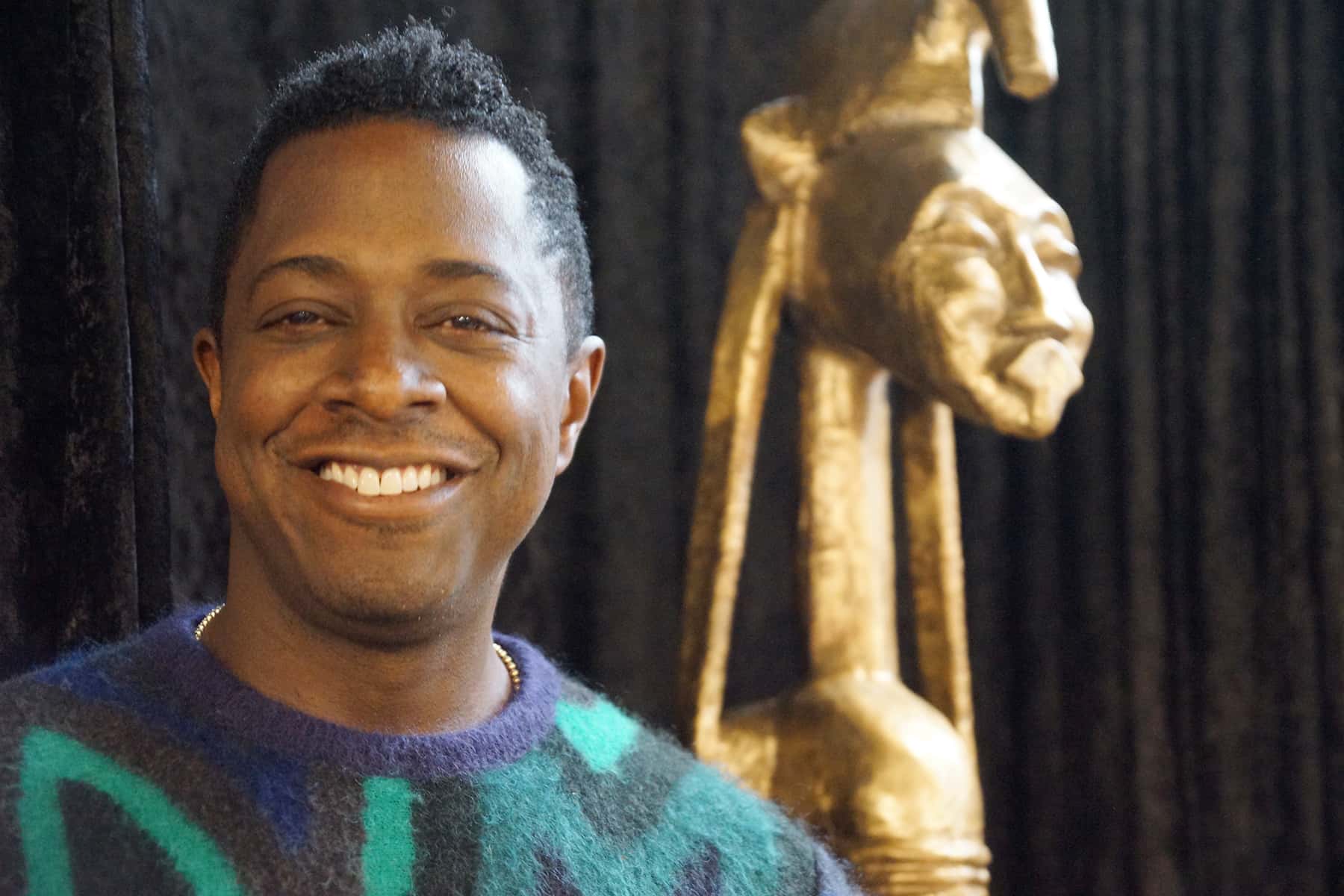 America's Black Holocaust Museum (ABHM) received a signature work of art and more than $1 million in funding through the Greater Milwaukee Foundation (GMF) and its donors on January 24, in an effort to help celebrate and ensure the sustainability of the culturally essential museum – as it approaches an official reopening in time for the 2020 DNC in July.
BAM (Seated Warrior) 2017, a sculpture by acclaimed artist Sanford Biggers, was a gift of the GMF to ABHM on behalf of an anonymous donor. The work was acquired from Sculpture Milwaukee, after it had been on public display throughout the summer of 2018. The museum founded by Dr. James Cameron will now be the permanent residence for the sculpture.
"Museums have been created through the years to curate experiences. Museums have been created to document our history, our struggles, the things that we have strived to do and accomplish. Museums have captured the essence of all cultures, ethnicities, and inventions around the world," said Dr. Robert (Bert) Davis, president and CEO of America's Black Holocaust Museum. "This museum is no exception. Created through the vision of Dr. James Cameron, we continue his legacy to document, share, and promulgate the American experience, through the eyes of African Americans before slavery, during slavery, and most especially after slavery."
A $1 million grant was given to ABHM from the Foundation, on behalf of an anonymous donor, in addition to a three-year, $120,000 grant from the Foundation's responsive grantmaking program. The funding will contribute to the ongoing development and support of ABHM, as it builds staff capacity and programming. ABHM plans to create an endowment with $750,000 of the funds.
"We consider people, place, and partnerships to be the pillars of our work. And our connection with America's Black Holocaust Museum pays respect to all three of those pillars," said Ellen M. Gilligan, president and CEO of the Greater Milwaukee Foundation. "America's Black Holocaust Museum honors people who suffered unthinkable violence and injustice: African American men, women, and children. This institution will bring people together for healing, for learning, and to call on all of us to fix equities that still exist. This is a special place, a sacred place. Reestablishing the physical home for America's Black Holocaust Museum is symbolic and significant, and the investment in Bronzeville is an investment in an important place. We must continue to invest and celebrate the rich history of Bronzeville, and to reverse the historic disinvestment."
ABHM has been dedicated to the legacy of Dr. Cameron, the only known survivor of a lynching in American. He founded ABHM to explore under-told stories of the African American experience and the harmful legacy of slavery, as well to promote racial repair, reconciliation, and healing.
After closing its doors in 2008, the museum continued an educational program by launching the virtual museum abhmuseum.org in 2012. The museum is now on the verge of reopening as a physical space on the very footprint of its predecessor at the corner of Vel R. Phillips and North Avenues.
For 20 years, ABHM served as a cultural cornerstone and educational institution welcoming local, national, and international visitors of all backgrounds to the city of Milwaukee. Its physical return to Bronzeville honors the neighborhood's history, and encourages efforts to develop the Bronzeville Cultural and Entertainment District.
"Sanford Biggers is one of the most important artists of his generation, who challenges the cultural tropes of how Western society sees African art and objects," said Marilu Knode, director of exhibitions and programs for Sculpture Milwaukee. "By using a traditional female African 'power' figure as a metaphor for contemporary violence against black Americans, Biggers 'hacks' into art history as well as current social and political norms that bind how we live together."
Born in Los Angeles and based in New York, Biggers has shown his art across the country and globe. He uses sculpture, painting, photography, textiles, film, and performance to create multi-faceted works that collaborate with the past in order to help people understand the present.
"Dr. James Cameron has helped us all remember the importance of American history. And very specifically, the history of enslaved people throughout our nation. His legacy and our shared stories must continue being told so that we never forget," said Biggers, who is also an associate professor at Columbia University. "As an artist, I have taken my work around the world to different institutions, museums, and galleries. But I'm most excited and satisfied when my art comes back to places that really embody the stories that inspire me. So I'm very happy that this piece has found a home here in Milwaukee."
In BAM (Seated Warrior) 2017, Biggers created his life-size "guardian" by marking and mutilating a small wooden African "power" figure. He literally sculpted it at a shooting range with different caliber weapons. Biggers considered it such a violent act that he did not pull the trigger himself. Because of his close emotional connection to the material, an assistant performed the actual ballistic process.
After being shot apart, the fragments were fortified and cast in bronze, expanding its size to both hide and exaggerate the violence done to the original. Biggers felt the process was a metaphor for the resilience of African Americans, and those who are the descendants of that very tragic history of enslavement.
The statue's pose is serene, and suggests a spiritual response to the violence done to its body. Biggers wanted to evoke the contemporary epidemic of violence against Americans of color. That jarring juxtaposition was the message at the heart of his work. During Sculpture Milwaukee 2018, the piece was on exhibition at 500 E. Wisconsin Avenue, near the Milwaukee Club.
Other speakers during the ABHM event included Ralph Hollmon, board chair of America's Black Holocaust Museum, and Brian Schupper, Executive Director of Sculpture Milwaukee. Special recognition was also given to many individuals who have supported ABHM over the years, specifically Alderwoman Milele A. Coggs, Developer Melissa Goins, Brad Pruitt, Dr. Fran Kaplan, and Reggie Jackson – Senior Columnist for Milwaukee Independent.
Milwaukee Independent is an award-winning and advertising-free daily news magazine that advocates for inclusive social understanding by publishing positive news content that covers a wide range of topics as a catalyst for community development. Our content is open to the public, with no access restrictions. As a nonprofit news organization, we are supported through charitable contributions from organizations and individuals in order to produce our activating, engaging, and solution-focused coverage of news in Milwaukee. Please consider supporting our work or making a donation.