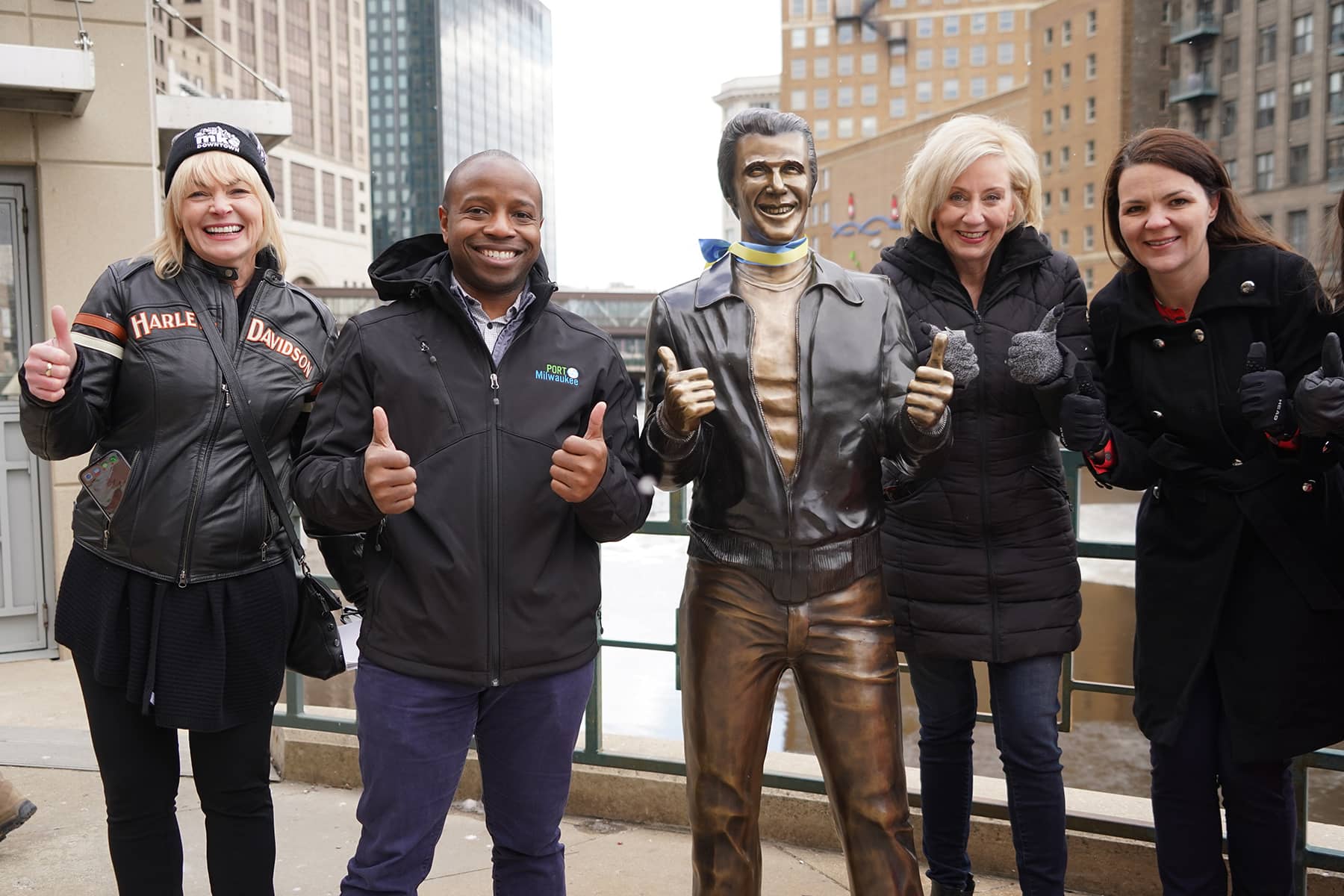 After spending several weeks away from its RiverWalk location in downtown Milwaukee for restoration, the Bronze Fonz returned on March 11 with an official unveiling ceremony.
The Bronze Fonz is typically refreshed on the RiverWalk to preserve its condition. However, VISIT Milwaukee worked with Vanguard Sculpture Services to remove the statue from its spot for a more in-depth examination and restoration in Vanguard's workspace.
"VISIT Milwaukee's social media, emails, and phones have been flooded with love for the Bronze Fonz and excitement for his return," said Peggy Williams-Smith, president and CEO of VISIT Milwaukee. "He is a popular stop and photo op for Milwaukee visitors as well as locals. We wanted to ensure that we are keeping this beloved public work of art in excellent condition."
Its February 1 removal was the first time the statue had left the RiverWalk area for maintenance since it was installed in 2008. The disappearance prompted immediate reactions from the public, who thought it had been stolen or vandalized. Social media posts and news reports reflected the concern, asking about the missing Fonz.
After responding to the public reactions, and explaining that the statue was undergoing a cleaning by Vanguard Sculpture Services, VISIT Milwaukee created the Bronze Fonz Challenge on social media. People were asked to stand in for the Fonz, flashing the signature two thumbs up, and taking a picture where he normally stands.
"The Riverwalk area has become a Milwaukee destination in itself. It has more than 20 pieces of art along both sides of the three mile stretch of the Milwaukee River," said Mame McCully, president, Milwaukee RiverWalk District. "The walkway connects three downtown neighborhoods across about 20 blocks. And tens of thousands of visitors literally use it all year long. It's a convenient way to get around town but also to enjoy the river in a different way."
The former vice president of public relations for VISIT Milwaukee, David Fantle, suggested an idea for paying homage to the fictional television character set in the 1950s that had come to represent the city's national image in the 1970s.
After the statue of Arthur "The Fonz" Fonzarelli, from the popular sitcom "Happy Days," was proposed in 2008 it quickly became a polarizing issue for Milwaukee residents. It was a time long before selfies. Over the years since, artist Gerald P. Sawyer's statue has become one of the most photographed spots downtown.
"We're all happy to welcome back the Bronze Fonz, and we all know how important public art is," said Beth Weirick, president and CEO, Milwaukee Downtown BID. "Whenever we travel anywhere in the world, what do we remember? We remember that sense of place. When I went to Minneapolis, I used to love to go see The Mary Tyler Moore statue. It's the public art that creates vibrancy and energy, and that tells a story about the community."
Following an analysis of the sculpture, Vanguard Sculpture Services recommended removing the paint completely from the Fonz and replacing it with a traditional patina for bronze, allowing for easier upkeep and maintenance. Even though the Bronze Fonz now displays a truly all-over bronze look, the statue has varying shades of the metal color for an added visual effect. His jacket, for example, is a darker shade while his t-shirt is lighter shade.
"Vanguard Sculpture Services' expertise and care for the Bronze Fonz has been so valuable," Williams-Smith added. "Having worked on such a wide array of artworks, including a small role working with the artist when this statue was first created, Vanguard's brought a knowledgeable perspective to the project."
Additional speakers at the unveiling event included Maria Van Hoorn, deputy secretary, Wisconsin Department of Tourism; Beth Sahagian-Allsopp, co-owner, Vanguard Sculpture Services, and Cavalier Johnson, Mayor of the City of Milwaukee.
"People from around the country, from around the world, and even our own perceptions about Milwaukee were established by characters and sitcoms," said Mayor Johnson. "We think about Laverne about Shirley. And we think about a Fonzie himself, who is returning to our Riverwalk today. And that's great."
Mayor Johnson said that many icons represented Milwaukee, and that having Fonzie back was something to celebrate and enjoy in the coming warmer months. But he added that the city's identity went beyond just things. That included the diversity of culture, like Milwaukee's ethnic festivals, that really promoted the way the world views the city.