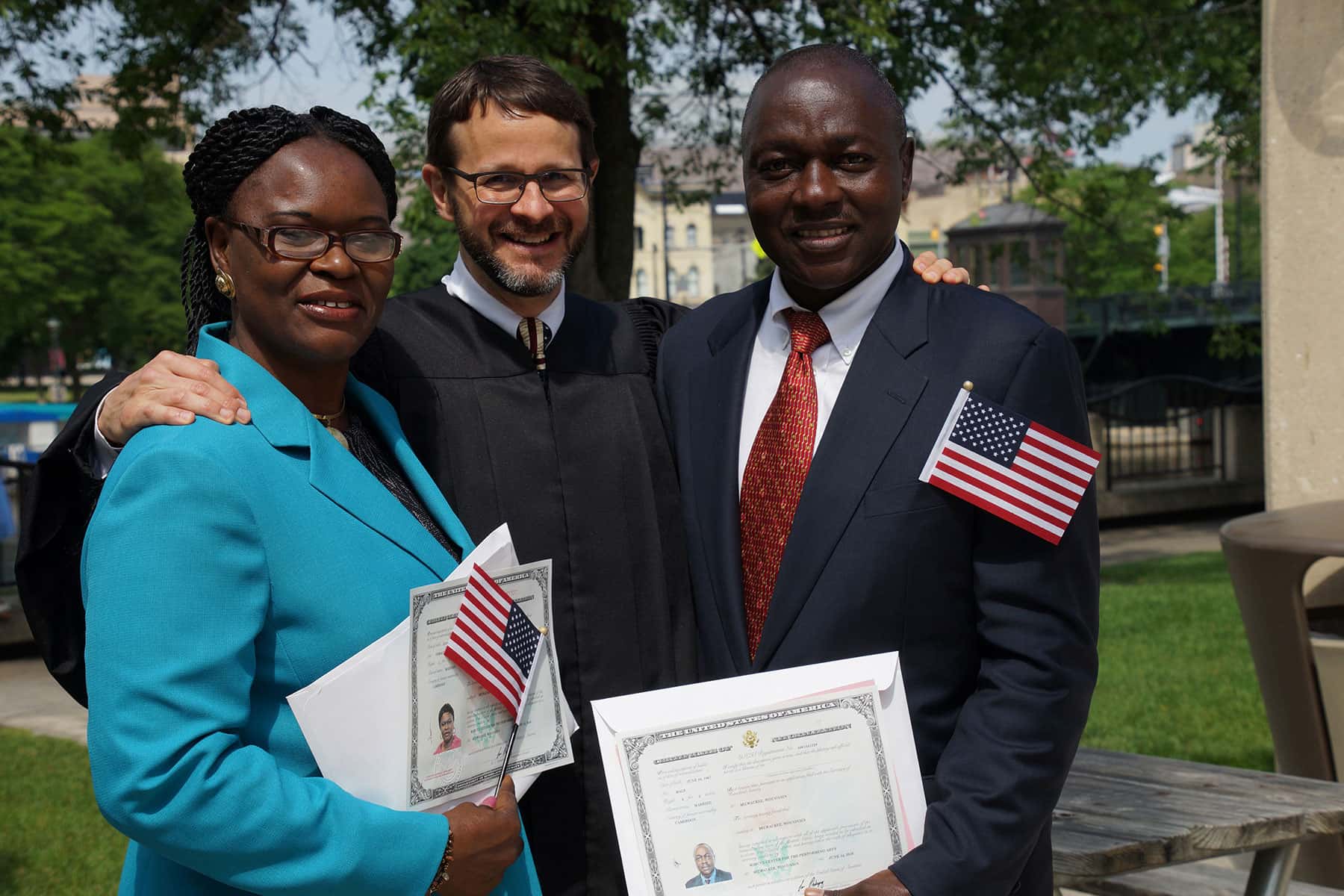 Overshadowed by the immigration debate is the celebration of foreigners who legally arrive in the United States, as they have for generations, and become citizens. Milwaukee was founded by immigrants, and June 14 saw a new batch of these freshly naturalized individuals join the ranks of the local community as Americans.
In partnership with the the U.S. Citizenship & Immigration Services of Milwaukee Field Office, the Marcus Center for the Performing Arts hosted a formal Naturalization Ceremony as part of this year's Annual Flag Day Celebration. Paul Mathews, President and CEO of the Marcus Center, welcomed guests and veterans to the 7th annual event.
Several dozen individuals recited the oath that allowed them to become a fully naturalized U.S. Citizen, and each received their naturalization certificate during the ceremony.
Since 1969, when the Marcus Center for the Performing Arts opened its doors, the facility has been considered part of the Milwaukee County's War Memorial for honoring those who have bravely served our country. As part of a continued commitment to honor veterans for their heroic service, the a Flag Day Celebration is held each year in Peck Pavilion. The free community event provided a special tribute to the men and women of our military forces.
The full program included a presentation of colors, invocation, moment of silence, and Michael Kirchner, Director, UWM Military & Veterans Resource Center as keynote speaker. Kirchner spent six years in the National Guard, including one-deployment to Iraq, where he was recognized as the 2004-2005 Soldier of the Year in Bravo Battery 1/126 Field Artillery.
Live entertainment included kid-friendly activities and community resource booths with resources for the new citizens.
The Marcus Center for the Performing Arts is the premier performing arts community gathering space in Southeastern Wisconsin. As the Marcus Center moves into its 47th year, it continues to build bridges between diverse members of the community through high-quality arts entertainment in the region and the state. The private non-profit 501(c)3 corporation is home to the Milwaukee Symphony, Milwaukee Ballet, Florentine Opera, First Stage plus a variety of other important community and family events throughout the year.