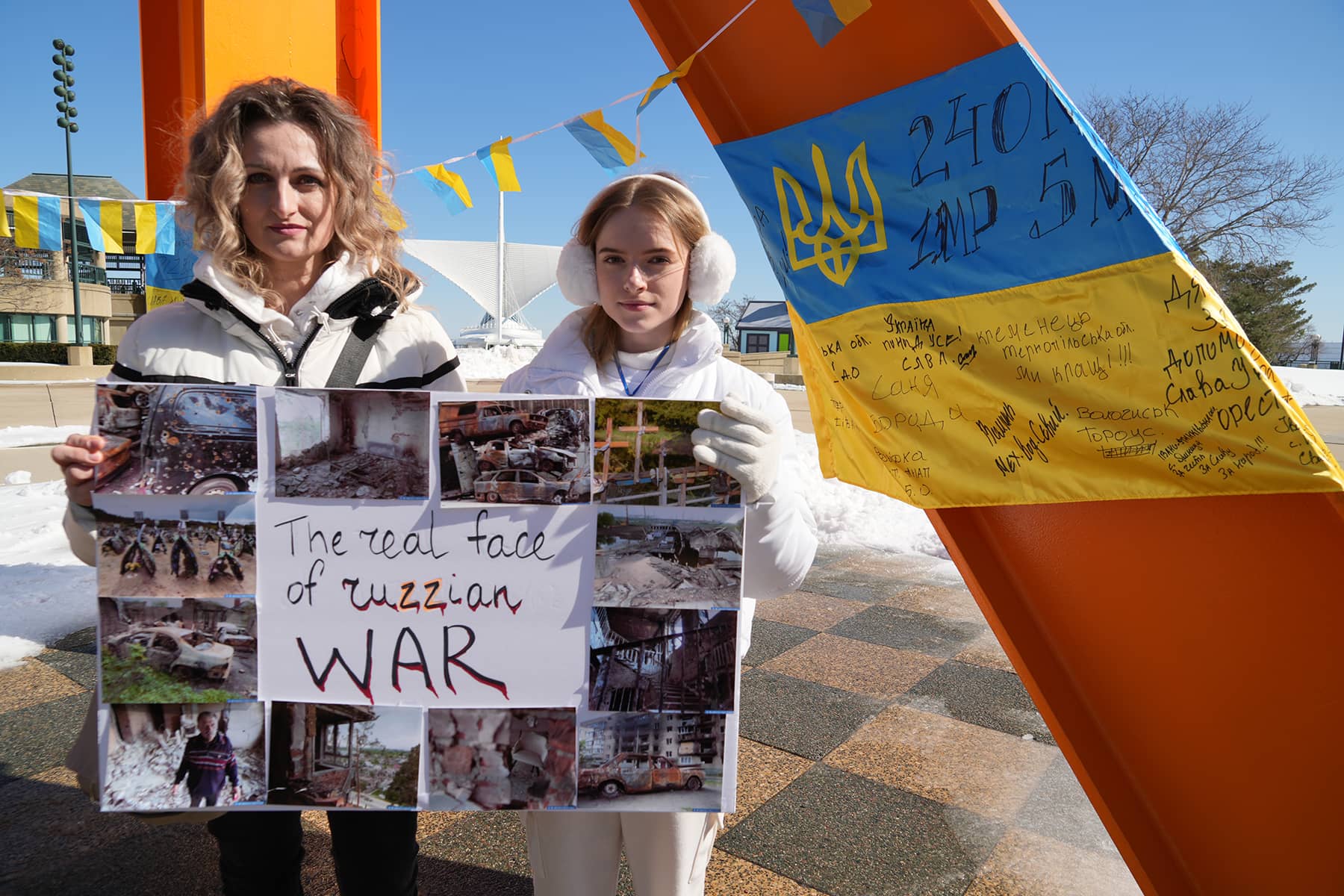 More than 64 cities across America joined the "365 Days Defending Freedom" event, which began on February 24. Milwaukee's participation was held by the orange sunburst at O'Donnell Park along the Lakefront on February 26.
The Milwaukee rally was organized by the nonprofit Wisconsin Ukrainians, in partnership with the charity Klych, to remind the world that Russia's war against Ukraine has been going on for nine years. It has been one year since the unprovoked full-scale invasion started on February 24, 2022.
"During this year, Ukraine has shown the whole world its capability and determination to keep its freedom and independence. Ukraine continues defending democracy," said Halyna Salapata, founder of Ukrainian Milwaukee. "The world has seen both our authentic culture and our genuine bravery. Ukraine is fighting to protect the whole world. While this fight has been going on for several years, our struggle against Russia has lasted for a century."
During the 365 Days Defending Freedom rally, activists and supporters held many photographic signs. Klych designed 365 different posters, each one detailing a tragic event that happened on one day over the past year.
Also at the Milwaukee rally, 365 seconds were set aside to honor the Ukrainians who were killed over the past year. During that period, the crowd listened to a short audio program produced by Klych, featuring a narrated timeline of events from the past year.
"When the world gave us three days, we gave them a year. Ukrainians have been inspiring the people of the world, and will continue to be a beacon of light for the free world through unity," said Aleksandr Krapivkin of Klych in a statement.
Krapivkin said that brave Ukrainians and their allies had united around the world in solidarity against terror. February 24 was a day of bravery and resilience. It was also a day of gratitude to the nations of the world for their support.
"Communities and neighborhoods were destroyed. But the people of Ukraine are still strong, you are still united," said Mayor Cavalier Johnson. "Here in Milwaukee, we have stood with the people of Ukraine. They are our neighbors, and we celebrate Ukrainian heritage with them."
Mayor Johnson had the opportunity to meet in-person with Oleksandr Markushin, Mayor of Milwaukee's Sister City of Irpin. In late May of 2022, Mayor Markushin came to Milwaukee for a visit. Located just north of Kyiv, Irpin was designated as a "Hero City" for stopping the Russian advance to capture the capital.
"As mayor of the largest and most diverse city in the state of Wisconsin, I am here to tell you that we will not condone any actions to discourage people from being who they are, or living their truth," added Mayor Johnson. "And the truth of the matter is that what Russia has done to Ukraine is terrible. It is wrong. It should be denounced, and we continue to denounce it."
After failed military campaigns and waves of propaganda, Russia has been unable to erase the people of Ukraine from the history books. Ukrainians living across Wisconsin continue to stand in solidarity against Russia.
"There is not a single Ukrainian in Wisconsin who has not suffered the loss of a friend or relative in the war," added Salapata. "Millions of people have been displaced, children who survived bombings suffer from PTSD, and Russia continues to commit unimaginable war crimes each day."
Over the past 365 days of terror, Ukraine's military has repeatedly pushed Russian forces out of its territory. But the cost of lives and resources has been tremendous, against an invader who will stop at nothing to destroy Ukraine. Families have been the target of mass attacks, and even winter has been weaponized with strikes on vital civilian infrastructure.
"We stand with you, we stand with Ukraine," said Darryl Morin, National President of Forward Latino. "We have been praying for the heroes of Ukraine, and have been calling members of Congress urging them to support Ukraine."
In mid-January, Morin was invited to the White House, along with Mayor Johnson. The purpose was to share community priorities and to give feedback on the administration's policies in Milwaukee and across Wisconsin.
Morin was able to share a letter written by Salapata, on behalf of the Ukrainian community in Wisconsin, with Senior Advisors to the President. Morin has also been working with the government of Irpin to improve their access to the Internet.
"We will be sending wireless technology to Ukraine soon, so that children attending school in bomb shelters and in underground train stations will have access to online learning resources," added Morin. "It is important that they continue to get educated so that they can share the story of Ukraine with generations to come."
Speakers at the Milwaukee rally also included Father Vasyl Savchyn, St. Michael's Ukrainian Catholic Church; Father Mykola Lymar, St. Mary Ukrainian Orthodox Church; Jānis Ginters, Pastor of Holy Trinity Latvian Lutheran Church of Milwaukee; Miryam Rosenzweig, President and CEO of Milwaukee Jewish Federation; Tanya Arbit, President of Women's Philanthropy and Liaison to the Jewish community of Milwaukee; Ahmed J. Quereshi, Interim Executive Director of the Interfaith Conference of Greater Milwaukee; Karina Tweedell, An activist and a volunteer with Milwaukee branch of Wisconsin Ukrainians; Andrei Junge, President of the Milwaukee Latvanian Lutheran Church; Valeria Volante, Member of Wisconsin Ukrainians in Milwaukee; and Sheila Badwan, who leads the Hanan Refugees Relief Group.
Lee Matz, with Kin Cheung (AP) and Alessandra Tarantino (AP)