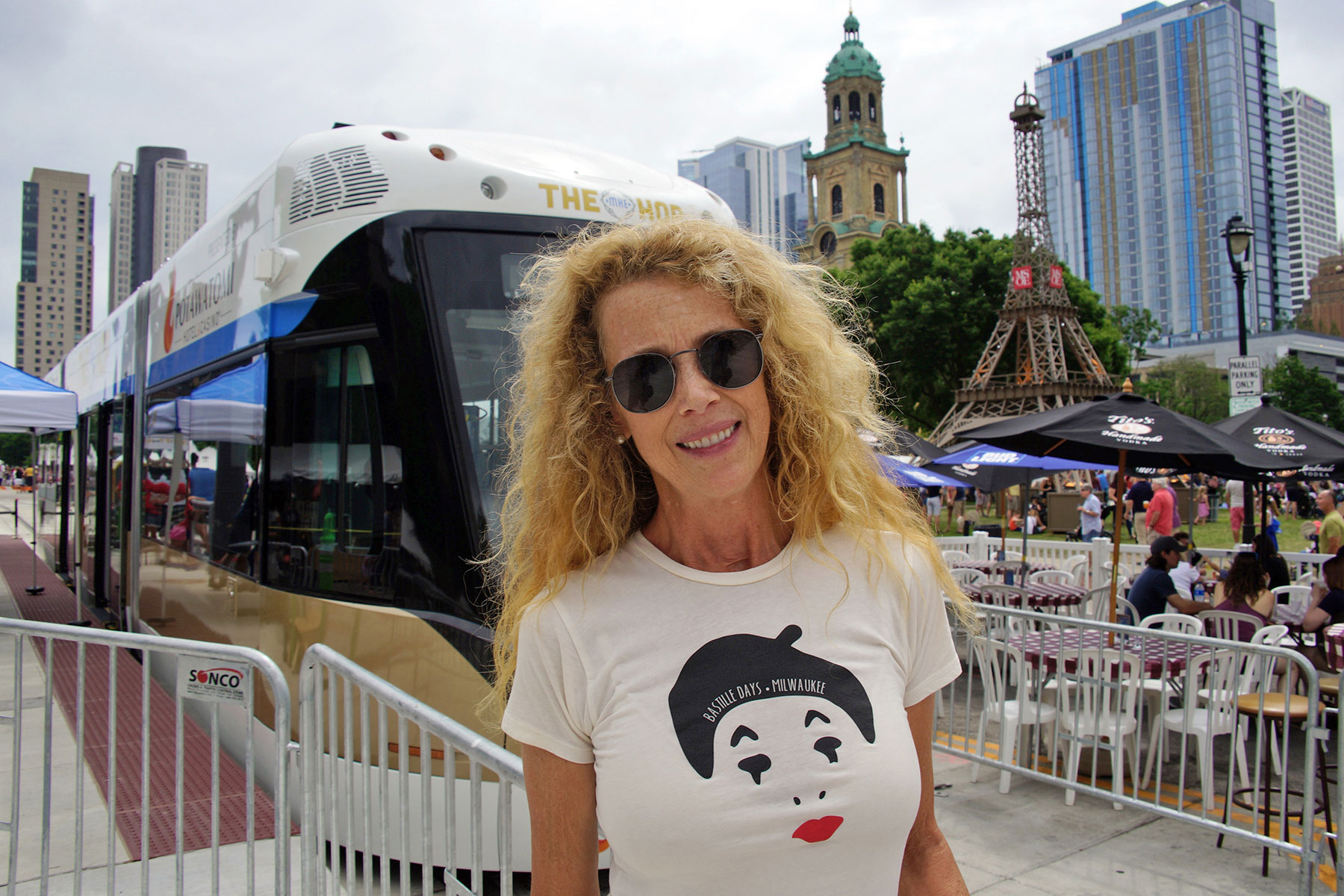 Bastille Days, Milwaukee's 37th annual free French street festival, returned to Cathedral Square Park from July 12 and 15, with a special appearance by one of The Hop Streetcar vehicles.
The event is known for the impromptu street performers, roaming minstrels, and a variety of interactive and musical entertainment. With a gourmet spread of food and libations, the four-day event included free food and drink demonstrations by the area's top chefs, ticketed wine tastings, and nearly 25 eateries serving French, Cajun and American cuisines.
For 2018, Bastille Days had a slightly new footprint. The modified boundaries were implemented in anticipation of streetcar operations. Over the last year, organizers worked closely with city officials on a revised layout that would complement streetcar service and minimize impacts to neighboring businesses. The new footprint kept Bastille Days anchored in the hub of the downtown neighborhood and provided visitors with better accessibility.
Festival-goers will not be able to ride The Hop to Bastille Days until next summer, but the attraction gave many attendees their first opportunity to board the new streetcar. Remaining stationary during the event, with ADA-compliant level boarding to provide the public with easy access to the vehicle, The Hop was parked over the weekend at the Cathedral Square platform on Kilbourn Avenue, between Jefferson and Jackson Streets.
In addition to opening the streetcar doors to the public, Hop Helpers were on hand to answer questions about the new transit system, hand out information on how to HopSmart and share Milwaukee's roads, and present the long-term vision for where the project will be hopping next.
"Bastille Days is always a highlight of the summer in Milwaukee, and we're thrilled to add to the excitement with this unique opportunity to be among the first to climb on board The Hop," Milwaukee Mayor Tom Barrett said. "We've worked closely with Bastille Days staff and the East Town Association to ensure that The Hop will serve as a convenient transportation option for festival-goers in the years ahead."
Two of five vehicles for The Hop have already arrived in Milwaukee from Brookville, Pennsylvania-based Brookville Equipment Corp., with the remaining three vehicles set to be delivered in the coming months. The Hop vehicles are now undergoing on-street testing along the route, which will continue throughout summer.
The public is expected to first be able to ride The Hop in November. Rides will be free for the first year, thanks to Potawatomi Hotel & Casino's generous 12-year, $10 million sponsorship deal.