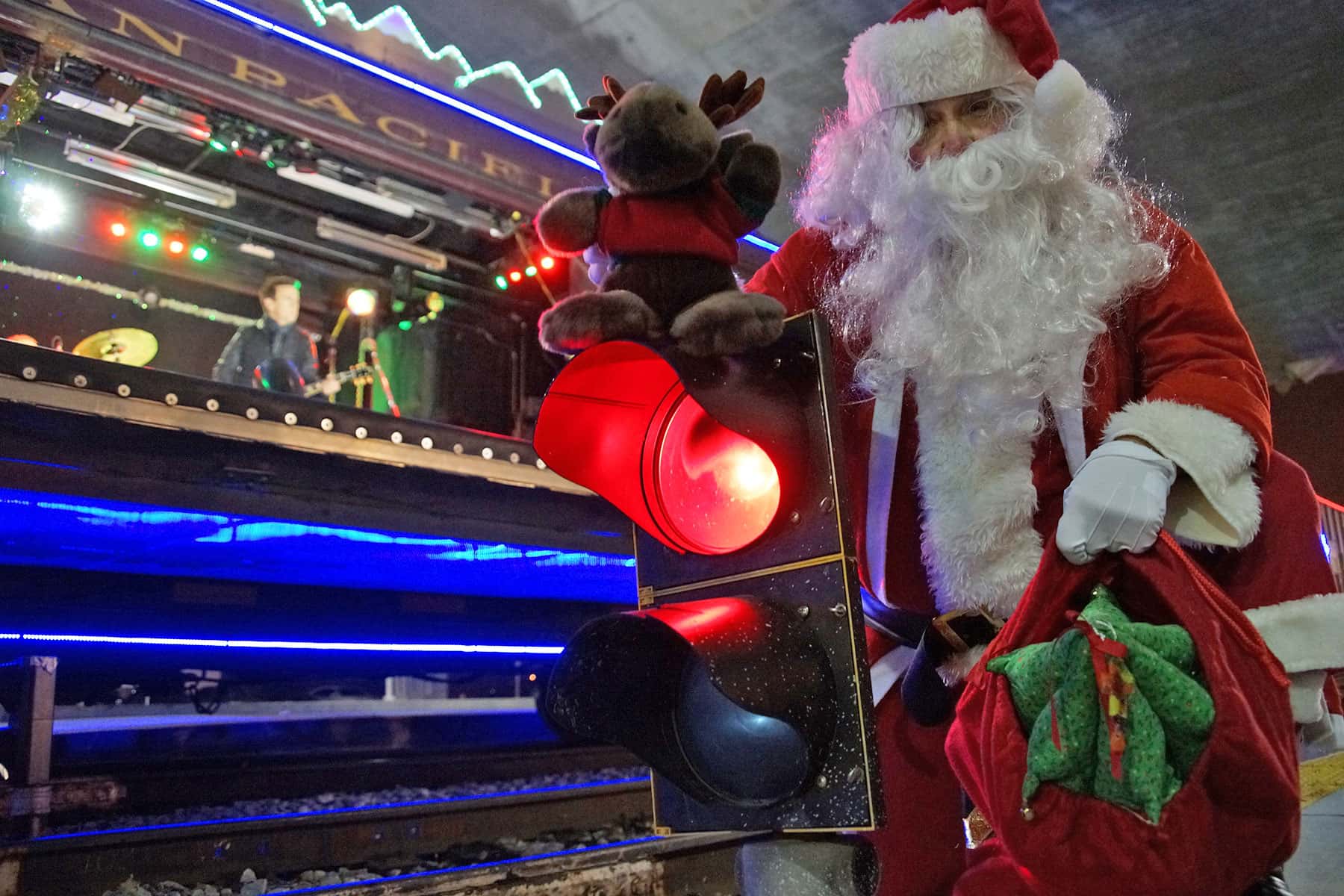 The 2016 Holiday Train raised 3,100 pounds of food for Milwaukee families.
The Canadian Pacific (CP) Holiday Train returned to the Amtrak Intermodal Station in an effort to raise money, and collect food for the Hunger Task Force. It has stopped in Milwaukee and supported Hunger Task Force as its charity of choice since 2011. The free event has also helped raise more than $56,000 in the past five years, from CP Railroad and individual donors.
The Holiday Train featured 14 rail cars, each aglow with hundreds of thousands of lights in holiday designs, and spanned a total distance of 1,000 feet. It also brought a mobile stage with a live musical performances by from Kelly Prescott and Colin James.
"Hunger Task Force was thrilled and grateful to have the Canadian Pacific Holiday Train roll through Milwaukee to help feed hungry families in our community again this year," said Jonathan Hansen, Development Director of Hunger Task Force. "Huge thanks to our sponsors at Old Republic Risk Management, and to the thousands of families who came out to enjoy the holiday magic and support Hunger Task Force."
The Wisconsin Department of Transportation estimated that around 5,000 people attended the Holiday Train's arrival in Milwaukee. The crowd of kids, families, and spectators of all ages packed the bus depot's parking lot, adjacent to the station. The train stopped in Gurnee and Sturtevant before arriving in Milwaukee on December 6, and then moved on to other destinations along the CP rail network.
Each year, fans of the Holiday Train follow its journey over social media, posting images of the decorated locomotive in various cities and landscapes. While Hunger Task Force was presented with a $8,500 donation from Canadian Pacific, the ceremony was streamed live on Facebook with a shoutout to viewers in Australia who were watching.
Attendees were encouraged to enter the "Capture the Spirit" photo contest, for the chance to win an exclusive ride on next year's train. Public rides were not available on the train, but the children were content with Santa selfies.
Hunger Task Force works to prevent hunger and malnutrition by providing food to people in need today, and by promoting social policies to achieve a hunger free community tomorrow.
These images are highlights from the annual visit that saw Santa roll into Milwaukee aboard the Holiday Train, bringing cheer to all and helping feed the hungry.