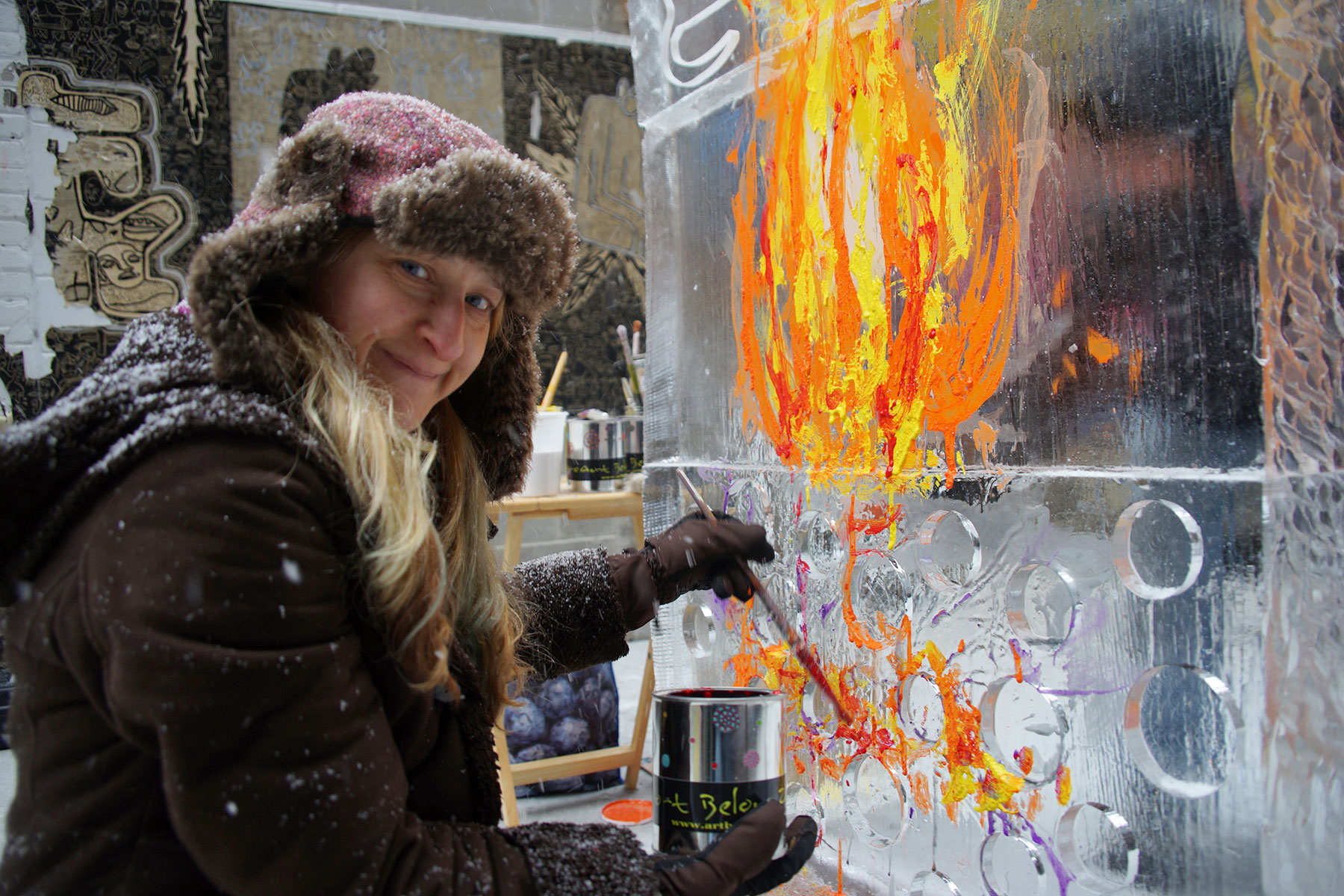 The open air gallery, Black Cat Alley, hosted its first live art performance of the winter with "Fire on Ice" on February 3.
Dozens of residents came to the alley, running from Kenilworth to Ivanhoe between Farwell and Prospect Avenues, to watch artists Renee Bebeau and Todd Mrozinski paint campfire images on a nearly six-foot-tall slab of ice. Several visitors participated in the public painting session. The weather also provided a fitting atmosphere by sprinkling more than a inch of snow during the event.
"We wanted to focus on something cozy in the middle of the winter. We are actually halfway to spring now, so it's a celebration of warmth for the people of Milwaukee," said Bebeau. "We brought certain brushes to paint on the ice, and we can add layers to build-up the surface to resemble fires and burning logs done with oil paints. Plus, we can pour hot water over it to create texture."
Neither Bebeau nor Mrozinski had painted on ice before. They practiced with a smaller ice canvas at Max Zuleta's ice sculpting studio Art Below Zero to get a feel for it. The idea for the ice canvas originated from the team at Art Below Zero. Tempera paint was used with gelatin as a thickener, but the process was still a little drippy.
"I have been working with the East Side BID to try and reinvigorate Black Cat Alley with lots of programs throughout the whole year. This cold weather event represents the first of many small events that we hope to hold in the alley on a regular basis, to keep that area energized and relevant to the community," said Stacey Williams-Ng, Program Director of Black Cat Alley and Founder of Wallpapered City. "I think everyone was surprised at the gorgeous results."
Concurrent to the Black Cat Alley event was a special feature staged next door, in the future home of Sip & Purr. Due to the cold and its happy bundles of fur, the indoor attraction proved to be equally popular with the public. Previously occupied by East Side Gallery & Framing, the new enterprise will be Milwaukee's first cat café.
"When people hear cat café they think it's a place where they can come and bring their own cat. It's not," explained Katy McHugh, owner of Sip & Purr. "We have everyone covered in the cat department. All people need to do is show up, we'll have plenty of cats for them to hang out with."
McHugh delayed the start of construction until February 5, after the adjacent Black Cat Alley event was completed. The café plans to open this summer. Almost a year ago, McHugh was in Amsterdam just sitting in a café, when a cat named GiGi jumped on her lap. After petting her, McHugh realized that all she wanted to do was open a place where people can drink wine and pet cats.
The cat café trend is credited with starting in Taipei, Taiwan in 1998. The popularity quickly caught on with Japanese tourists who grew up with the iconic Hello Kitty cartoon and imported the idea. Cat cafés have thrived in Japan due to its long-standing cultural fascination with felines, but also because of the lack of housing accommodations for pets.
McHugh has traveled around the world and seen many cat cafés as a flight attendant for the past 19 years. She knew one would come to Milwaukee at some point and, having three cats of her own, wanted to make sure it was done right.
"The really cool thing is that if I had not been a flight attendant, I would not have been in Amsterdam. So that exposure has given me insight into making this the best cat café in the United States. I have been able to travel to all different kinds of cat cafes across the country, to see what worked and didn't work so good, and put those lessons into Sip & Purr," said McHugh. "Our main focus is to get cats into loving forever homes, by giving Milwaukee and the whole community here in Wisconsin a unique and fun experience. But ultimately it's all about putting cats into homes."
Sip & Purr will be divided into two separate sections to comply with health regulations and for customer who have allergies to cats. One side will have the café and kitchen, and the other section will have the cats. There will windows where customers can look in and see the cats, but not be able to actually touch them. People can come into the café if they want to have coffee, which will be the only Wisconsin location to serve Ruby Coffee. Then visitors can hang out with the cats.
Elizabeth Martin, who was the pastry chef at Wolf Peach for two and a half years, will be the Chef at Sip & Purr. A cat lover herself, she jumped at the opportunity when she learned that the place would be opening. Martin said it was a good fit while she went back at school to pursue another degree, this time in dietetics from Mt. Mary University.
"We are going to actually have a full menu of food, wine, cocktails and coffee. So it's not just a place where people can go hang out with cats. People can get a nice bite to eat and then relax," said Martin. "I'm producing home-made pet treats for the cats. So if people wanted to buy them, they can come in and feed the cats. Or if they have cats at home they could always buy these as treats for their pets. They will contain all natural ingredients. Customers will know exactly what's in the product, not like store bought stuff that has unknown preservatives."
Customers can also pay a small fee that will go to the care of the cats, for their food and shelter. The overall purpose of Sip & Purr is to help get the cats adopted, which is why the café paired up with Lakeland Animal Shelter. All the cats will be ready for adoption, and have been spayed or neutered, vaccinated, microchipped, and medically tested and treated.
"So we hope people will come in to hang out with the cats, and find one to take home and be their forever friend," added McHugh.