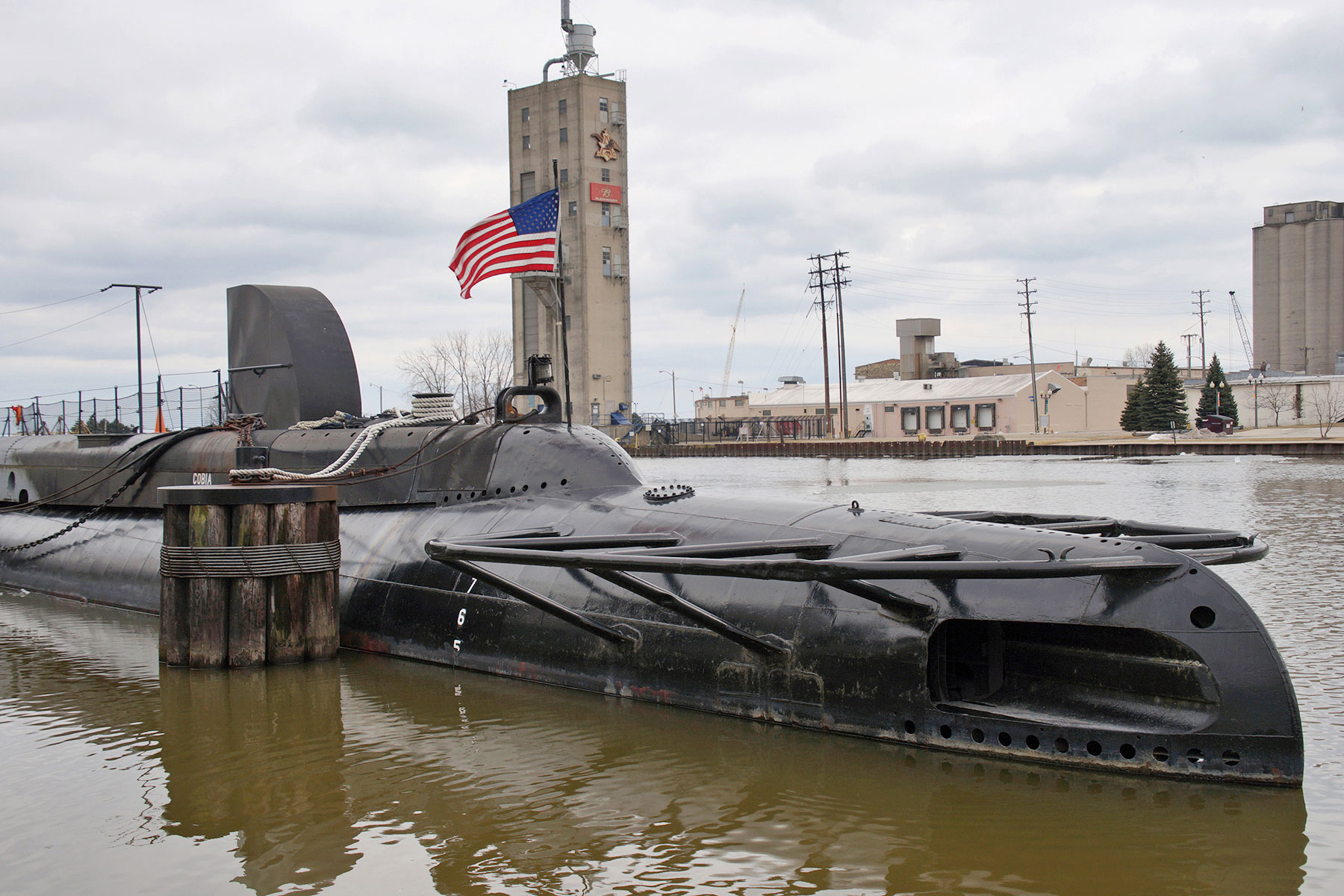 Adjacent to the Wisconsin Maritime Museum, the World War II fleet submarine USS Cobia (SS-245) is moored along the Manitowoc River. Named after a species of perciform marine fish, the vessel has local and national significance as an icon of Wisconsin's shipbuilding heritage, a GATO-class fleet submarine similar to the twenty-eight subs built in Manitowoc during World War II.
Technically, the USS Cobia was produced by the Electric Boat Company of Groton, Connecticut, but it is the same class of submarine built by Manitowoc shipbuilders. All but three were constructed in time to see action during the war, but none of the freshwater submarines were available for preservation at the Wisconsin Maritime Museum.
Launched on 28 November 1943, and commissioned on 29 March 1944 with Lieutenant Commander Albert L. Becker in command, the USS Cobia was one of the most effective submarines of this type during the two decades that it was in use. It had six patrols during World War II and sank thirteen Japanese vessels. By 1959, however, the U.S. Navy considered it obsolete and transferred her to the Milwaukee Naval Reserve Center where she served as a training platform for eleven years. On 1 July 1970, it was struck from the Naval Register and towed to Manitowoc where she serves as an international memorial to all submariners.
The USS Cobia undergoes routine maintenance at the Wisconsin Maritime Museum, and requires many man-hours to preserve and restore the vessel. The first step of the long-term plan to rehabilitate the USS Cobia was completed in 1996, with a dry-docking stay in Sturgeon Bay. The exterior hull was restored, allowing museum staff and volunteers to focus their efforts on the interior. After years of labor, the submarine was returned to its appearance at the peak of its life during World War II. The USS Cobia's SJ-1 radar equipment is considered one of the oldest operational radar units in the world.
Historical Marker
At the outbreak of World War II in 1939, President Franklin D. Roosevelt called upon America to rearm. Increasing the number of submarines became a goal. Because existing shipbuilders could not meet production schedules, the U.S. Navy approached Charles C. West, president of the Manitowoc Shipbuilding Company, and requested that his firm build submarines.

Government contracts led to the expansion and modernization of the Manitowoc Shipbuilding Company facilities. Workers and engineers rapidly developed innovative con­struction methods, including side-launching of submarines. Ultimately, the Manitowoc Shipbuilding Company employed some 7,000 workers in three shifts, seven days a week.

U.S.S. Peto, launched in 1942, became the first of twenty-eight fleet submarines built at Manitowoc. The submarines were towed to New Orleans via the Illinois-Mississippi Waterway using a special floating dry dock. U.S.S. Rasher, a Manitowoc submarine, sank 99,901 tons of Japanese shipping, the second highest total for an American submarine. Four Manitowoc submarines, Golet, Kete, Lagato, and Robalo, along with 336 officers and enlisted men were lost during the war.

– Manitowoc Submarines
Displacement, Surfaced:
Displacement, Submerged:
Length:
Beam:
Draft:
Depth limit:
Speed, Surfaced:
Speed, Submerged:
Propulsion:
Submerged Endurance:
Patrol Endurance:
Range:
Complement:
1,526 tons
2,424 tons
311.8 ft
27.3 ft
5.3 ft
300 ft
20.25 knots
8.75 knots
5400 hp diesel engines, 2740 hp electric motors x 4
48 hours at 2 knots
75 days
11,000 nmi
60 officers and enlisted
10 x 21 in torpedo tubes (six forward, four aft), 1 x 3 in 50 caliber deck gun, four machine guns