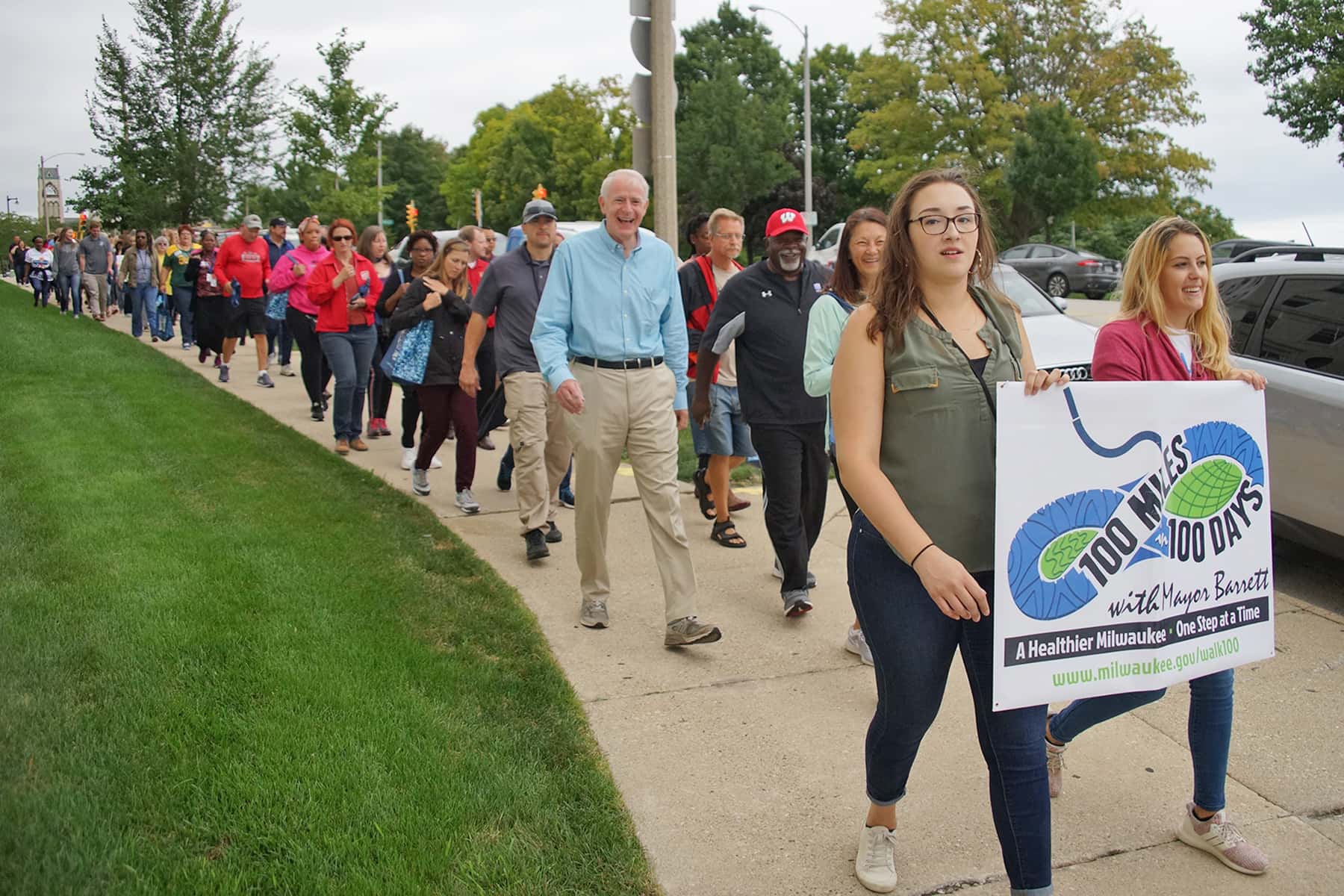 Milwaukee Mayor Tom Barrett hosted the finale to his 6th Annual Walk 100 Miles in 100 Days initiative on September 6 at Cathedral Square Park, with a walk route around the Yankee Hill area that included a view of Lake Michigan.
The last "Walk 100" for the year celebrated the end of the 2019 season, which has facilitated 147 walks over the program's six-year history. Local health and fitness organizations set up information booths in the park, providing wellness and health education to the walk participants.
The first 150 walkers also received a free lunch from Next Level Vegans MKE, Pete's Fruit Market, and Outpost Natural Foods. The YMCA of Metropolitan Milwaukee lead the group in an energizing warm-up, which was followed by a raffle for prizes before the one mile walk began.
Throughout the summer, participants were encouraged to walk on their own, in a group, or join one of the many community walks to work toward the goal of 100 miles in 100 days. 61 participants met the challenge in 2019.
"The walks have come to an end for this year, but I want to encourage everyone to continue investing in your health," said Mayor Barrett. "Please meet with our fitness and health partner to learn more about available resources."
The participant with the most miles logged reached 853 miles. Including the finale walk, Mayor Barrett logged 30 miles from 22 public walks, with more that 1,300 participants this year.
Mayor Barrett created the Walk 100 Miles in 100 Days Challenge in 2013 with the belief that when residents walk alongside people in their community, relationships are formed and our city becomes stronger. Walk 100's overall goal is to increase physical activity among residents while promoting the uniqueness of Milwaukee's neighborhoods. Walk 100 partnered with community organizations, elected officials, and residents to host walks in all corners of the city.