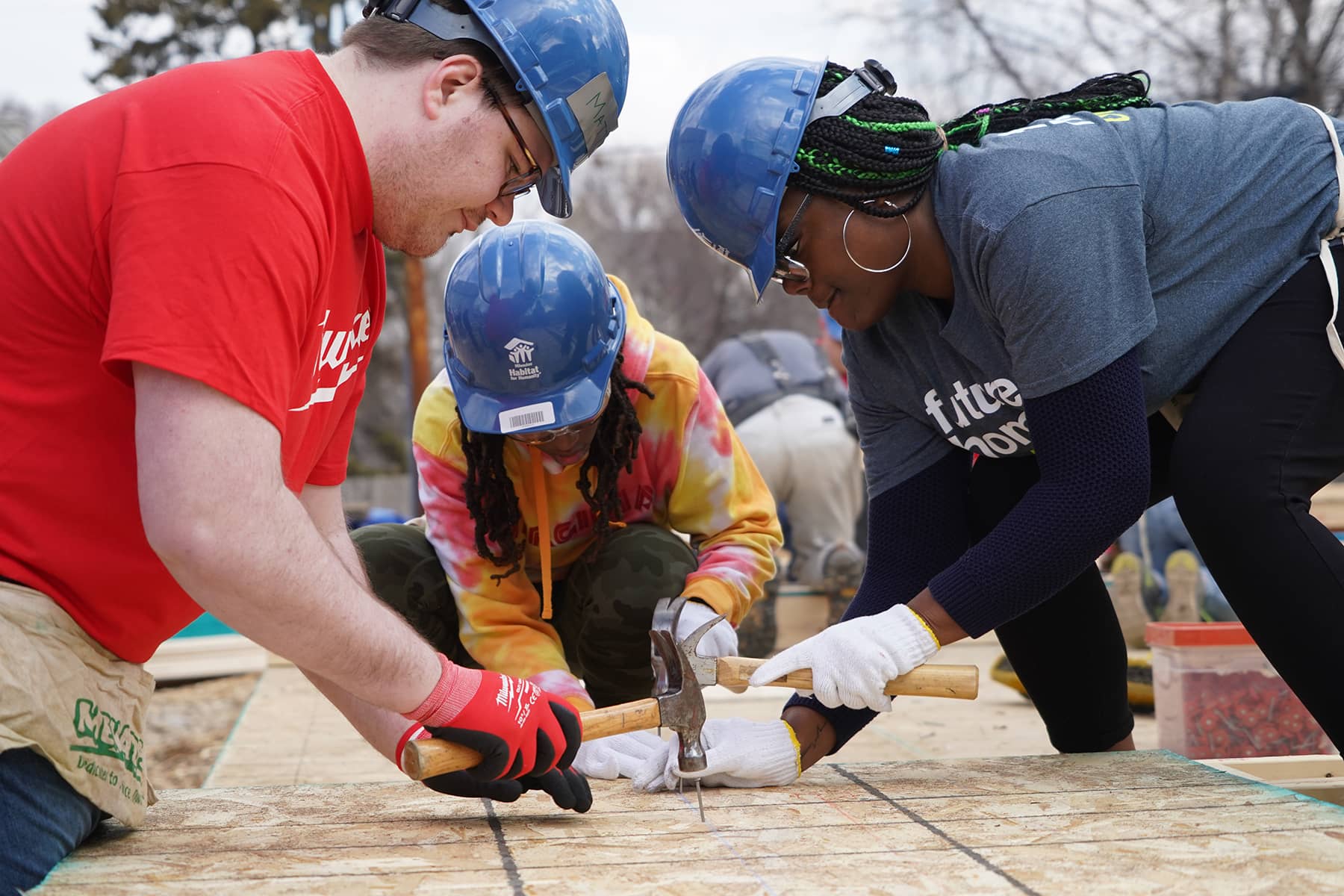 Local leaders joined with Milwaukee Habitat for Humanity in the Harambee neighborhood on March 16 to raise the first wall of the nonprofit's 2022 build season.
To celebrate the beginning of Milwaukee Habitat's 37th year building in Milwaukee, Acting Mayor Cavalier Johnson, CEO of Bader Philanthropies Dan Bader, State Representative Kalan Haywood, Alderwoman Milele Coggs, and volunteers from Milwaukee Tool were on hand to begin construction on the first of two affordable homes for the year.
"Homeownership brings stability, it brings pride, it brings a sense of accomplishment. It brings a sense of success for individuals and their families that call where they live a home. We need more owner-occupied homes in our neighborhoods, because home ownership is important for our community," said Mayor Johnson. "It truly makes a difference in the lives of local families across our city, and the people who are in need of safe and affordable housing in neighborhoods. Being a homeowner in Milwaukee, you get the chance to invest in your property, and it creates the opportunity to have generational wealth so that folks don't have to start from the beginning, generation after generation, like we see too often with families in our city."
Mayor Johnson emphasized how home ownership brings a sense of community to where people live. That connection brings public safety, which has been a critical issue in Milwaukee during the pandemic. He also mentioned that on March 10, City Hall hosted several wooden planks for the public to sign. The studs, which were used to frame walls in the two houses under construction, were covered with well wishes for the new home owners. The Mayor remark that the inspirational messages showed the awareness of how important housing is to Milwaukee families.
Milwaukee Habitat has worked to break down the barriers to homeownership for first-time buyers in need of affordable housing. Through its affordable homeownership program, Habitat homes in the neighborhood were being sold to local families in need of affordable housing. The average monthly mortgage payment for a Habitat home is $600 to $800 per month.
"As we stand here, surrounded by a lot of lumber, it may appear at first that we're going to be building some homes. But that's not actually true. What we're going to be doing is building dreams," said Brian Sonderman, Executive Director of Milwaukee Habitat for Humanity. "These walls represent so much more than lumber, they represent dreams of stability. Dreams of generational wealth. Dreams of a place that you can call your own."
Sonderman shared the story about a mother of three who moved into her Milwaukee Habitat home. She had wanted to stop investing in someone else's dream, and wanted to start building her own. She was previously paying more than $1,000 in rent every month. When she started to do the math, she added up all those monthly rent checks, and she realized that she could have paid off her own mortgage in the time that she had been renting.
"Unfortunately for all too many Milwaukee families, renting seems like the only option," said Sonderman. "The barriers to becoming a first time homebuyer are daunting. Rent is skyrocketing nationally and in our own community. In Milwaukee, one out of three renters spend more than half their income on housing. The high cost of housing makes it extremely difficult to save for a large down payment to be able to get approved for a home loan, or even to find a home in a decent price range."
Milwaukee Habitat's program provides an alternative to the skyrocketing cost of housing in the city. While the average cost to rent in Milwaukee is more than $900 per month, the average cost to own is more than $1600 per month. Due to the steep expense of housing, the majority of Milwaukee Habitat homeowners spend less on their mortgage for a brand new Habitat home than they had been paying to rent.
"This partnership has been a shining example of community collaboration. In 2021, I was proud to support an effort that sold 41 City-owned vacant lots to Habitat for $1 per lot. This combined Habitat's work with a generous gift of $1 million from Bader Philanthropies to allow for the creation of safe, affordable housing that will provide families the tools to build wealth and equity," said Alderwoman Milele A. Coggs. "Habitat has been a tremendous partner in recent years as they work with the City and surrounding community to build affordable homes that will be occupied by first-time homeowners."
The two sites in the Harambee neighborhood are located the 6th Aldermanic District. Alderwoman Coggs said that the work was continuation of Habitat's goal to build 80 new homes over four years in the area. Their continued work had already proven invaluable for Harambee residents, and the effort to build a stronger Milwaukee.
Through Milwaukee Habitat's affordable homeownership program, no down payment is required, closing costs are low, and the home loan will not exceed 30% of a family's income – widely recognized as the threshold for affordable housing.
Habitat homeowners help build their own homes alongside volunteers. Home maintenance and financial education courses are also included as part of the program to help first-time buyers transition from renting to ownership. Since being founding in 1984, Milwaukee Habitat has served more than 1450 local families in need of safe, affordable housing.