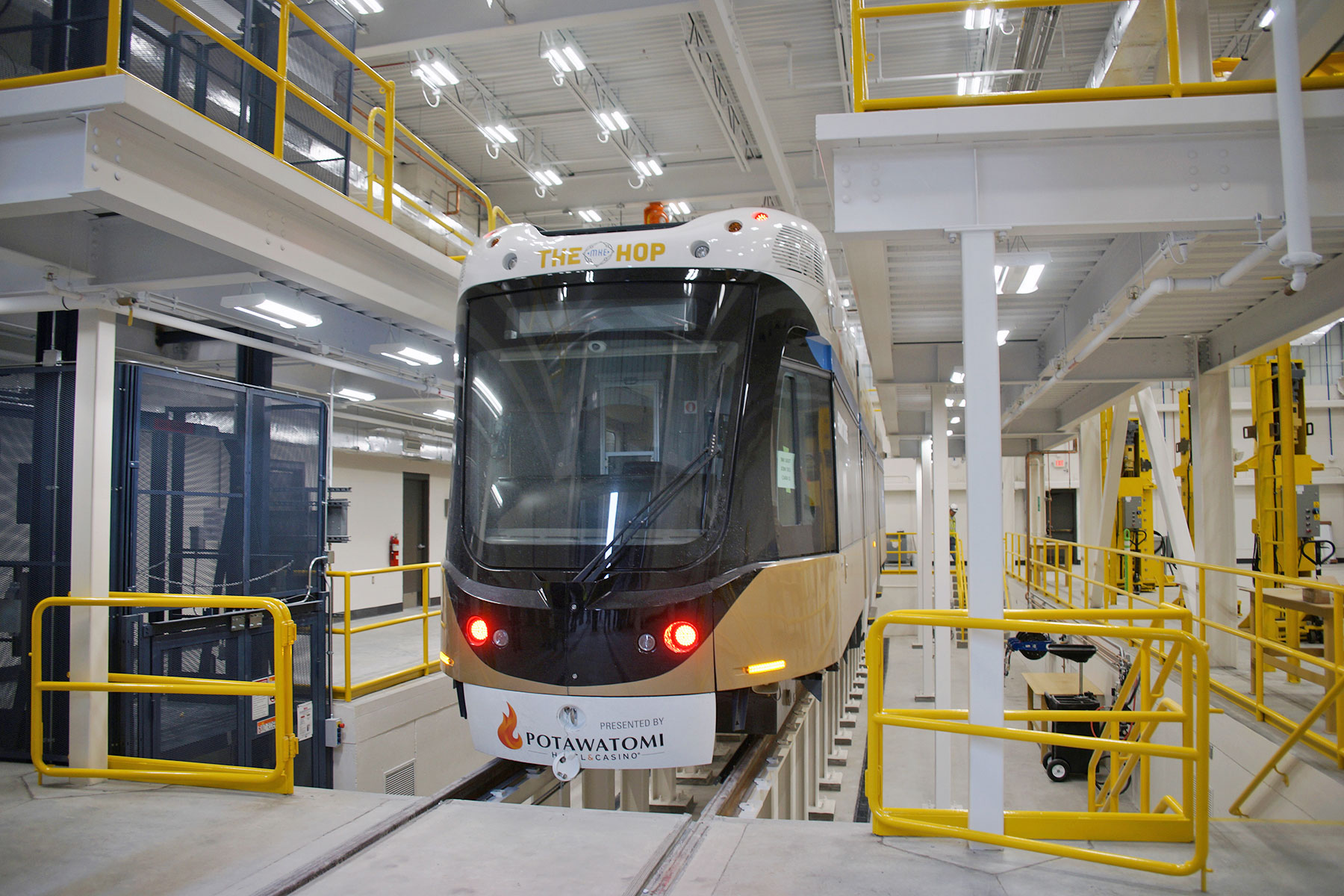 The first of five vehicles for the $128 million streetcar system was delivered to Milwaukee on March 26, welcomed by a jubilant crowd of dozens of area residents.
The 67-foot long, 83,000-pound streetcar traveled almost four days from its Brookville Equipment Corp. manufacturing plant in Pennsylvania by a special flatbed truck, and was unloaded onto a stretch of rails along W. St. Paul Avenue between 3rd and 4th Streets.
Operating from a limited battery charge, the streetcar was driven a few hundred yards into its new home, the Operations and Maintenance Facility recently built underneath the Interstate 794 overpass.
Missing from the vehicle was the roof system to convey electrical current from the overhead wires to power the engine, and a protective skirt that will cover the wheels. After the final vehicle assembly and completion of the railway system, one thousand kilometers of route testing must be completed to comply with federal mandates.
"Passengers will not be on the cars for the next several months. It is our hope that by probably by November, if not sooner, but that's the goal right now to have passengers on the cars. We are very pleased up to this point that the project is on budget and on time, two things are very important to us," said Milwaukee Mayor Tom Barrett. "What we sense is that there's growing support for this. People recognize the reality of this and how competitive this puts Milwaukee with other major metropolitan areas. The Streetcar is about economic development as well as transportation."
The maneuver was celebrated as the first time a streetcar has moved along the surface of a Milwaukee street for almost 60 years to the day, when the city's last streetcar route was closed in the early morning hours of Sunday, March 2, 1958.
Streetcar operations once covered over 191 miles of Milwaukee streets. Portions of the original #10 Line on Ogden and Jackson Street will again see streetcar service as part of the modern system's starter line.
The delivery also featured the official reveal of the streetcar fleet's color scheme. While other Milwaukee TV new stations spotted the vehicle en route to Milwaukee, the general public was not aware of how the streetcar was painted until photographs of its arrival began to flood social media.
"Right now in the city of Milwaukee we are undergoing an incredible renaissance, and there's a lot of development here in the heart of the city. So the streetcar compliments that, which is all about making this city more desirable for those people who work here, live here, and visit her," added Mayor Barrett. "Again, we know this more work to be done. We know that there are critics out there, and we are hoping to win over the critics by having this work, and work well. That's what we've seen in cities where there's been support."