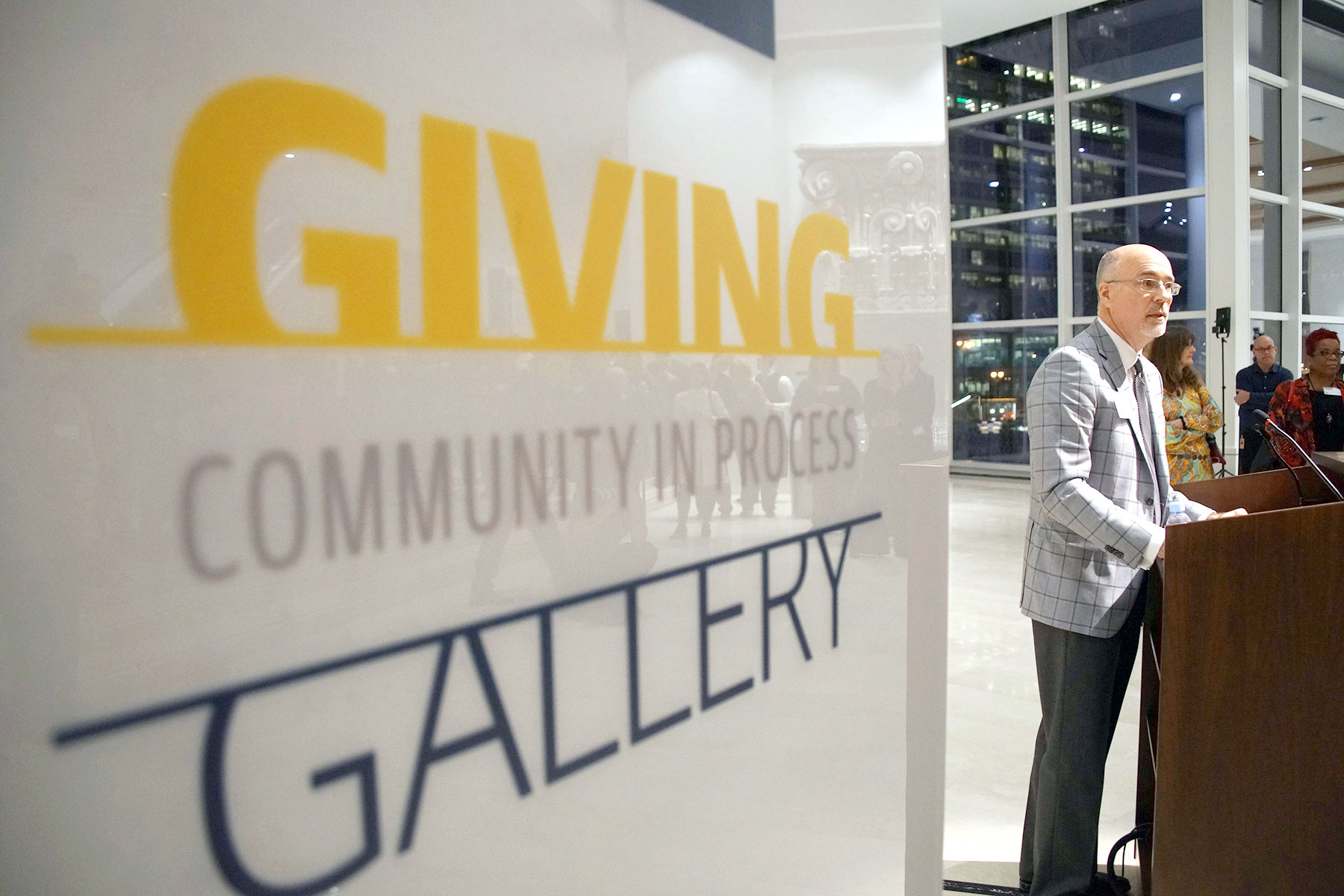 Northwestern Mutual hosted a special preview of its year-long public exhibition "Giving Gallery: Community in Process" on February 9, as part of the 25th anniversary of its commitment to Milwaukee's diverse communities.
Through the power of visual arts, the Northwestern Mutual Foundation celebrated its two and a half decades of dedication to positive social change with the first-of-its-kind exhibit. More than 300 people attended the private showing, which included the artists and nonprofit groups involved in the awareness project.
"We created an interactive art experience highlighting 25 of our nonprofit partners. Of the $320 million the Foundation has contributed, these organizations have received nearly $90 million," said Lynn Heimbruch, assistant director of strategic philanthropy at Northwestern Mutual and the gallery project's lead. "I'm so proud to work for a company that places so much value on giving back. We hope that people who visit Giving Gallery will be inspired to get involved."
Starting February 15, Giving Gallery will be open to the public for free weekdays from 8:00 a.m. to 6:00 p.m. Northwestern Mutual plans to tour the exhibit to its other company offices around the country next year after is closes in Milwaukee.
"Giving Gallery commemorates 25 years of work by the Northwestern Mutual Foundation to help improve the lives of children and families in our hometown of Milwaukee and across the country," said John Schlifske, chairman and CEO, Northwestern Mutual. "We have brought these stories to life through art, highlighting our commitment to the communities we serve."
The exhibit consists of 26 pieces of original artwork, completed in a variety of media by 17 artists with Wisconsin ties. Each nonprofit was given a $10,000 grant and paired with an artist who interpreted the impact of the organization. The diverse and thoughtful works of art are on display in the Northwestern Mutual Tower and Commons.
One of the goals of the project is to inspire and encourage the public to become involved with the organizations represented in the exhibit, providing visitors with a personal connection and motivation to make donations, advocate for causes, or seek volunteer opportunities.
"This has been the perfect opportunity to pause and look back at the work we've done through investments and the countless lives that have been impacted," said Eric Christophersen, president, Northwestern Mutual Foundation. "It's also the chance to acknowledge the incredible partnerships we've fostered in the nonprofit community."
Patronage of the visual arts has a longstanding place in Northwestern Mutual's culture. The company's Art Program features a variety of contemporary artwork throughout its campuses, with a mission to start meaningful conversations, inspire thinking, and stimulate curiosity.
"In the forest, all trees are connected and communicate by a root system that exchanges nutrients and water. What happens to one tree is noticed by and affects all surrounding trees. I chose to personify the tree in my painting to emulate that connectedness and how the giving of one affects the collective, mirroring the philanthropy of Northwestern Mutual and its associated nonprofits as well. The honeycomb, the pomegranate, the seedpods, and flowers all represent abundance, feeding all levels of life from the insect, to the bird, to the human, who pass on its riches knowingly or not. But most importantly my inspiration came from realizing all that can happen from the committed nurturing of even the smallest of seeds." – Nova Czarnecki, Velvet Branches
Artists and Nonprofits
Nova Czarnecki
• Northwestern Mutual Foundation
Matthew Duckett
• Teach for America Milwaukee
• Schools That Can Milwaukee
Eduin Fraga
• Milwaukee Public Schools
• United Community Center
Amy & Jonathan Gelfman
• Sojourner Family Peace Center
Mutópe Johnson
• Big Brothers Big Sisters of Metro Milwaukee
• Boys & Girls Clubs of Greater Milwaukee
Shelby Keefe
• Dominican Center
• Metcalfe Park Community Bridges
• Milwaukee Christian Center
Nancy McGee
• Milwaukee Succeeds
Margaret Muza
• Giving Gallery Artist Portraits
Mike Miller
• Alex's Lemonade Stand Foundation
• Beads of Courage
• Children's Hospital of Wisconsin
Steve Ohlrich
• United Way of Greater Milwaukee & Waukesha County
• United Performing Arts Fund
Sonja Oldenburg
• Betty Brinn Children's Museum
• Milwaukee County Zoo
Tom Queoff
• COA Youth & Family Centers
• Milwaukee Public Museum
Julie Roth
• Milwaukee College Prep
Jordan Waraksa
• Ronald McDonald House Charities Eastern Wisconsin
Della Wells
• City Year Milwaukee
• Feeding America Eastern Wisconsin
Hiroko Yamada
• American Red Cross