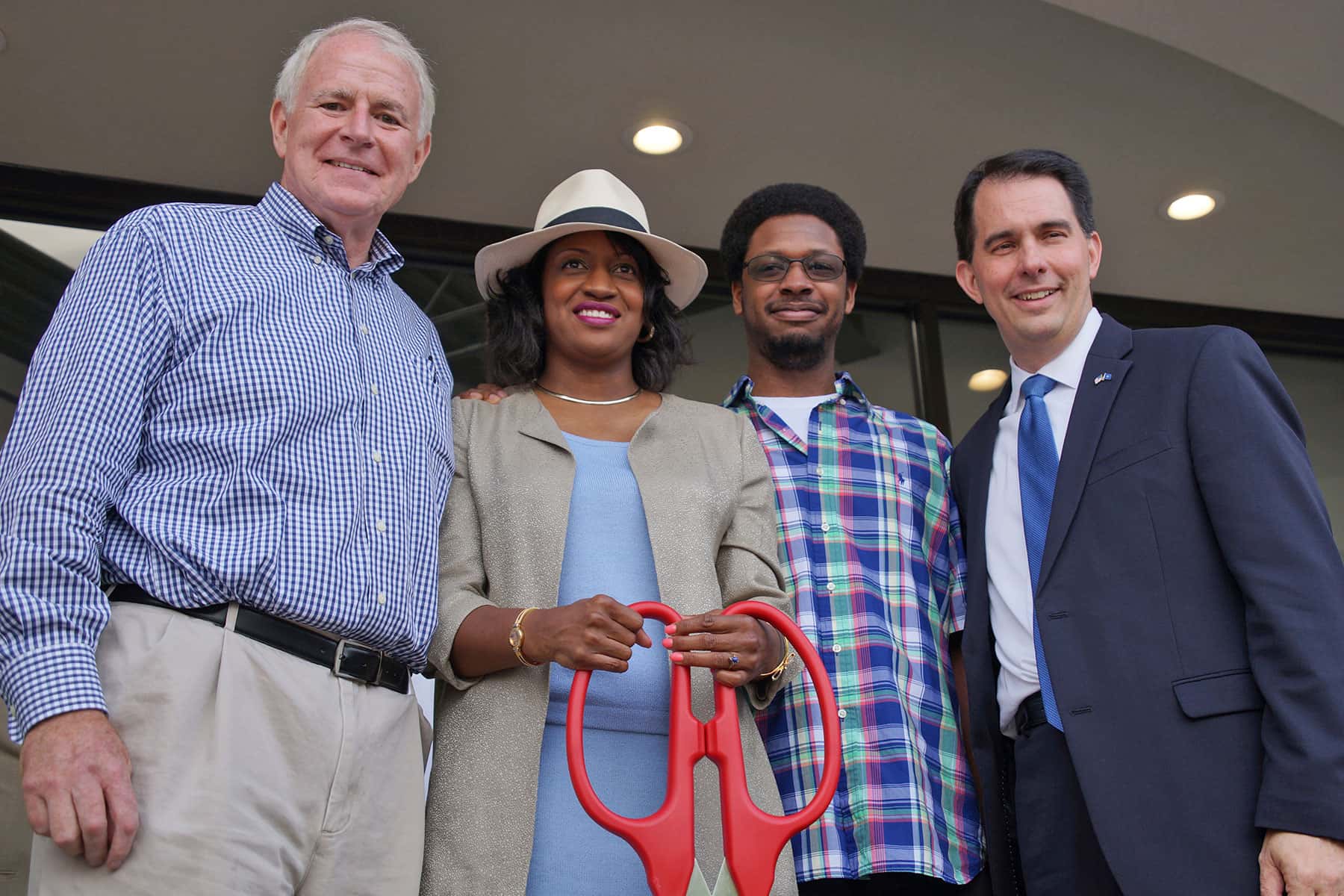 State and local officials joined community leaders and industry partners for a combined ribbon cutting and ground breaking ceremony at the Welford Sanders Historic Lofts on Juneteenth Day.
The celebration marked the opening of the renovated office space and beginning of construction for the residential portion of the project, which is located at 2821 N. 4th Street. The project is named in memory of former Martin Luther King Drive Economic Development Corporation (MLKEDC) executive director, Welford Sanders, who passed away unexpectedly in May 2015.
"This project demonstrates the important role public-private ventures play in our state's economic development," said Wisconsin Governor Scott Walker. "It is inspiring to see the positive repurposing of an historic building into an economic generator and job generator for the Milwaukee neighborhood."
Welford Sanders Historic Lofts is a $21 million historic renovation of an underutilized and deteriorating 190,000 sq. ft. industrial building built in 1916 as a Nunn Bush shoe factory. The project includes renovation of approximately 38,000 sq. ft. of office space, formerly the Milwaukee Enterprise Center, and the creation of 59 new housing units, producing a "walk-to-work" environment. The current phase of renovation and construction on the building started in February 2017 and will be complete in March 2018.
"The successful renovation of this historic building is critical to the ongoing stability and revitalization of the Harambee neighborhood," said Milwaukee Mayor Tom Barrett. "This project is also a fitting tribute to the vision and legacy of the late Welford Sanders, who, as executive director of the MLKEDC, was a driving force in the renewal of Martin Luther King Drive and the Harambee neighborhood."
The renovated office space is being leased to the previous tenants of the Milwaukee Enterprise Center, who are involved in eliminating barriers to employment with collaborative job training and other supportive services for unemployed and hard-to-employ Milwaukee residents.
"This building and all the work going into it is my father's dying wish. I know what this means to my dad, his work was very personal to him. He took it home every day, and we spoke about it all the time," said Dawn Sanders, daughter of Welford Sanders. "He was tireless in terms of what he wanted to see for this community."
At the event, Governor Scott Walker announced the Wisconsin Economic Development Corporation (WEDC) had awarded a $250,000 Community Development Investment Grant to Milwaukee County for the project, the final piece of financing needed for the redevelopment to move forward.
"Welford Sanders' unforgettable crusade to eliminate urban blight and solidify neighborhoods left us a life lesson that historic rehabs on scattered sites should not be viewed as impossible, but doable," said Wyman Winston, executive director of the Wisconsin Housing and Economic Development Authority (WHEDA). "The Welford Sanders Historic Lofts is a lasting testament to his devotion to Milwaukee and the progress he brought to its neighborhoods."
The residential portion of the development includes indoor parking and other exceptional amenities for the residents and will open in March 2018. A life size statue of Welford Sanders is being commissioned and will be placed in the building's courtyard to commemorate his significant contributions to Milwaukee and this neighborhood, including his desire to improve the lives of individuals and families via affordable housing.
Tax Credits and Project Financing
The securing of federal and state historic tax credits along with the federal affordable housing tax credits were critical in structuring the complex financing arrangement. These commitments were made possible through three State of Wisconsin agencies: The Wisconsin State Historical Society, the Wisconsin Economic Development Corporation (WEDC) and Wisconsin Housing and Economic Development Authority (WHEDA), all of which made significant financial and staff time commitments.
"I think it is really important to note this development is really just one small portion of Mr. Sanders amazing legacy. WHEDA has worked with Mr. Sanders on numerous endeavors that have had a strong and productive impact all around the corridor, as well as surrounding neighborhoods," said Brenda Marquardt, WHEDA Marketing Director. "These endeavors have and will continue to improve the quality of life for many Milwaukee residents. At WHEDA, we are extremely grateful for our partnership with Mr. Sanders, which has resulted in close to $62 million of WHEDA investments in the Milwaukee area."
Through the sale of these indispensable tax credits, the development has raised approximately $14 million in private sector investment dollars. The State of Wisconsin through WHEDA also provided long-term debt and TIF financing as well as construction financing. The City of Milwaukee, through the leadership of Alderwoman Milele Coggs, provided a much-needed TIF investment and made a significant commitment of HOME funds.
Project Significance, Jobs, and Job Center
The building is the neighborhood's largest structure and it has great historic significance. However, it was quickly deteriorating and becoming a blight. With the renovation, the building is being transformed into Welford Sanders Historic Lofts, a mixed-use development job center including a much-needed housing option currently not available in this neighborhood.
"This city is committed to making sure that there are investments, not just in the heart of the city, but in the neighborhoods as well. We know that there are people who live in this neighborhood who are suffering. They are working several jobs and still can't support their families," added Mayor Barrett. "Our challenge is to try and create more jobs so people can support their families. And this is a very important step in that direction."
The Welford Sanders Historic Lofts will create and support permanent jobs in an area of Milwaukee's greatest need. Conveniently situated on a city bus route, the facility has 38,000 square feet of office and light manufacturing space that has the potential to support and train hundreds of underemployed or unemployed individuals with permanent jobs.