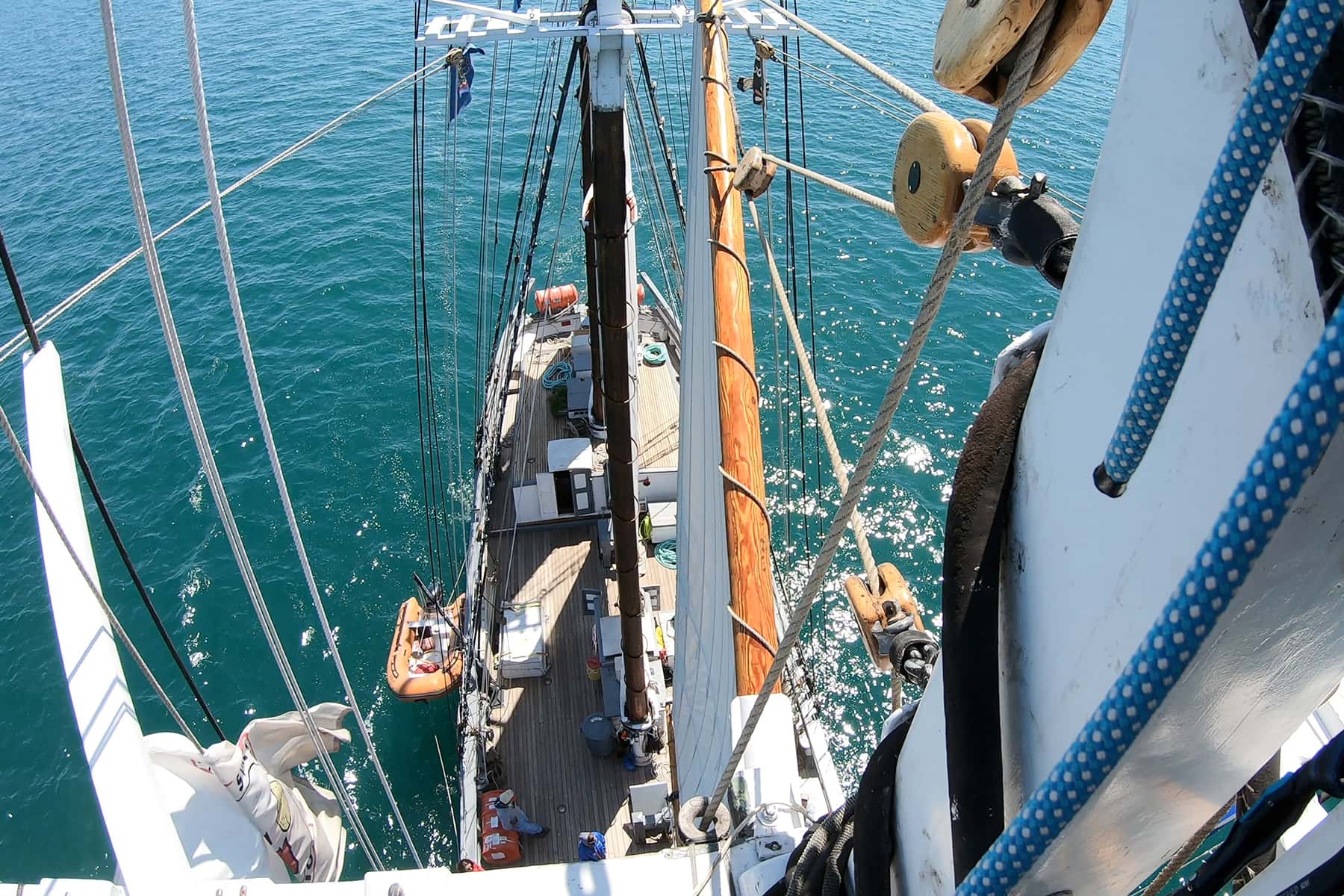 The S/V Denis Sullivan, the world's only re-creation of a 19th Century Great Lakes Schooner, set sail for a Lazy Day Sail adventure weekend in Port Washington as a featured attraction of the Pirate Family Daze festival from June 7 to 9.
The Pirate Festival returned for its fourth year, organized by the local Port Washington Tourism group and the Main Street organization. The event was reconfigured to focus more on family participation, and the S/V Denis Sullivan has became a major interest with visitors of all ages. The tall ship anchored in the harbor of Coal Dock Park, and offered sails and deck tours throughout the weekend.
For the Lazy Day Sails from Milwaukee, passengers on safety lines were able to go out onto the head rig at the very front of the vessel. They also had the chance of going aloft, and most of the guest climbed the rigging to get a view of Lake Michigan from 60 feet above the deck.
The S/V Denis Sullivan and crew were featured in a segment of "Around the Corner with John McGivern" last season. Ships like it were a key part of building the infrastructure for civilization around the Great Lakes. Before the roads or extensive rail service that came with the Age of Steam, sailing was the only way to move raw materials to what was essentially a frontier land. The tall ships brought raw commodities like lumber and iron ore from remote areas to industrial hubs. Those were the boats that helped build the railroad.
Since her official launch in 2000, the S/V Denis Sullivan has operated as a floating classroom, a United Nations Environment Program flagship, and ambassador for the State of Wisconsin. Each year, over 7,000 students, families, and adults cross decks and engage in informative tours, educational day sails, and overnight expeditions.
Nearly 1,000 dedicated volunteers generously gave more than one million hours over five years to build the schooner and see their vision become a breathtaking reality. The S/V Denis Sullivan was the first tall ship built in Wisconsin during this century, and was ultimately designated as Wisconsin's Flagship.
From July to August this year, the S/V Denis Sullivan will be joining parts of the Tall Ships Challenge: Great Lakes 2019. The public can book passage for different multi-day "adventure" sails. Toronto to Buffalo, Buffalo to Cleveland, and Duluth to Erie are some of the scheduled segments.
This video segment and companion images capture some of the experiences from the 5-hour 2019 Lazy Day Sail, and the activities required to pilot a 173 tons vessel across Lake Michigan by harnessing the power of wind.
"Around the Corner with John McGivern" Segment