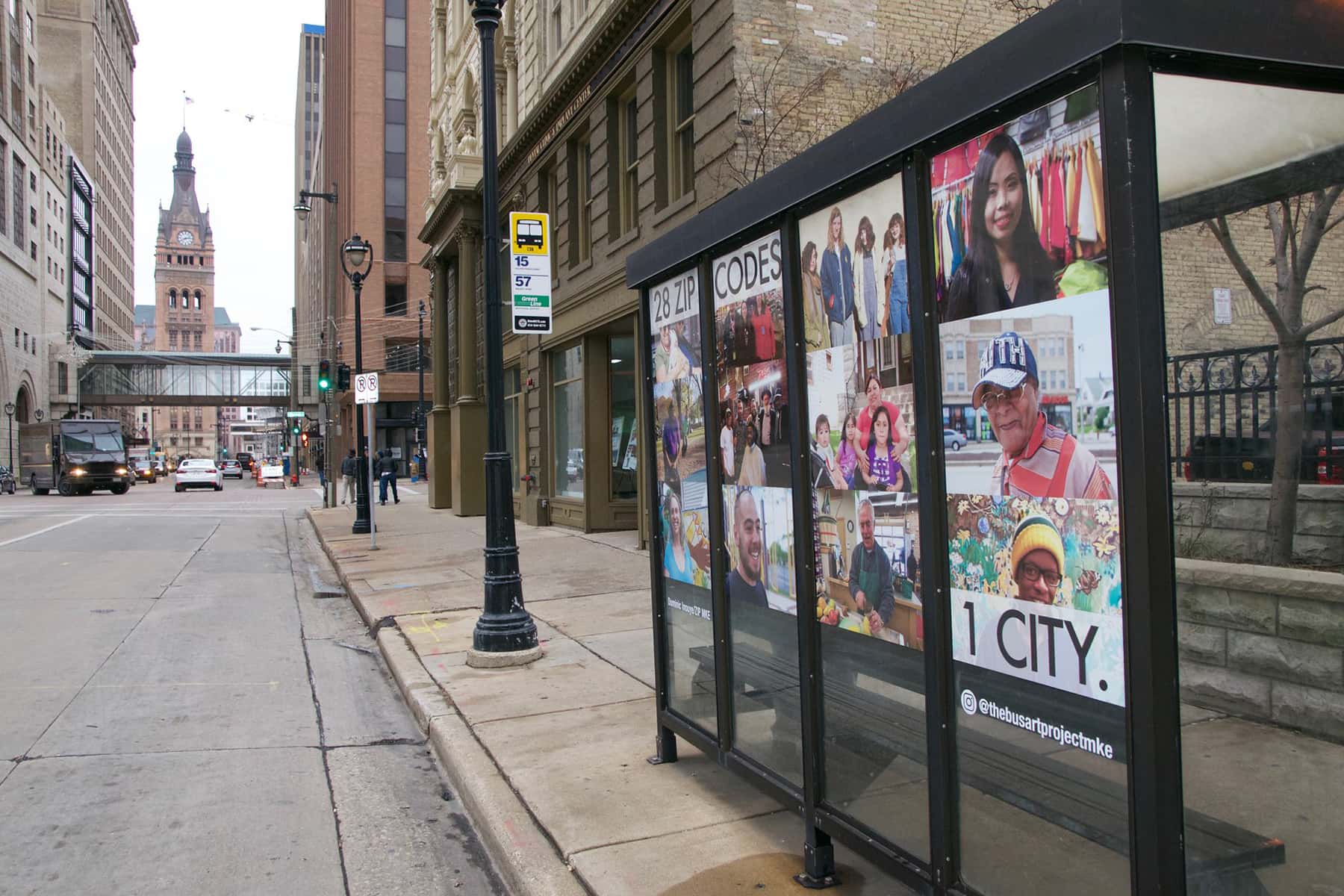 The Milwaukee County Transit System's popular Bus Shelter Art Project expanded to downtown Milwaukee for the first time, thanks to a generous sponsorship from Milwaukee Downtown BID #21.
Crews recently finished installing unique designs on MCTS bus shelters at Water & Wisconsin and Water & Mason. The installations were funded by a $1,000 donation from Milwaukee Downtown BID #21, which was matched by The Bus Art Project MKE.
"MCTS gives more than 15 million rides per year in the greater downtown area alone," said Milwaukee County Executive Chris Abele. "As a longtime supporter of the arts, I couldn't be more excited that so many additional commuters, pedestrians and residents will now get to enjoy and be inspired by the work of local artists."
Milwaukee County Executive Chris Abele announced during the unveiling of the first shelter in June 2018 that he made a personal donation of $5,000 to the fundraising effort and he encouraged others to support the effort. The Bus Shelter Art Project is a collaboration between the Milwaukee County Transit System (MCTS) and The Bus Art Project MKE to spread art across the community.
The Bus Art Project MKE, founded by Libby Olbrantz, works with the artists and raises money to pay for the production and installation of the art, then MCTS provides the space on its bus shelters. Milwaukee Downtown was established in 1998 to support the interests of the downtown business community.
Artist Tzeng Lee's piece, "The Collide," which features colorful kaleidoscope-like patterns, transformed the shelter at Water & Mason. The shelter at Water & Wisconsin showcases a diverse photo collage by Dominic Inouye of ZIP MKE.
"This program is a great way to activate existing bus shelters as engaging 'third spaces,'" said Beth Weirick, CEO of Milwaukee Downtown BID #21. "We're thrilled to help bring these temporary art galleries to life in the heart of downtown."
There are now nine original pieces of art on bus shelters in Milwaukee County with more planned next year.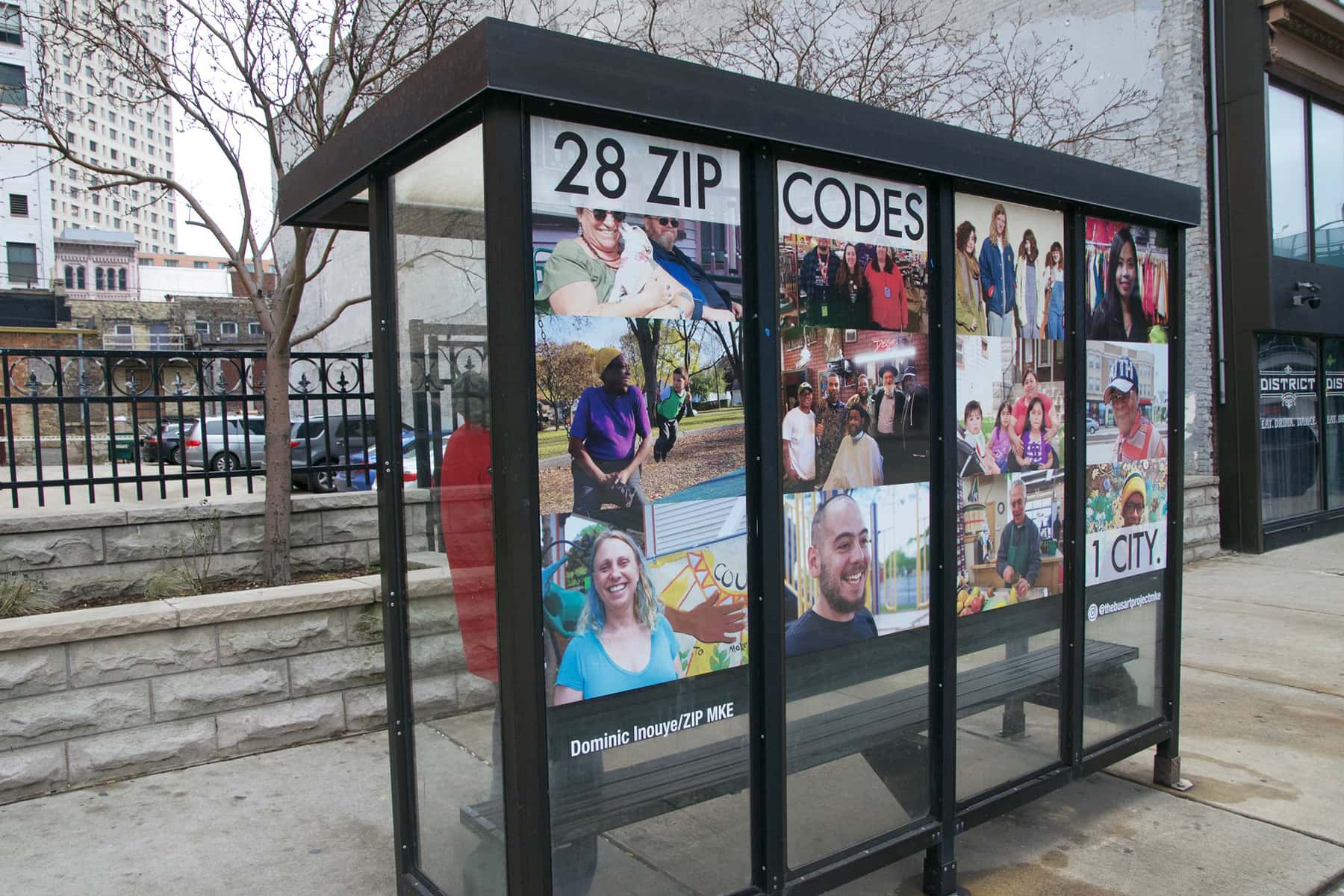 01: 28 ZIP Codes, 1 City
Artist: Dominic Inouye / ZIP MKE
Location: Water Street & Wisconsin Avenue, Downtown Milwaukee
Vision: "ZIP MKE's mission to represent — through photographs — the faces, places, and experiences of all 28 ZIP Codes aligns nicely with Bus Art Project MKE's mission to connect the city through art. We are happy to share selections from our galleries of over 2,000 photos on this downtown bus shelter and add to the work of so many talented local artists. We hope that the shelter becomes both a reflection of the city and a mirror for each viewer."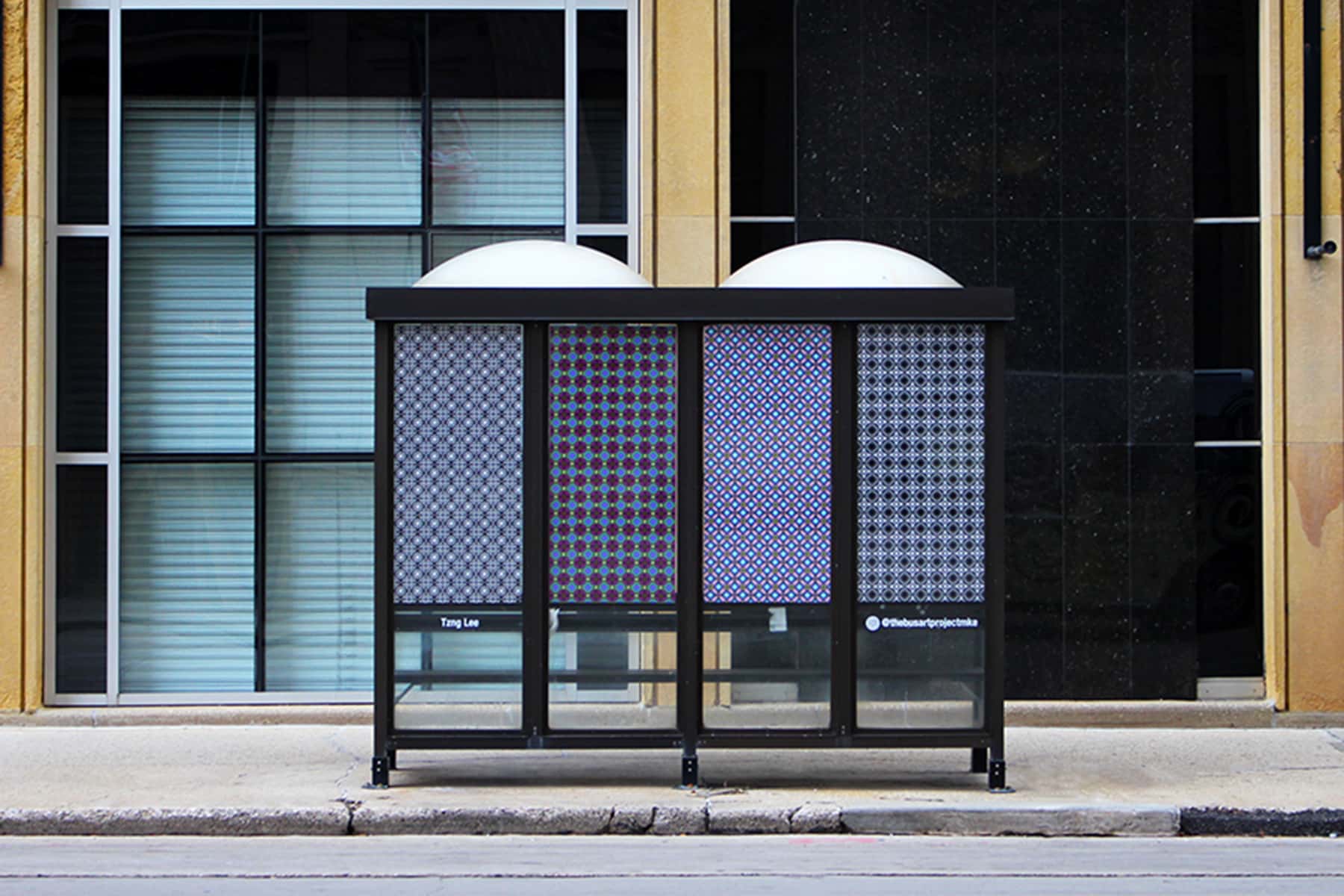 02: The Collide
Artist: Tzeng Lee
Location: Water Street & Mason Street, Downtown Milwaukee
Vision: "I've always had a love for prints and patterns which inspired me to create my own. My designs are based off kaleidoscope patterns which play with repetitive symmetry. It's four different patterns which are similar in design, to play with your eyes and stimulate the mind. I'm excited to collaborate with the Bus Art Project MKE to inspire and intrigue people with my art."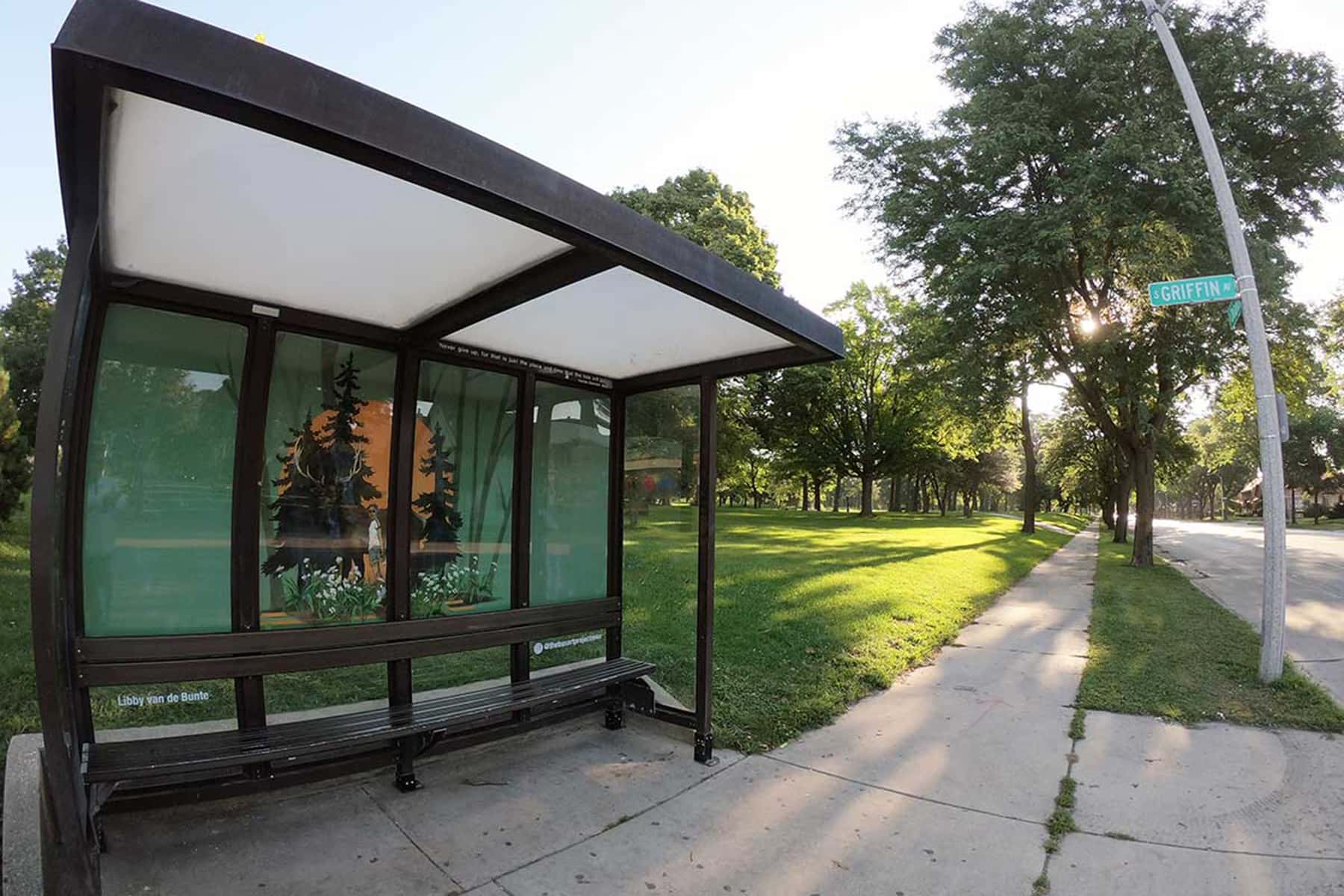 03: Girl in the Woods
Artist: Libby van de Bunte
Location: Oklahoma Avenue & Howell Avenue, Milwaukee (Bay View)
Vision: "I was diagnosed with anxiety and depression at a pretty young age, and it's something that I always carry with me. Last year, I told myself that I was going to put myself out there more in terms of my artwork. When offered the opportunity to be part of the Bus Project, I said yes immediately. For me, it's not only a chance to push myself far out of my comfort zone, it's also a chance to contribute to a growing and diverse community of MKE artists."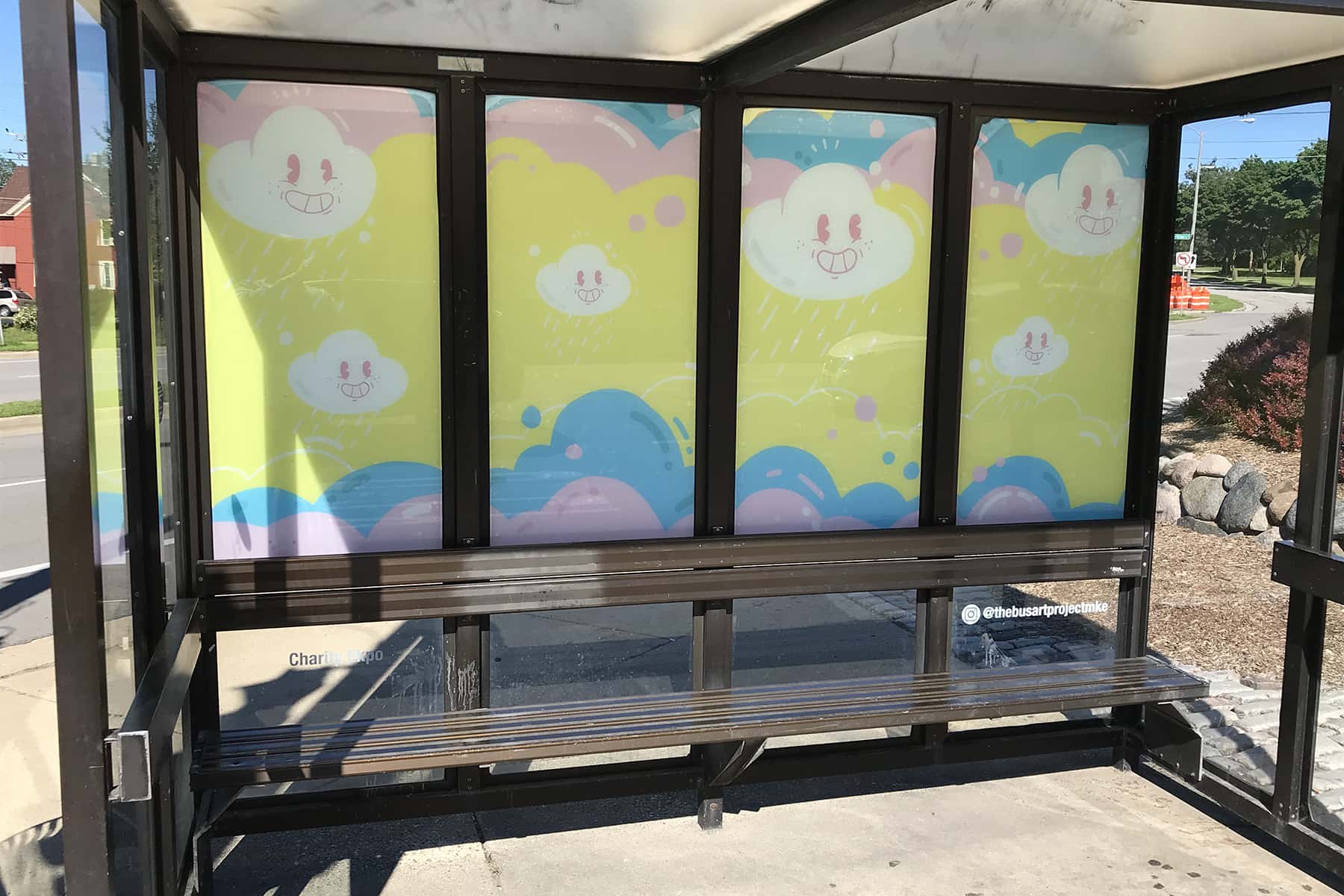 04: Raining on Your Parade
Artist: Charity Ekpo
Location: Kinnickinnic Avenue & Bay Street, Milwaukee (Bay View)
Vision: "I wanted to participate in this project because I think it's a great way to continue showing just how creative Milwaukee is. That we're capable of taking something people maybe wouldn't normally consider exciting, and turning it into something fun and visually intriguing. Art is a great way to express yourself. I hope these awesome designs will inspire others to want to channel their creative side, and make something amazing for themselves and/or others to see."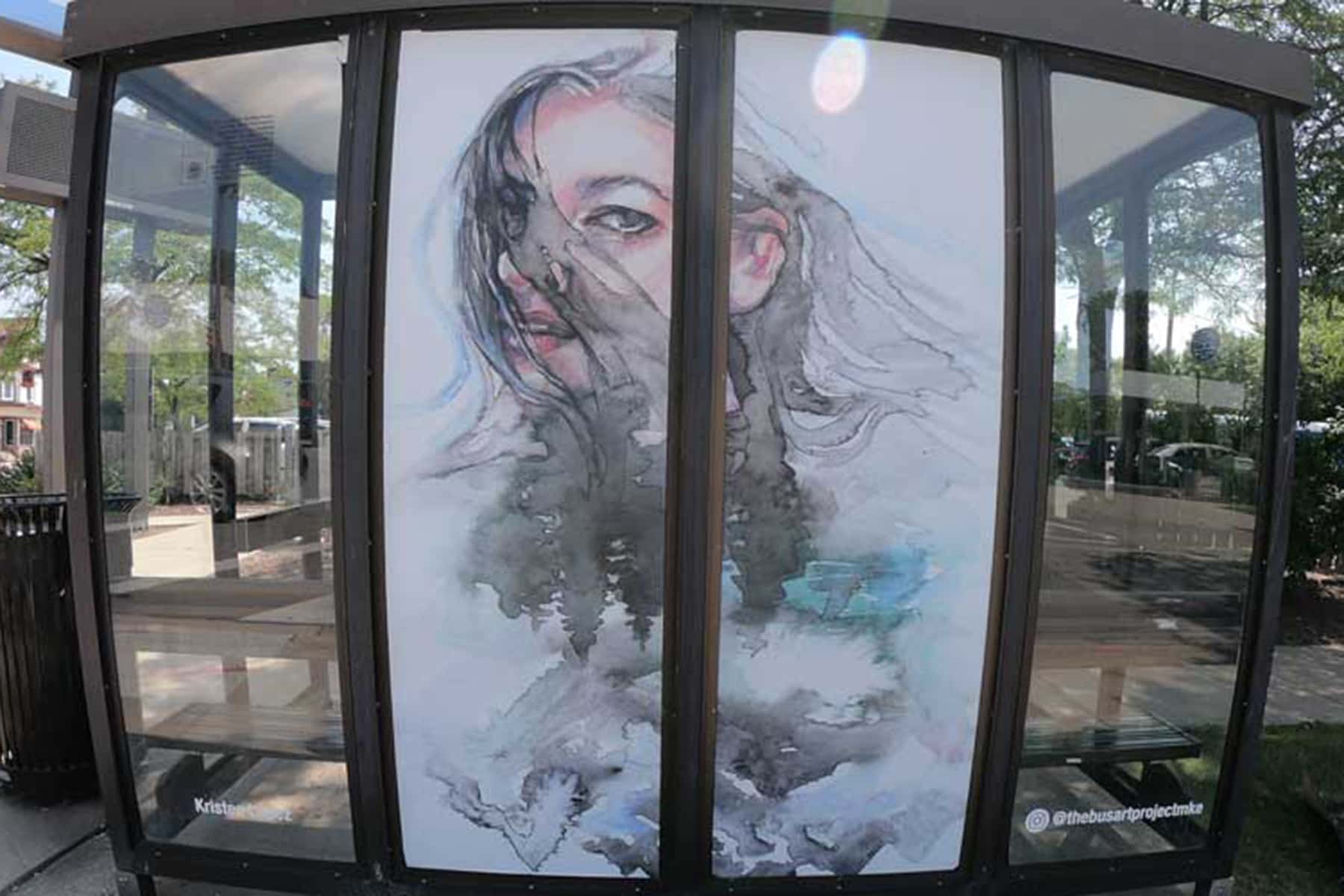 05: Through the Haze
Artist: Kristen Lopez
Location: Oklahoma Avenue & Kinnickinnic Avenue, Milwaukee (Bay View)
Vision: "I became a part of the Milwaukee bus project because it's a great way to connect all the neighborhoods of this city. I hope that it inspires people to take the bus to part of town they've never been before."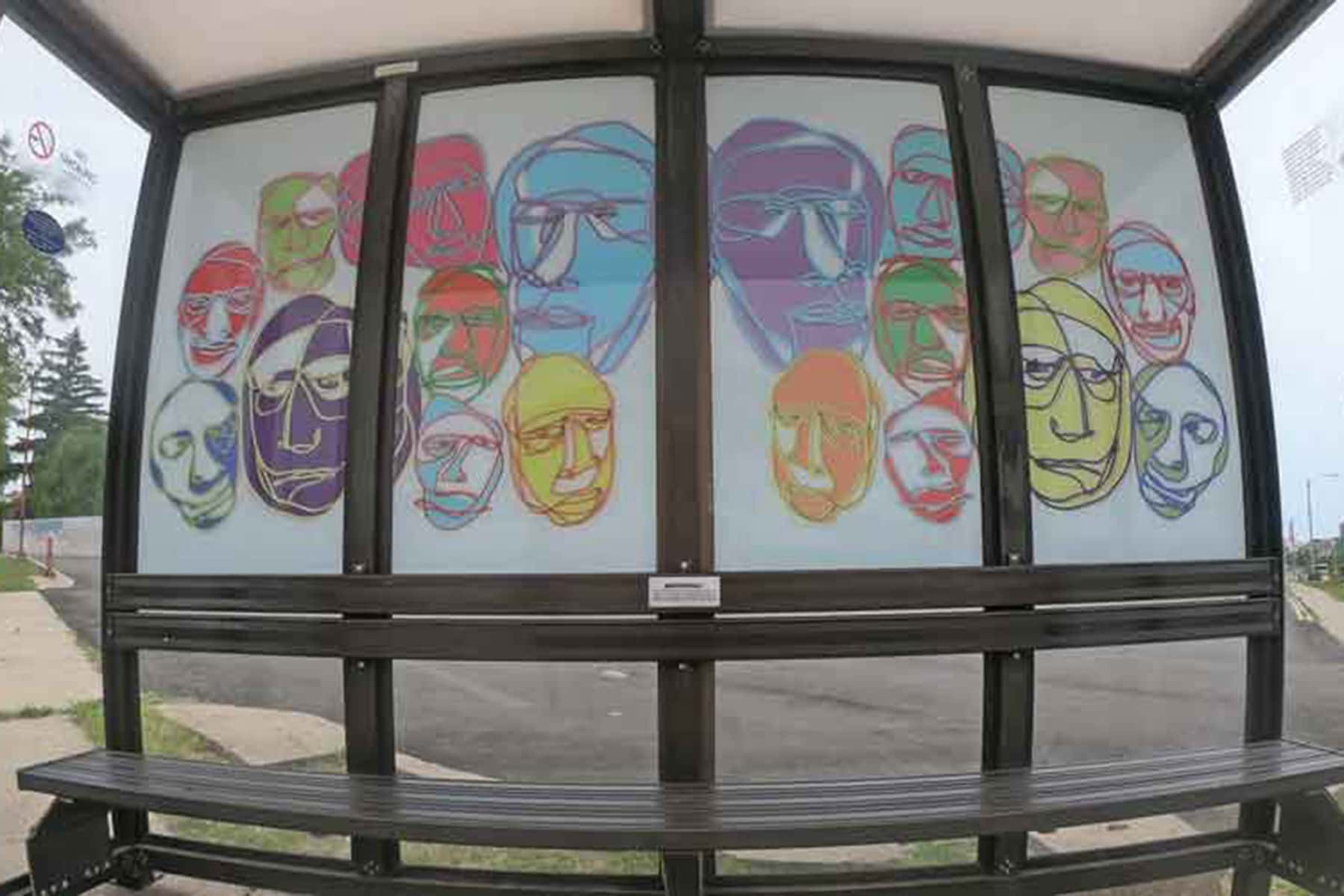 06: Cluster
Artist: CK Ledesma
Location: North Avenue & Humboldt Boulevard, Milwaukee (Riverwest)
Vision: "I'm thrilled to take part in the project because it intersects several interests of mine, community and art, as well as, representation through diversity. "Cluster" represents a gathering of faces with different colors, shapes, sizes and expressions; a vision of what our neighborhoods and communities can be through unity."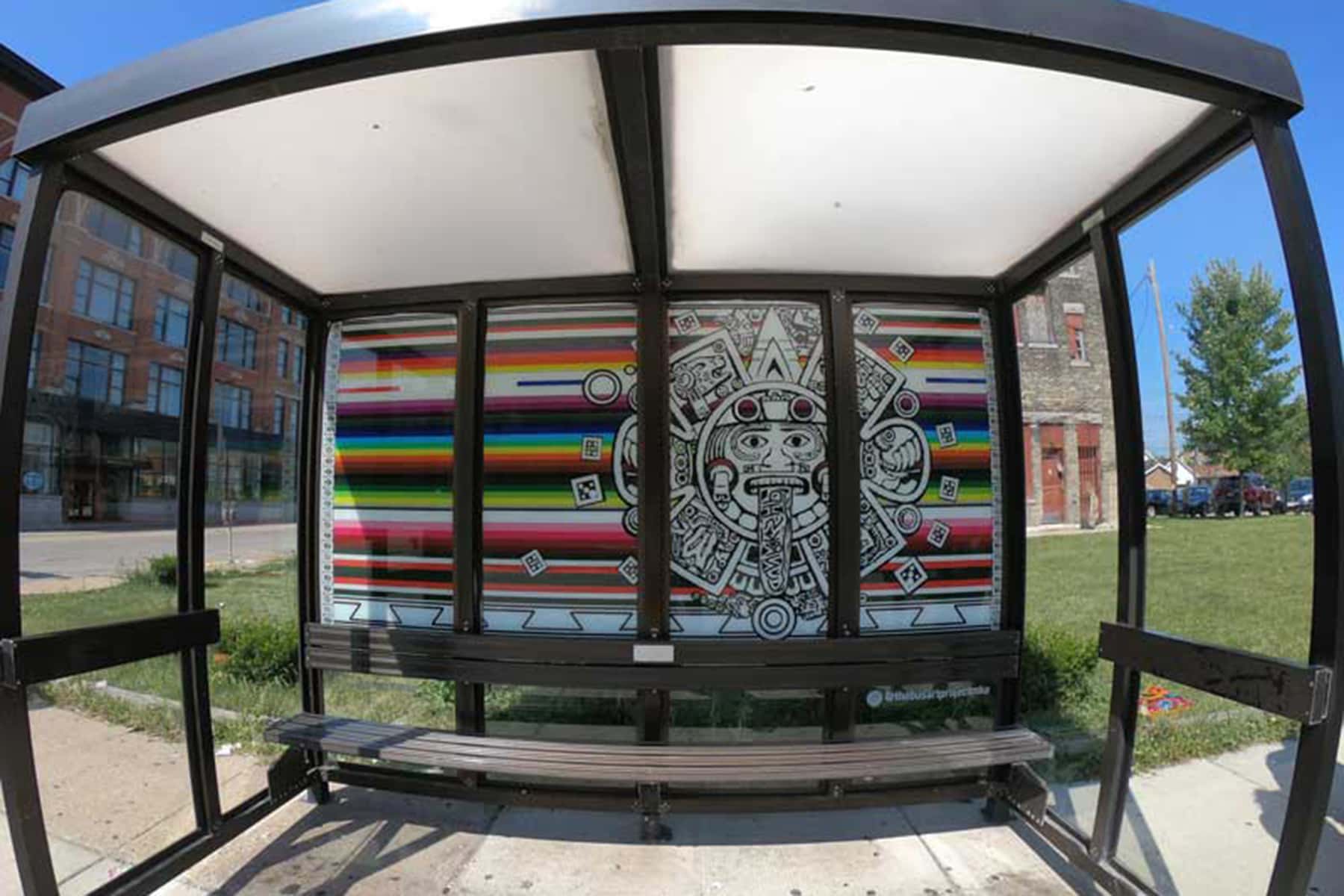 08: Colourful Serape
Artist: Gloria Ruiz-Santos
Location: 6th Street & National Avenue, Milwaukee (Walker's Point)
Vision: "One of the main things about Mexico that I love are the colors, which is something I've always felt Milwaukee lacked. This project is a beautiful addition to add more color to the city. For my design I went for a 'serape' print to represent my proud heritage and to show some love to my fellow Mexicans in Milwaukee."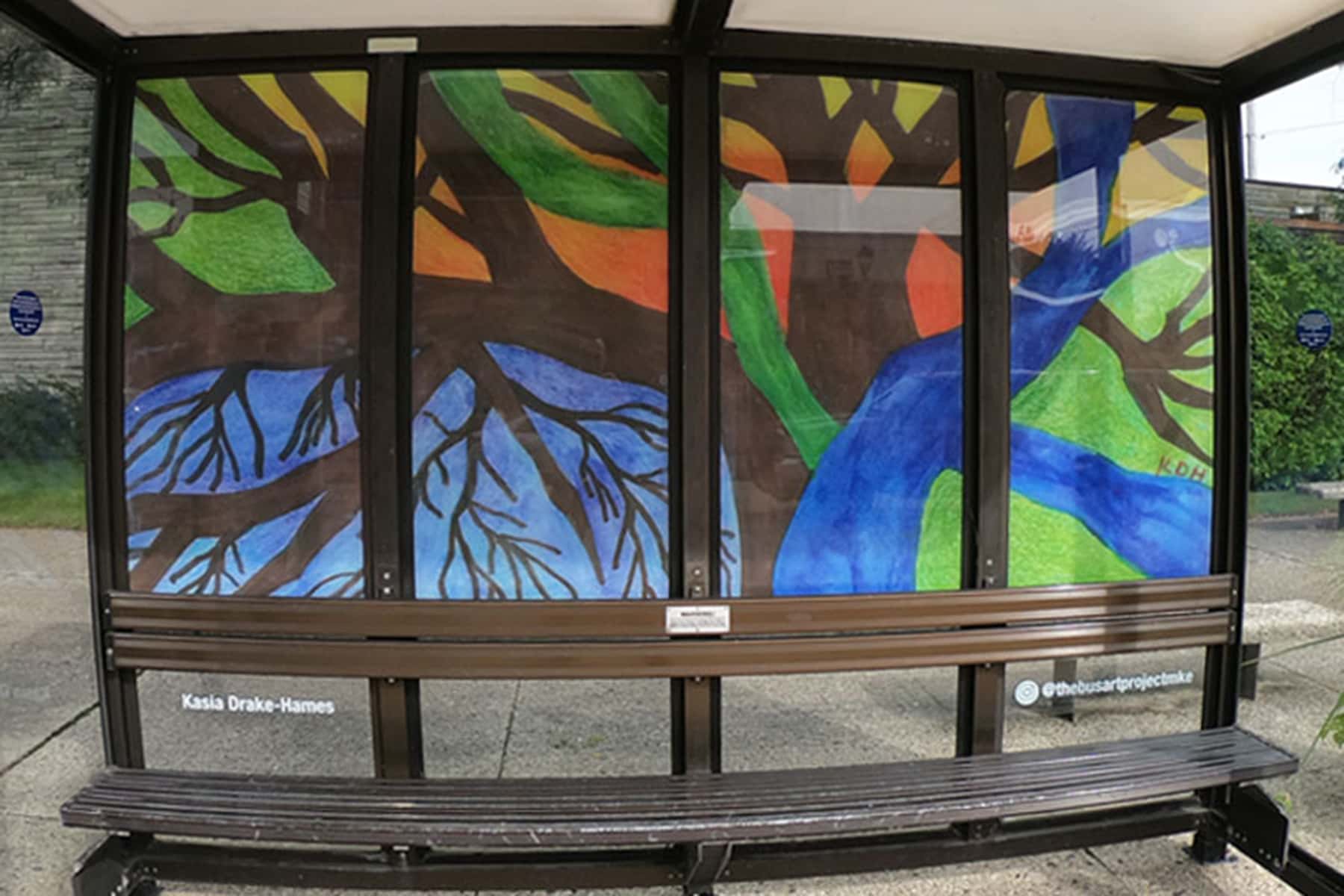 09: Rooted in Nature
Artist: Kasia Drake-Hames
Location: 10th Avenue & Milwaukee Avenue, South Milwaukee
Vision: "This piece is inspired by the natural features in South Milwaukee including Grant Park, the beach and the Oak Creek. I would like people to consider our interconnectedness to nature every day. As a resident of South Milwaukee, I am deeply moved by the city's natural beauty and have enjoyed many hours exploring Grant Park with my family. I'm honored to have my design featured on our bus shelter, and I hope that it inspires others to explore the city's natural spaces."
In September 2018, an individual stole the "Colourful Serape" artwork from its bus shelter at 6th & National. The artwork was returned to the shelter a few days later but it was badly damaged and needed to be replaced. The design was reinstalled on October 4.
"I'm so excited that my artwork is back up on the bus shelter, adding even more bright colors to this already vibrant and diverse neighborhood," Ruiz-Santos said. "I'm grateful for everyone who has shown support for my work and the innovative Bus Shelter Art Project that MCTS kicked off over the summer."