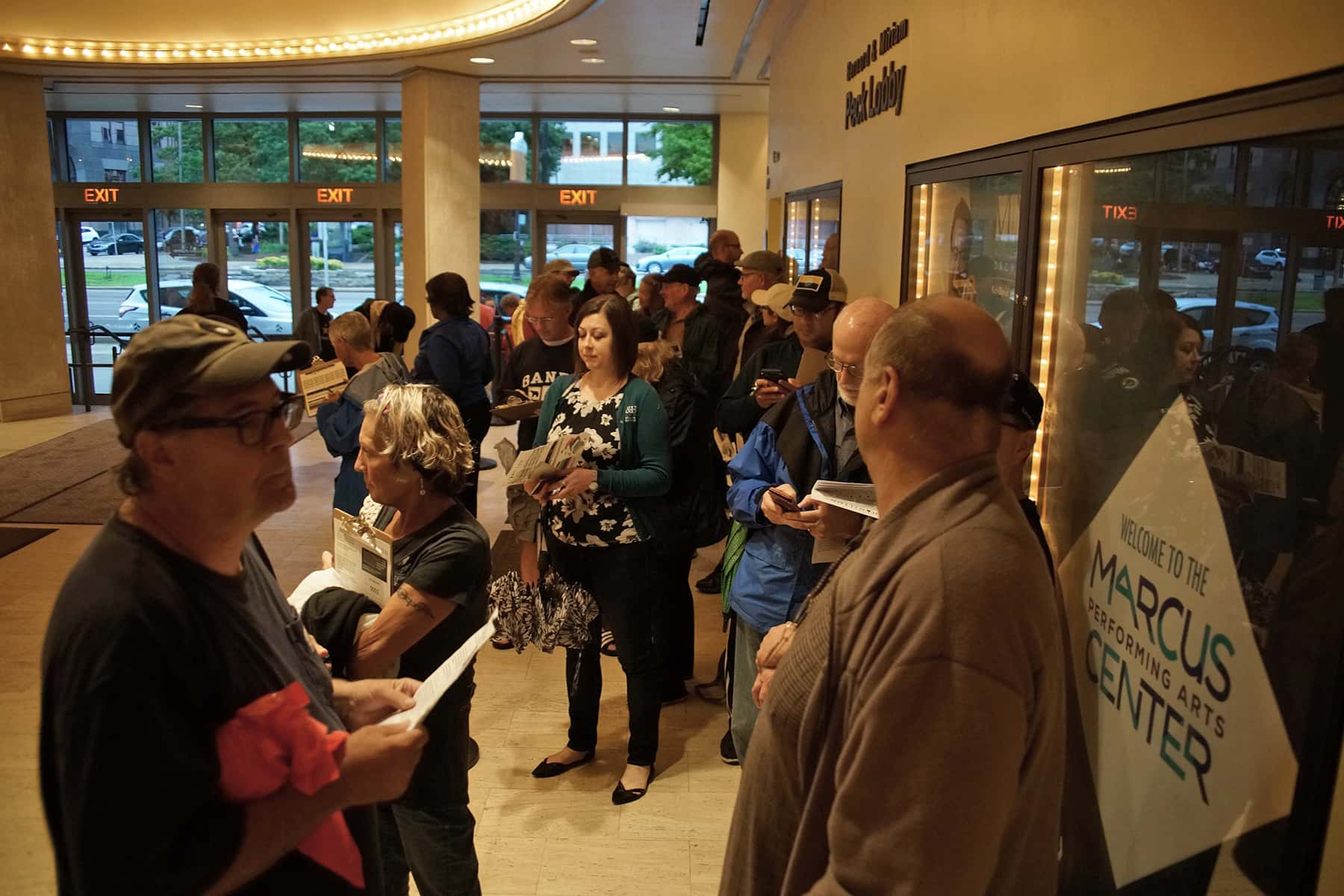 Several hundred fans of the Broadway hit musical "Hamilton" got a few hours jump ahead of online ticket sales by standing in line at the Marcus Performing Arts Center on September 10.
Undaunted by heavy rain showers, more than 500 people showed up prior to the 8:00 a.m. start for ticket sales, with a steady stream of arrivals throughout the morning. In a very orderly flow to keep the line and sales moving, individuals were given numbered ticket forms and allowed to wait inside in the Center's atrium, then called in groups to make their purchase.
Area resident Kim Schiek was one of the first in line to get her ticket. She had not seen the production before and was was very excited to finally have the chance.
"I'm a perfectionist and I wanted a good seat, so it was worth standing in the rain for two hours to get my tickets," said Schiek. "I love theater, I love history, and I love musicals, so I'm happy that Hamilton is finally here in Milwaukee."
Since making its Off-Broadway debut in February 2015, the musical has toured across the country but never played in Milwaukee. The Marcus Center is expecting the performance to renew local interest the theater experience.
"It brings a really new audience into the Marcus Center, and people who have never experienced a Broadway show will see their very first Broadway show," said Heid Lofy, Marcus Center VP Experience and Engagement. "Because tickets will be so popular, there are will be a lot of people selling tickets in unauthorized ways. To guarantee that these are legitimate tickets, people need to purchase through Ticketmaster or through the Marcus Center."
The only authorized ticketing agents for Hamilton's run at the Marcus Performing Arts Center are online with Ticketmaster.com or in person at the Marcus Center Box Office. Tickets purchased from other sources are not eligible for replacement if tickets are lost or stolen, or if the event is canceled or rescheduled.
As people buy tickets and share their excitement across social media, by taking photos with them as souvenirs, they also risk the possibility of their tickets being counterfeited. To prevent that vulnerability, the venue posted a security reminder.
Each ticket has a one-of-a-kind barcode, and when you share your tickets along with your personal information online, your tickets can be compromised. You can still share your excitement online with #HamiltonMKE, just make sure to #CoverTheCode by covering the barcode and any other personal information on your ticket.
The national tour of Hamilton will play 32 performances in Milwaukee from October 22 to November 17 at the Marcus Center's Uihlein Hall. Ticket prices ranged from $399 seating in the front orchestra area to $80 in the balcony. American Sign Language (ASL) interpreted and audio described performances were also offered on selected dates.
With book, music, and lyrics by Lin-Manuel Miranda, Hamilton is based on Ron Chernow's biography of founding father Alexander Hamilton. It is a contemporary telling of the story of Hamilton's life, an immigrant from the West Indies who became George Washington's right-hand man during the Revolutionary War and was the new nation's first Treasury Secretary. The Broadway production featured a score that blends hip-hop, jazz, blues, rap, and R&B.
"Hamilton is a phenomenon, and it is always fun when the Marcus Center can present a show that is able to bridge generations," added Lofy.