Youth march for nonviolence in Summer of Peace rallies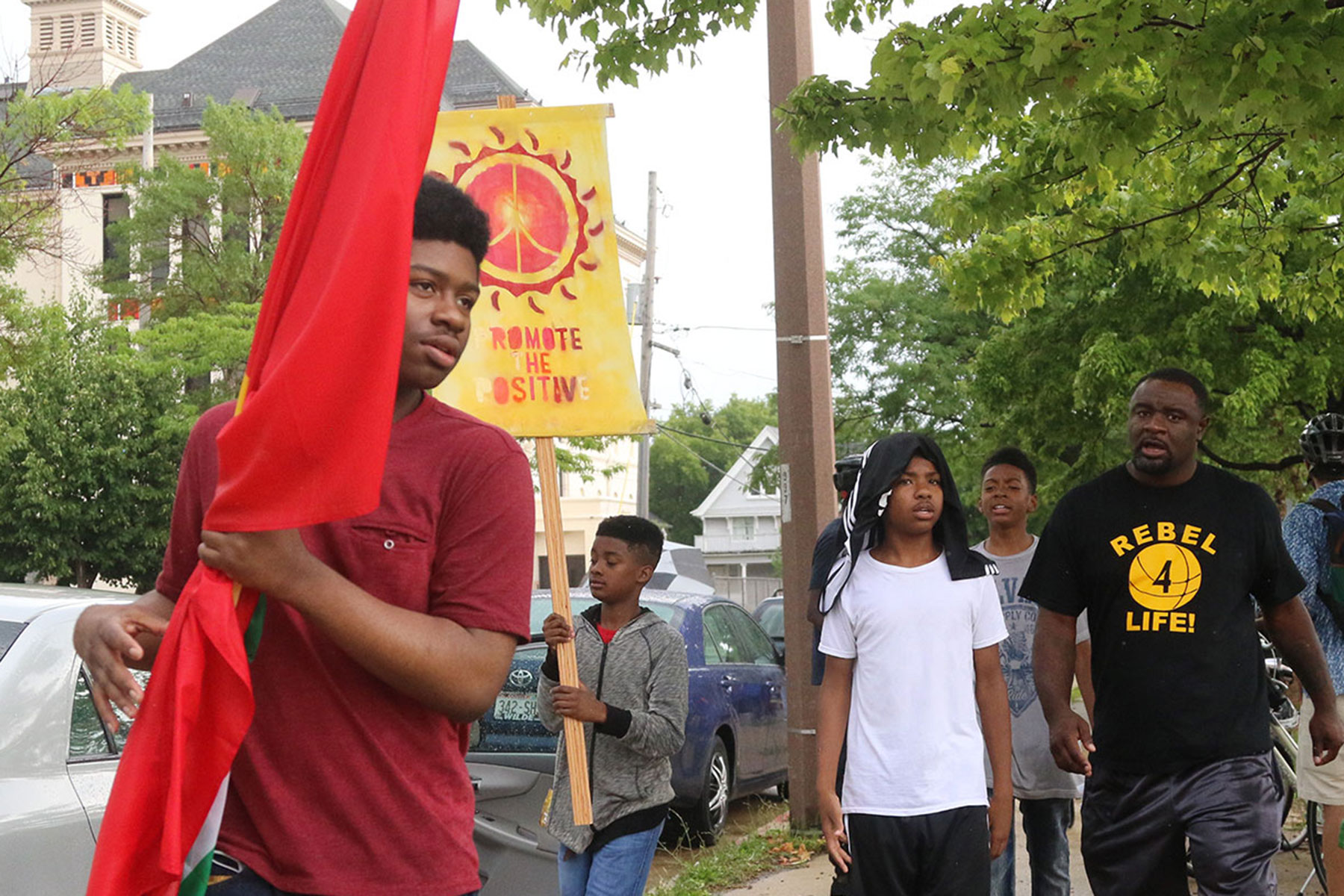 Participants in "We Got This" march with handmade signs down Dr. Martin Luther King Drive during the 14th Annual Summer of Peace Rally.
Trevijuan Washington was 9 years old when he was shot in a park. A little girl the same age pushed him off the monkey bars, he said. He pushed her back and she got her parents, who came back and opened fire.
Four years later, Washington was playing outside his house when Natasha Coe, office and public affairs director for Running Rebels, walked by and said, "You know, we've got basketball down at Running Rebels."
Now beginning eighth grade at Lincoln Middle School, Washington, 13, said he is passionate about music, writing poetry and learning about entrepreneurship, thanks to Running Rebels, a nonprofit youth agency that provides positive choices for youth facing the daily pressures of delinquency, drug abuse, truancy and teen pregnancy.
Washington was one of 200 children and young adults who participated in Milwaukee's Summer of Peace citywide rally as a member of Running Rebels
The rally drew youth organizations and supporters for a day of education, musical performances and celebration.
"If you live here, then you know there's a lot of violence," Washington said. "We all know someone close who's been shot."
Fidel Verdin, an after-school art teacher, journalist, hip-hop artist and creator of Summer of Peace, started the event to get kids off the street and inspire them to find an outlet instead of violence. He said bringing community leaders together around violence prevention shows young people how important communication is for change to occur.
"I want to change the narrative," Verdin said. "Peace is the ultimate solution and young people need to know that message."
The festivities begin with a march down Dr. Martin Luther King Drive, in which participants held handmade signs with the names of family members affected by violence and yelled "peace" in unison. Even rain didn't stop the community from "feeling the love rushing in," said Shalina Ali, a member of the Summer of Peace support team.
After the march, community members gathered in the Peace Park & Garden where local vendors such as HOPE Christian Schools, the Victory Garden Initiative and TRUE Skool set up booths providing resources about nonviolence. Special performances by volunteer musicians entertained rally-goers during a program across the street at HeartLove Place, a Christian community center. Lunch was provided, and afterwards youth leaders spoke about their experience growing up in Milwaukee.
Terrell Lewis, 23, sang at the program. Lewis became involved with Summer of Peace when he was 15 and Verdin invited him to sing at the rally. Lewis said he "caught the spirit of Summer of Peace" and now volunteers each year.
"Once you attend this rally for the first time," Lewis said, "you become part of the conversation and want to help in the fight."
Lewis said creating peace is like brain surgery. "You have to unwire the violence outlet and rewire it to a new, peaceful outlet." Verdin is a good brain surgeon; he has created an event for kids to be inspired and realize how valuable they are, Lewis added.
Imari Hardman, 7, calls the other kids at the rally his "brothers and sisters."
"This is awesome," Imari said. "I'm having so much fun with my brothers today."