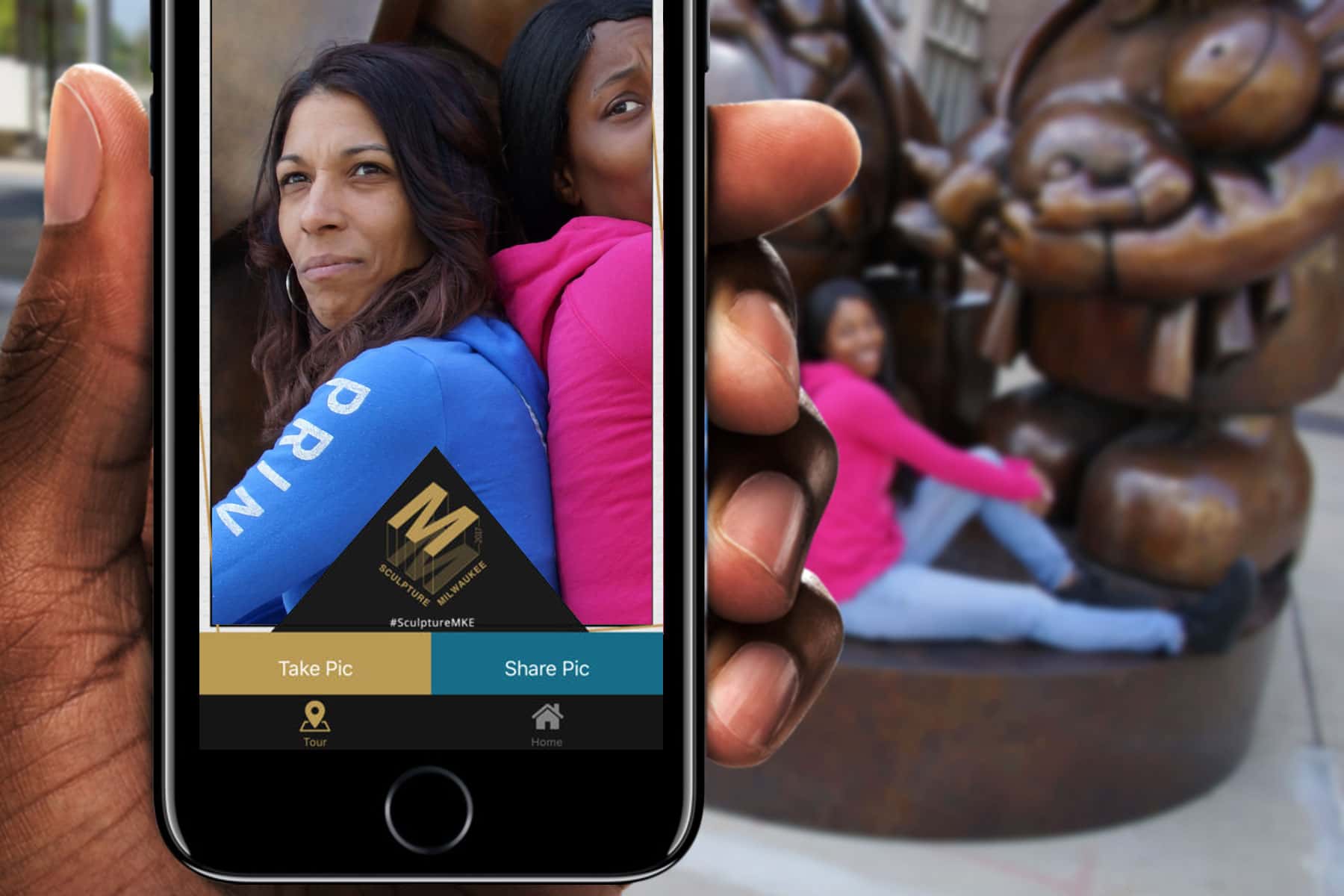 Sculpture Milwaukee recently rolled out a virtual experience for viewing its 22 sculptures along Wisconsin Avenue.
Developed by Graydient Creative, the newly debuted Sculpture Milwaukee app features an audio tour, "hearts" for users to like their favorite sculptures, custom photo filters and a scavenger hunt.
The exclusive audio tour gives users a full description of the artist and their sculpture, and is also available in Spanish. Similar to Pokémon Go, users can throw "hearts" at their favorite sculptures. Hearts are unlimited, and the user's favorite sculptures are displayed on the homepage of the app. In addition, users can apply custom photo filters to a sculpture, or their selfies, and share with friends.
An interactive scavenger hunt is also available to gamers. The hunt begins with a blue screen telling the user they are cold, or too far from a sculpture. As the user nears the correct sculpture, the screen slowly fades to red. Once the user finds the correct sculpture, a trivia question about the sculpture is released. If the user answers correctly, an achievement is unlocked. The app keeps track of the sculptures that the user has found so the user can play intermittently.
"We wanted to introduce the community to these beautiful works of art in an engaging way," said Shawn Spartz, Director of Creative & Development at Graydient Creative. "The Sculpture Milwaukee app is a fun way to see and learn about all of the sculptures and the artists behind them. We also see the potential for future interactive elements."
Other features of the app include an interactive map display, the ability to share sculptures with friends, and special offers, including food, drink and shopping incentives for nearby businesses. The Sculpture Milwaukee app is available free in the Apple Store and at Google Play.
Sculpture Milwaukee is slated to be an annual exhibition, highlighting new artists and works each year. Sculptures within the installation will be available for purchase. A percentage of the commission of each sale will be reinvested into Sculpture Milwaukee, a nonprofit initiative managed by Milwaukee Downtown, BID #21, for continuation of the program into future years.
Sculpture Milwaukee is the vision of Steve Marcus, a local philanthropist and chairman of the board of The Marcus Corporation. Milwaukee Downtown, Business Improvement District #21 serves as the administrative arm of the project with many Milwaukee organizations and institutions lending their support.