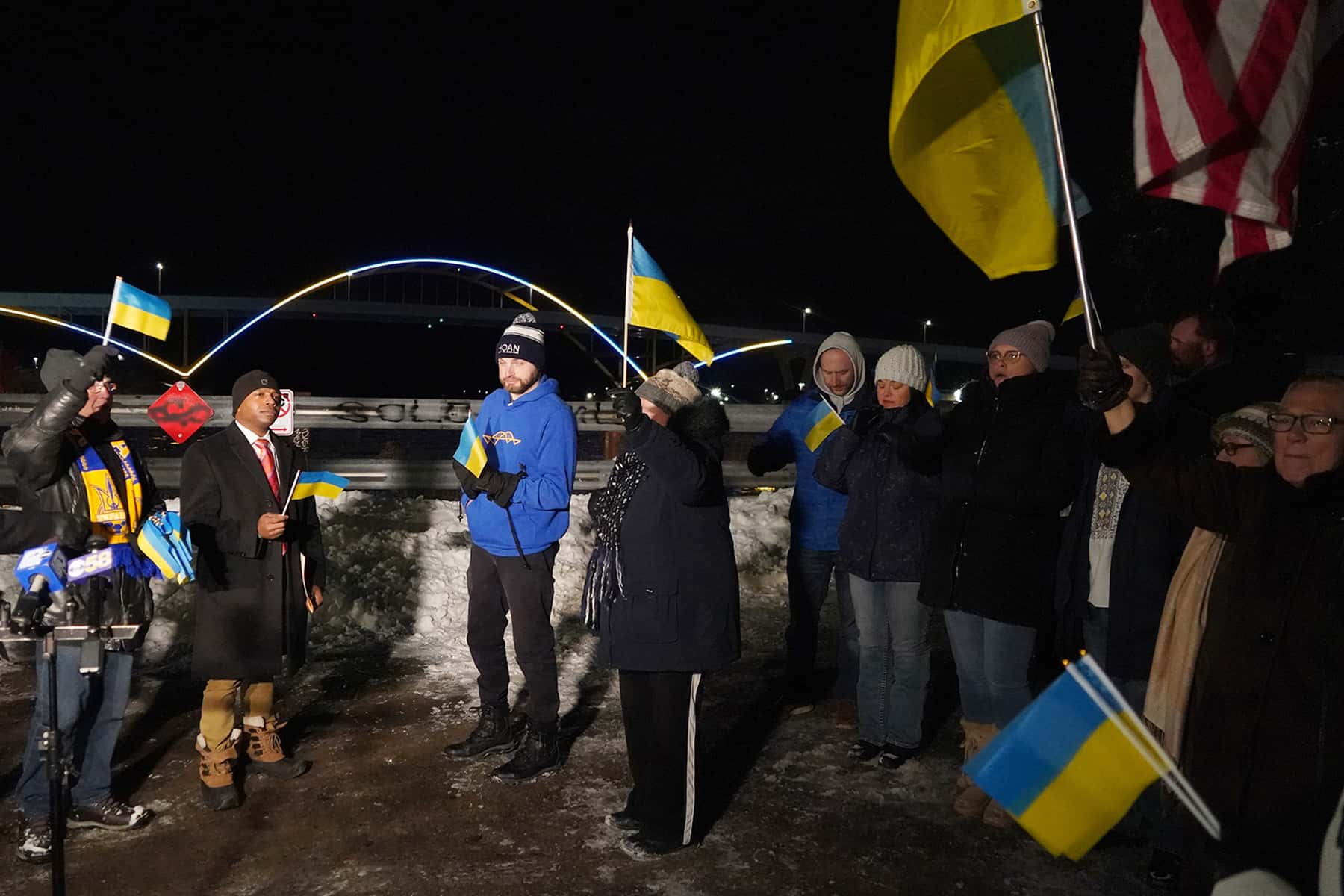 Named after Daniel Hoan, one of the longest serving mayors of Milwaukee, the iconic overpass illuminated in bright yellow and blue, the colors of the Ukrainian flag, on February 25 as a public show of support for the nation while it fights to expel Russian invasion forces.
From New York City's Empire State Building to the Eiffel Tower in Paris, landmarks around the globe have lit up in the national colors of Ukraine in the wake of Russia's unprecedented invasion.
At a ceremony held along the Milwaukee river, a group from the city's Ukrainian American community showed their solidarity with flags and ethnic songs of triumph over oppression.
As a city founded by immigrants, Milwaukee has historically had strong connections with the Ukraine. Even though the country is 5,000 miles distant, both the sites across Wisconsin could host war refugees.
For those in Milwaukee with family in Ukraine, watching the news has been heartbreaking. At the riverfront gathering, generations of immigrants both new and old offered each other what comfort they could in the face of such brutalization of their homeland by the Russians.
"My grandparents spent the last night in a bomb shelter, and I have never felt more helpless. I can't stand and not do anything when my family, my loved ones, might not make it to tomorrow," said Milwaukee resident Solomiya Kavyuk. "I wouldn't wish this on anyone. I wouldn't even wish it on Vladimir Putin. There is no feeling like knowing you are safe here, and when you go to bed you will be okay but your family there is not."
Located just northwest of Kyiv, Irpin has been a sister city of Milwaukee since 2018, a municipal relationship nurtured locally by St. Michael's Ukrainian Catholic Church on the city's south side.
Acting Mayor Cavalier Johnson came to watch the Hoan Bridge lighting, and added his support. He expressed his feelings about the invasion of Ukraine, calling the action unjust and unwarranted.
"I believe in democracy. I believe in self-determination for people of all nations to set a course for themselves," said Mayor Johnson. "As Americans, democracy is at the core of our principles. It's the core of our beliefs that makes us who we are. So it's extremely distressing to see Russia ignore international law, and the rights of a free Ukraine. It's horrible to see an entirely unnecessary war underway there."
Mayor Johnson said that before attending the event he watched some footage in his office, of a mother with her 10-year-old son and twin daughters.
"They had marched for miles and miles and miles to get away from the violence. And I myself have an 11 year old son and twin daughters," added Mayor Johnson. "So I could only imagine how that would have impacted my family, if that was my own wife and my own children who are having to flee that sort of unnecessary violence that we're seeing in the Ukraine today. So I support the American sanctions against Russia. And I joined countries around the world in denouncing Russia's shameful actions."
Co-founder of Light the Hoan, Ian Abston, said that the bridge would remain lit in Ukraine's national colors for the rest of the weekend.