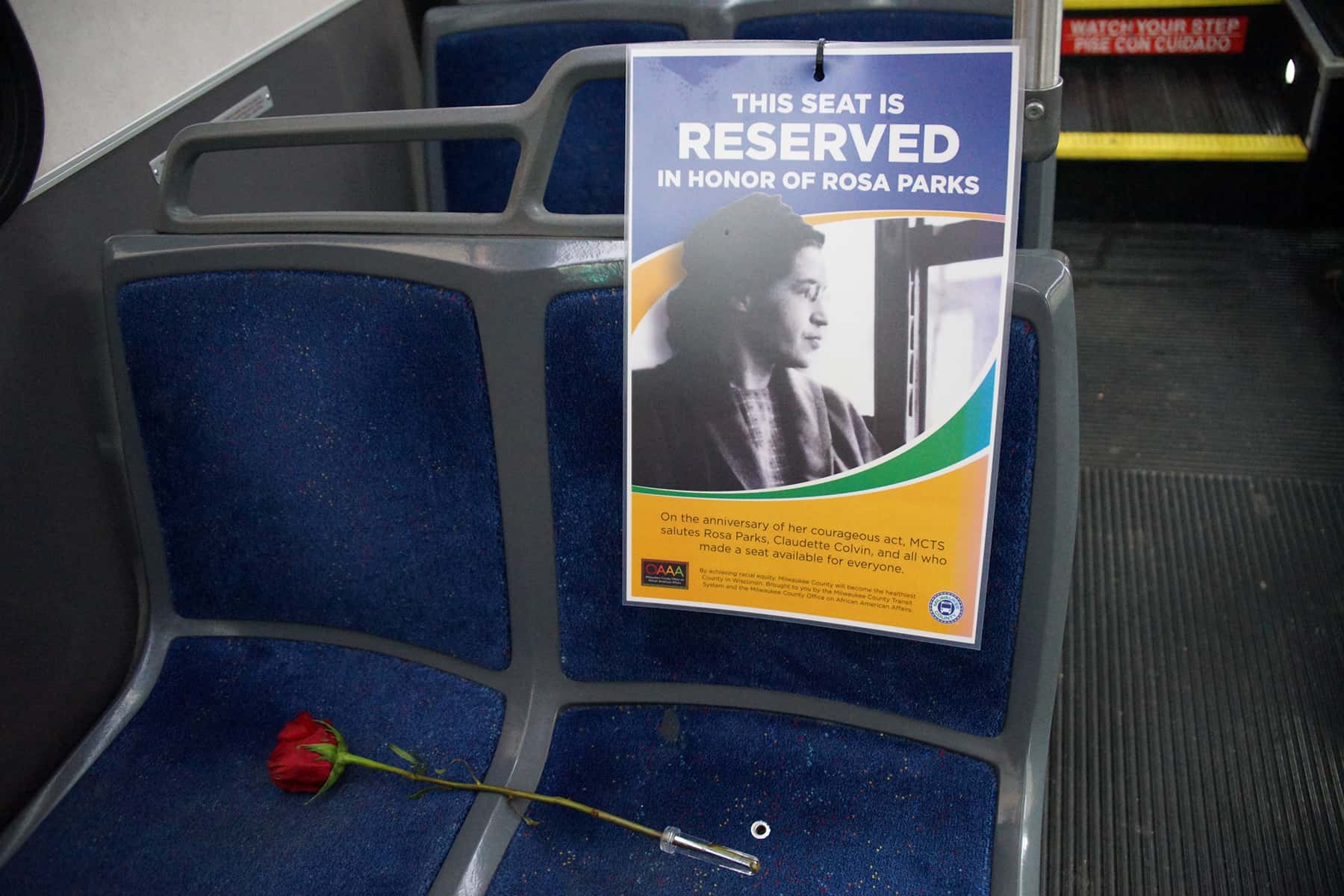 Milwaukee County Transit System (MCTS) will honor civil rights legend Rosa Parks this year with its entire fleet and through a scholarship in her name to recognize young leaders.
For the sixth year, MCTS will keep a seat open on every bus in the fleet from Wednesday, December 1 through Friday, December 3. Each reserved seat will include a red rose and a special placard that features Parks' photo and a message about her courageous act.
In addition to the bus tribute, MCTS has invited high school seniors in Milwaukee County who will attend a trade school, college, or university to submit a short essay inspired by Parks' quote, "Each person must live their life as a model for others."
Entries must be submitted by January 7, 2022, to be considered. Three winners, who will each receive $1,000 towards their higher education, will be announced on Parks' birthday, February 4, 2022.
Parks was arrested on December 1, 1955, after refusing to give up her seat to a White man in Montgomery, Alabama. Her small act of civil disobedience led to a landmark Supreme Court ruling that outlawed segregation on public transportation.
"Every day, Milwaukee County works to extend the path to achieving racial equity for all that Rosa Parks' and others helped pave," said Milwaukee County Executive David Crowley. "The recent implementation of the MCTS NEXT route redesign project is one example of how Milwaukee County delivers great public service that advances our mission of racial equity by enhancing the quality of life. I encourage our high school seniors to apply for the MCTS Rosa Parks Tribute Scholarship. It's important to invest into our young leaders because one day they will guide our community to even greater heights. Rosa Parks was a wonderful example of how an individual can make a momentous impact."
In 2019, Milwaukee County became the first jurisdiction in the nation to declare racism a public health crisis. Since then, more than 80 communities have followed suit.
"As we honor Parks' historic act of refusing to give up her seat to a white man, I encourage everyone to heed her call to live your life as a model for others and take action to make our community more respectful, inclusive, and safer for all," said Chairwoman of the Milwaukee County Board Supervisors Marcelia Nicholson. "For Milwaukee County, that means we will continue to lead by example by leaning into finding solutions to address racism as a public health crisis and making racial equity the focus of our strategic plan."
MCTS's on-board tribute to Parks has gained widespread attention on social media and inspired transit agencies across the country to implement similar initiatives. Last year, it awarded $1,000 each to three local high school students.
"OAAA is delighted to support MCTS in honoring Mrs. Park's legacy – breaking barriers to achieve freedom and racial equity for all," said Milwaukee County Office on African American Affairs Director Jeff Roman. "As we expand into the Office of Equity, our mission work remains the same – to advance the level of accountability for all so Milwaukee County will become the healthiest county by achieving racial equity."