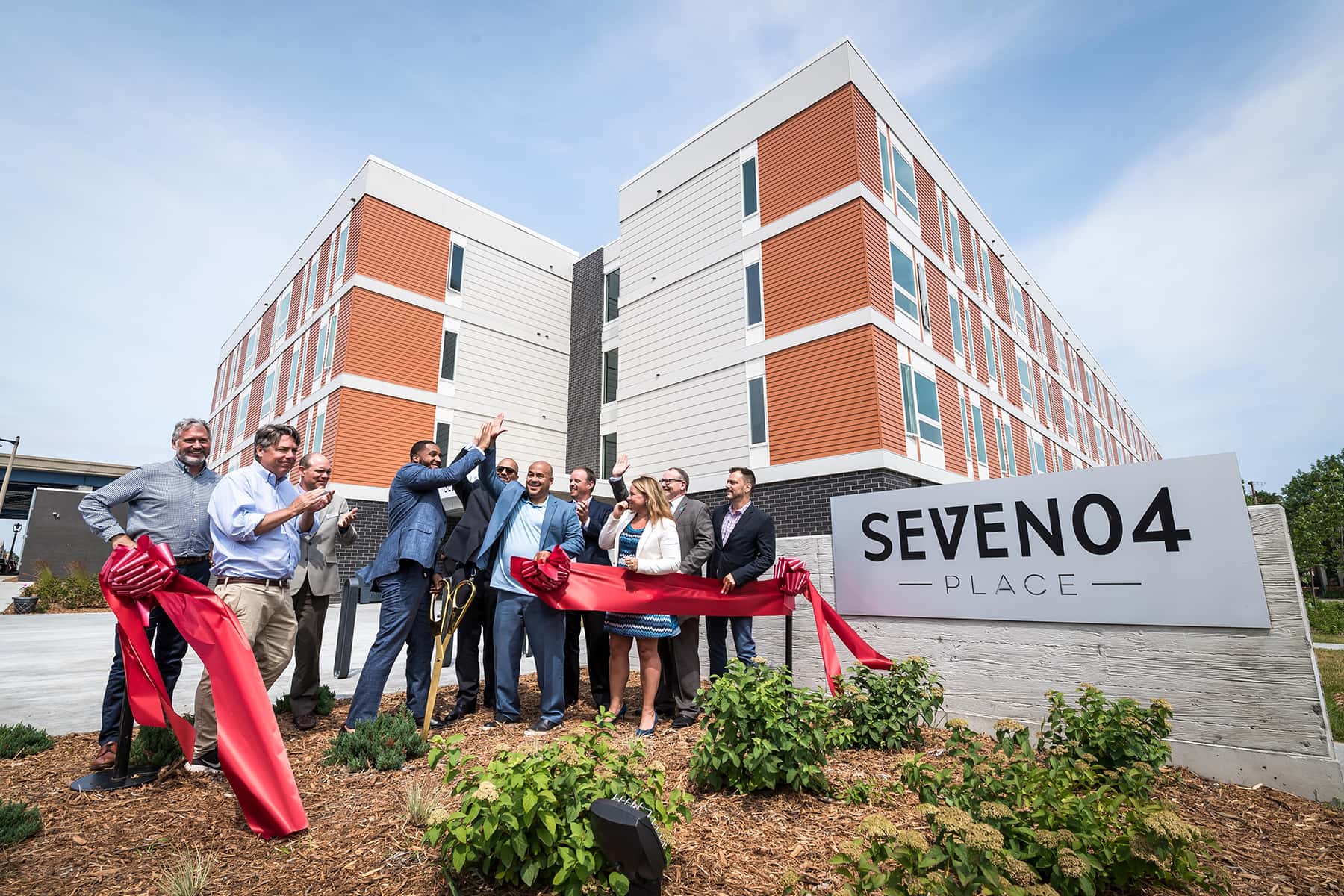 Community leaders, local residents, and development partners came together on July 19 for a ribbon-cutting ceremony to celebrate the completion of Seven04Place, a new 60-unit affordable-housing development in the Walker's Point neighborhood of Milwaukee.
Developed by Impact Seven and Rule Enterprises, Seven04Place was built on an empty lot with a vacant warehouse that has been transformed into a vibrant, new community featuring one-, two-, and three-bedroom apartments, including 46 units of affordable housing for working individuals and families. An additional 14 apartments are dedicated to permanent supportive housing for adults who have struggled with barriers to housing stability.
"This project was truly a testament to perseverance and an important step in the revitalization and preservation of the Walker's Point and Walkers Square neighborhood," said Brandon Rule, CEO of Rule Enterprises. "The ability to create quality affordable housing for working families within the city of Milwaukee makes it all worth it."
Seven04 Place features on-site amenities such as a multipurpose community center, fitness room, on-site property offices, surface parking, indoor bike and resident storage, and a washer and dryer in each unit. The new community is easily accessible to public transportation, and located within blocks of multiple Milwaukee County Transit System bus stops and a 10-minute bike ride to downtown Milwaukee.
"Seven04Place reflects the diverse socioeconomic makeup of this neighborhood and is now a centerpiece that shows what can be done when people come together to make a difference in the lives of so many," said Michael Carlson, Impact Seven vice president of real estate development.
The $12.2 million community received major support from a group of financial partners. The largest investor, UnitedHealthcare, provided $6.3 million in equity through a Low-Income Housing Tax Credit (LIHTC) partnership with Cinnaire and Minnesota Equity Fund (MEF).
"Access to affordable housing is an important part of how we can help spur economic development that creates jobs and opportunities for individuals and families in our state," said WHEDA Executive Director Joaquin Altoro. "Seven04Place is an example of how the public and private sectors within our community can work to impact change."
The Wisconsin Housing and Economic Development Authority (WHEDA) allocated tax credits and provided $3.2 million in loans and mortgage financing. An additional $2.2 million in funding was received from several partners: including the City of Milwaukee; the U.S. Department of Housing and Urban Development; IFF and the Federal Home Loan Bank of Chicago; Wisconsin Economic Development Corporation (WEDC); and NeighborWorks.
"Access to safe and affordable housing is one of the greatest obstacles to better health, affecting people's well-being and quality of life," said Ellen Sexton, CEO, UnitedHealthcare Community Plan of Wisconsin. "These investments connect individuals and families struggling to secure affordable housing with safe, quality, homes that will help them live healthier lives."
UnitedHealthcare, which employs more than 9,200 people in Wisconsin and serves the health care needs of more than 1.6 million residents, has partnered with Cinnaire and MEF to invest nearly $12 million to help build two new affordable-housing communities with 154 homes in Milwaukee and Madison.
"Cinnaire, working together with our equity partners, UnitedHealthcare and MEF, is helping meet a critical need here in Wisconsin to help provide families and individuals with quality, affordable housing with supportive services," said Mark McDaniel, CEO of Cinnaire.
The Milwaukee County Housing Division (MCHD) and Center for Veterans Issues (CVI) will refer individuals and families in need of affordable housing, manage on-site support services and help connect resident veterans to community-based services. This includes access to existing programs administered through the agencies and providing case management for health care, rehabilitation, job training, education and social services.
"The opening of Seven04 Place represents what can happen when our community comes together," said Milwaukee District 12 Alderman José G. Pérez. "This investment has truly helped lay the groundwork for great things here in Walker's Point, including more investment in this community, so that individuals and families can live together and thrive in affordable, quality houses that will benefit our region for years to come."
Impact Seven is one of the largest nonprofit developers of affordable housing in Wisconsin, having developed over 2,000 rental housing units since 1980. Rule Enterprises is led by Brandon Rule, who grew up in nearby Clarke Square and is a graduate of the Associates in Commercial Real Estate (ACRE) Program, an industry-supported initiative that recruits and retains people of color for careers in commercial real estate. The goal of ACRE is to expand minority representation in the commercial real estate fields of development, property management and construction management.