Milwaukee's Housing Authority awarded $2.3M for jobs program at Hillside Terrace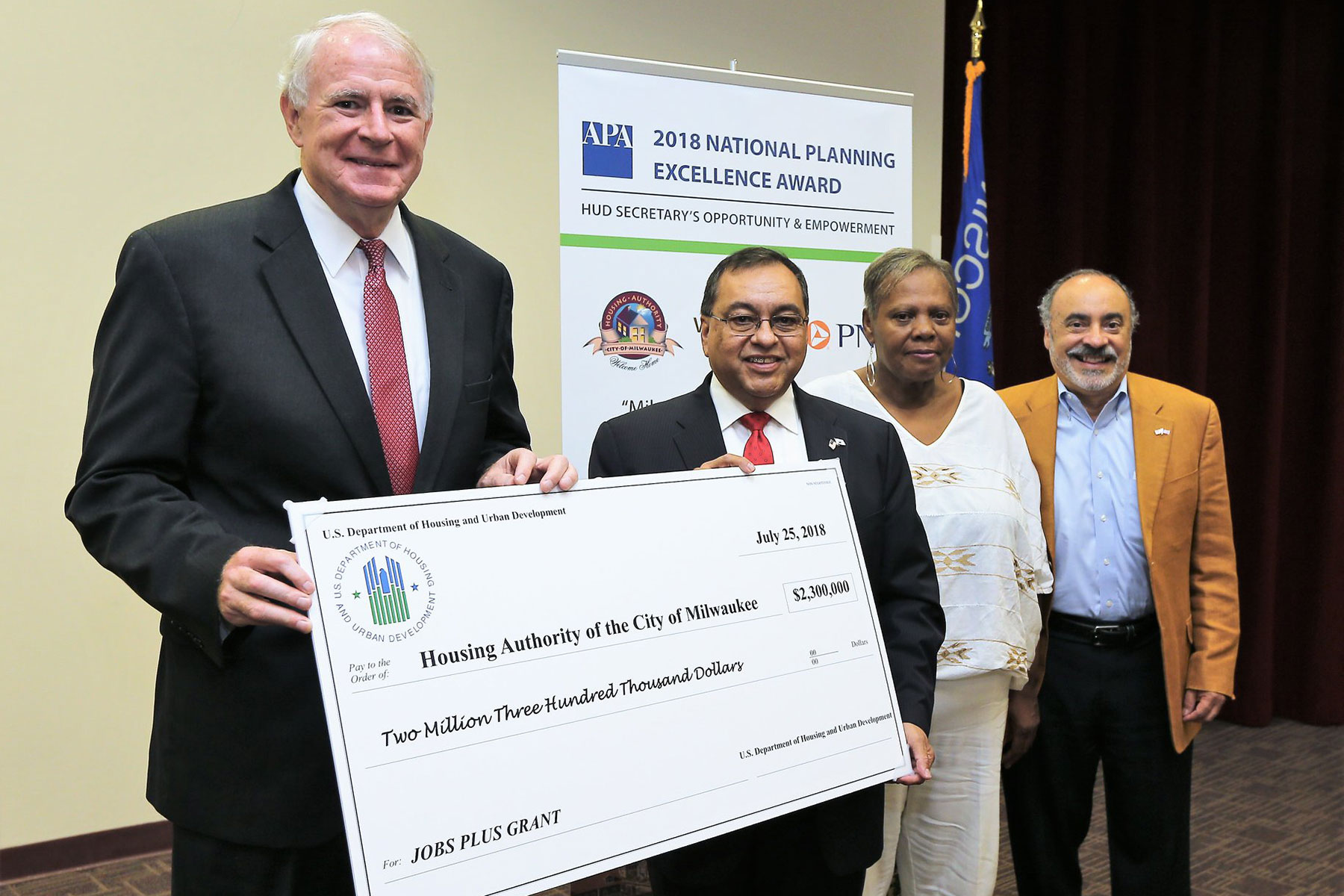 The U.S. Department of Housing and Urban Development (HUD) awarded $2.3 million to the Housing Authority of the City of Milwaukee (HACM) on July 25, to implement HUD's Jobs Plus Initiative at HACM's Hillside Terrace public housing development.
The funding will connect Hillside Terrace residents with employment, education, and financial empowerment services.
"We believe that just because individuals are of modest income, it does not mean they must have modest dreams," said HUD Midwest Regional Administrator Joseph P. Galvan, who traveled to Milwaukee to make the announcement at a press conference at Hillside Terrace.
Approximately 60% of "work-able" non-senior, non-disabled adults at Hillside Terrace do have earned income, with an average earned income of about $19,000, well below Milwaukee's median household income of $35,958. Hillside Terrace's proximity to the economic development taking place downtown along with the number of residents experiencing low earnings and underemployment or unemployment, makes it an ideal candidate for the Jobs Plus Initiative.
Mayor Tom Barrett said this program is "taking people with, often, challenges in their lives and allowing them to get ahead of the game."
HACM will hire public housing residents as community coaches to engage in outreach and motivate other residents – these are people that are on the ground, know the community and will promote employment and opportunities at all times. They will link residents to job coaches and job developers that will act as a team with each client to help them overcome barriers in their job search and feed them job leads.
The Jobs Plus grant provides residents with a financial incentive to work. Normally, residents pay 30% of their income as rent. However, in Jobs Plus, if a resident participates in this program, any increase in earned income does not increase their rent. Instead, the grant covers that increase in rent for the resident for up to the grant period of 48 months.
"If you freeze it (rent), people won't be afraid to find employment," said Tony Pérez, Secretary-Executive Director for HACM.
This financial incentive will help to motivate those residents who have a fear of the "benefit cliff," that fear that if they earn more, they will not only face an increase in rent, but lose other important benefits such as health care and child care.
Resident Commissioner, Sherri Reed Daniels, wrapped up the press conference by sharing that Hillside Terrace has been a safe and quality way of life for her and her children over the years. Daniels expressed the importance of resident involvement and that her role allows her to build the trusting relationship necessary for programs like Jobs Plus to work. Daniels ended the press conference with a quote that Pérez often shares, "It takes a village to raise a village."
© Photo
Housing Authority of the City of Milwaukee