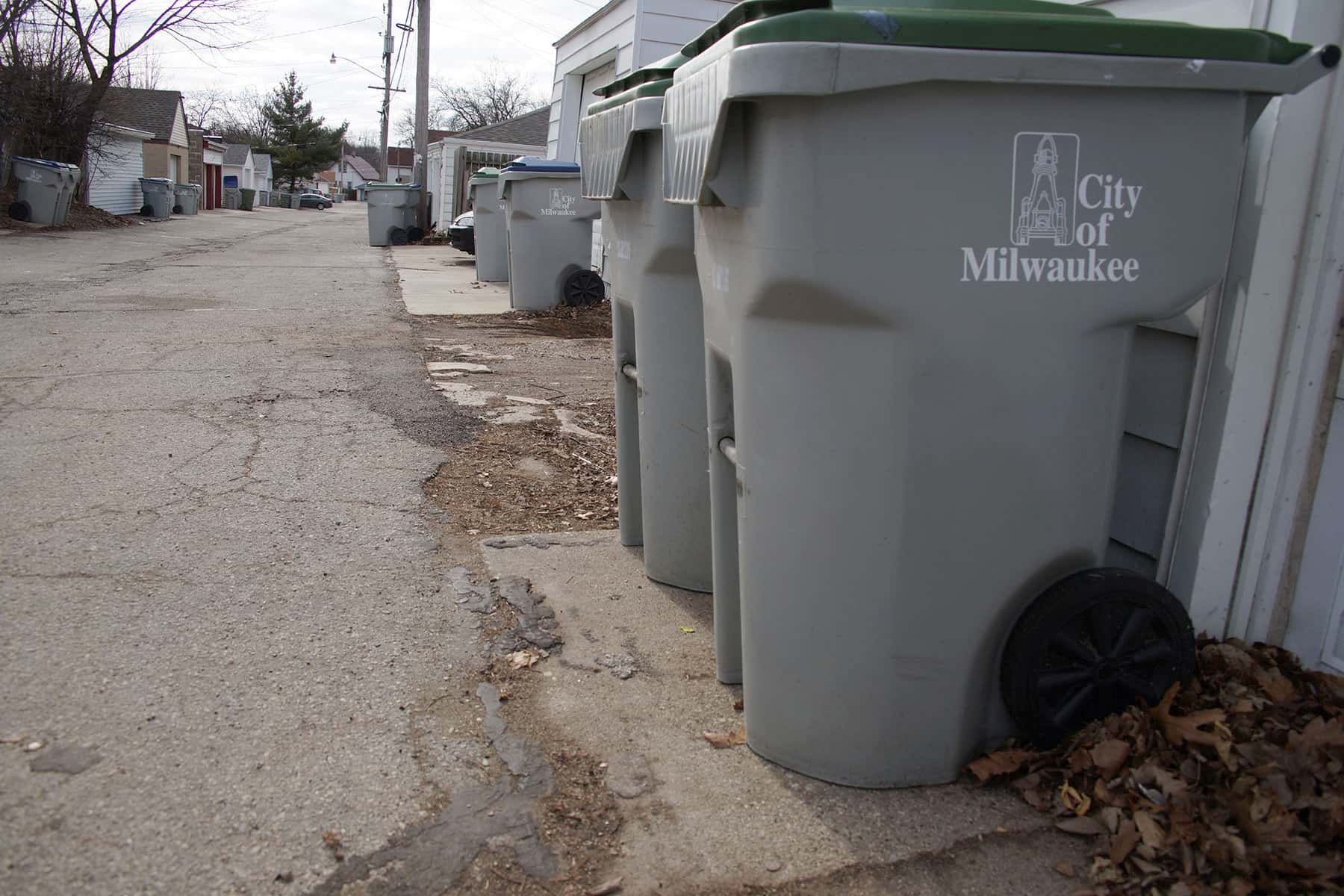 The City of Milwaukee is transforming its curbside recycling program. Starting in June, the City began a transition to an every other week, spring-through-fall, citywide collection schedule. The winter collection schedule, December-to-March, will continue to be varied which allows for snow operations.
With the help of a $649,000 grant from national nonprofit The Recycling Partnership, the City will deploy more than 18,600 new rolling, lidded recycling carts and fund education and outreach around the schedule change and recycling for good. Wheeled carts roll easily to the collection point, provide more capacity for recyclables, and reduce litter by protecting your recyclables from the elements.
Each residence within the bin-serviced area will have a cart delivered with educational materials enclosed. This change and moving to every other week collection spring through fall will greatly increase recycling capacity for residents.
"Recycling makes sense in many ways. It reduces our landfill costs, generates some revenue, and, most importantly, it's a better choice for the environment," said Mayor Tom Barrett. "I appreciate the opportunity to grow recycling in Milwaukee, and I thank the partners who have made that possible."
Even as social distancing begins to fade, many non-essential employees are working remotely and commercial recycling is near an all-time low. Producers see residential recycling programs as a critical supply chain for much-needed materials for the products being used and purchased every day.
Each year City of Milwaukee residents recycle over 50 million pounds of materials through the City's curbside program. Milwaukee's recycling transformation is expected to yield more than 10 million new pounds of recyclables each year, creating valuable and needed supply for local packaging producers and manufacturers.
The City of Milwaukee was selected to receive grant support because of its dedication to advancing recycling throughout the community and for the over 180,000 households it serves.
"Now more than ever, residents view recycling as an essential and valuable public service," said Commissioner of Public Works Jeff Polenske. "I'd like to recognize the dedicated Sanitation workers who have been front and center in maintaining this critical service and who are an essential part of this program's transformation."
The Recycling Partnership's grant was supported in part by Dow, Rehrig Pacific, and the PepsiCo Foundation. An additional resin donation from Dow assists the City of Milwaukee in ensuring that every household has what they need to fully participate in their recycling service. The 18,600 new carts, manufactured by Rehrig Pacific, were purchased at a 95% cost savings made possible by the resin donation.
"The Recycling Partnership is honored to partner with the City of Milwaukee, with support from Dow, PepsiCo Foundation, and Rehrig Pacific, to continue our work to promote and transform curbside recycling nationwide," said Jill Martin, Director of Community Programs at The Recycling Partnership and a Wisconsin resident. "The transformation of the City's recycling program to a more standardized, sustainable program will help Milwaukee capture more quality recyclables that can then be transformed into new products and packaging, creating a more circular economy, a less wasteful planet, and healthier, stronger communities."
Milwaukee residents can continue to do their part by placing only accepted materials in their carts, including glass bottles and jars, aluminum and steel cans, food and beverage cartons, paper products (such as newspapers and flattened cardboard), and #1, #2, and #5 plastic bottles and containers. Recyclables should always be emptied loose into the recycling cart without containment in plastic bags.