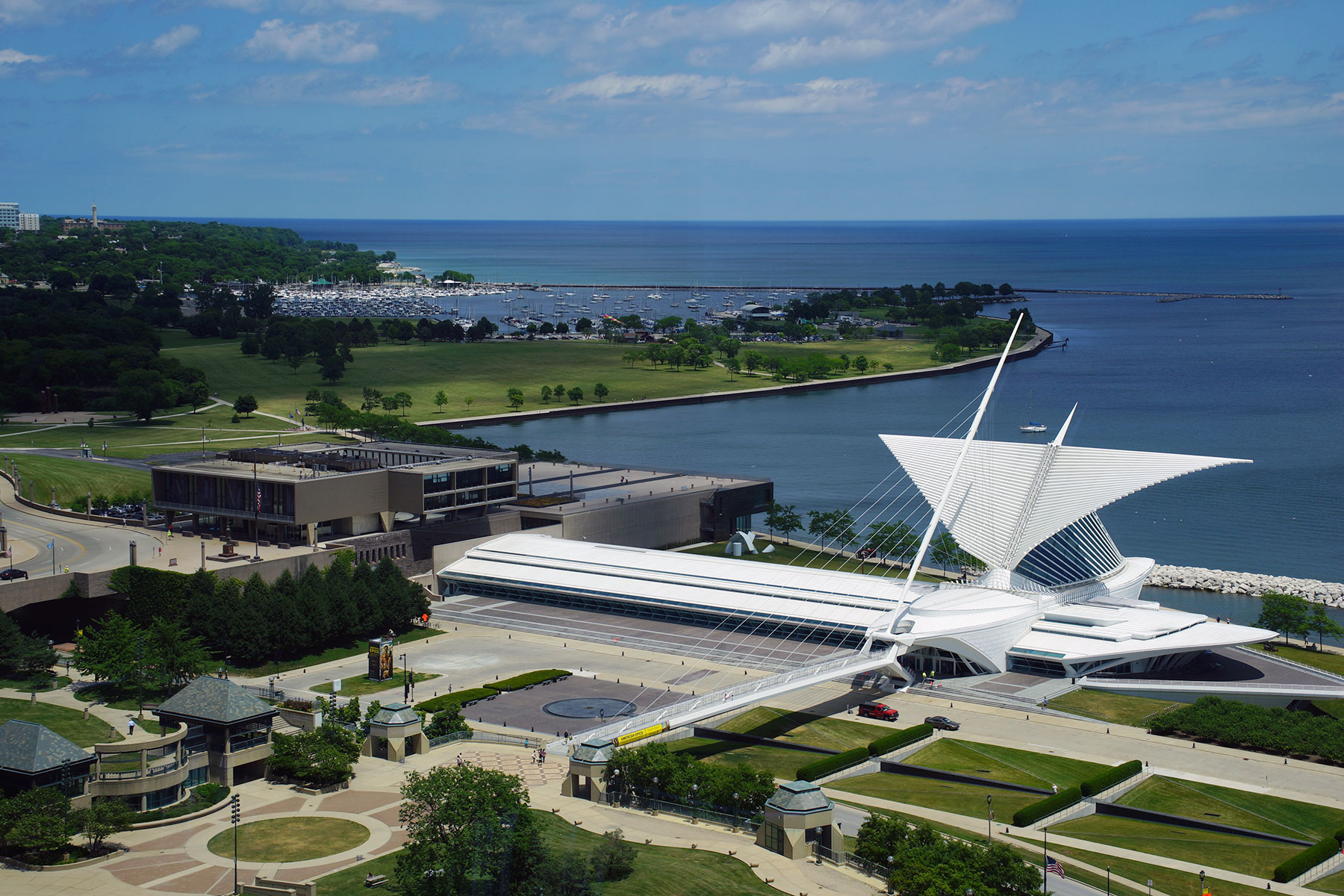 The Art Museum is open in July Monday–Sunday from 10 a.m. to 5 p.m. and on Fridays until 8 p.m.
In July, the Milwaukee Art Museum continues to enjoy the feature exhibition American Epics: Thomas Hart Benton and Hollywood, sponsored by Bank of America, with a partnering film series and family-friendly events, while simultaneously welcoming the latest show, From Rembrandt to Parmigianino: Old Masters from Private Collections.
On the last four Fridays in July, beginning at 6:15 p.m., the Museum will show a different classic film that inspired Thomas Hart Benton's vibrant artwork as part of a series called "American Epics on the Silver Screen." The series highlights the cinematic output of Hollywood's Golden Age and the period that directly followed, beginning with A Streetcar Named Desire on July 8. The subsequent Friday, July 15, brings The Kentuckian, trailed by The Grapes of Wrath on July 22 and The Searchers on July 29. Visitors can grab a libation lakeside ahead of the screening during the East End Wine Bar's new happy hour, every Friday from 4 p.m. to 6 p.m.
The Kohl's Art Generation Family Sundays: Lights, Camera, ART! event on July 24, from 10 a.m. to 4 p.m., offers an interactive, Hollywood-inspired experience that the whole family can enjoy. The event includes a tour of American Epics: Thomas Hart Benton and Hollywood, the chance to create a movie set masterpiece, and an interactive performance by local actors. Admission for kids 12 and under is free.
From Rembrandt to Parmigianino: Old Masters from Private Collections, opening to the public on July 29, presents rarely seen works from private collections in the regional community, including several from Wisconsin homes. The paintings and drawings in this exhibition were masterfully created by European Renaissance and Baroque artists and celebrate the tradition of collecting. This exhibition is presented by the Stephen Kohl Charitable Trust.
Additional July highlights are included below. A full listing is available at mam.org/calendar/events.
July 1: Meijer Free First Friday
Admission to the Museum is free for everyone on the first Friday of every month, thanks to Meijer.
July 3: Explosive July 3rd Event: Pinot & Pork on the Patio
Guests of this ticketed dinner gain an exclusive view of the fireworks over Lake Michigan from one of the Museum's outdoor terraces.
July 5: Special Gallery Talk on Brook Stevens
Visitors have the opportunity to learn more about one of the country's first industrial designers, Brooks Stevens, and the Museum's extensive archive of his work.
July 16: Yoga @ the Museum
The Museum's popular Saturday yoga class offers the opportunity for yogis to practice in a unique setting in Windhover Hall, overlooking the lake.
July 16: Lecture: Thomas Hart Benton, Modern American Art, and the Movies
Erika Doss, professor of American Studies, Notre Dame University offers visitors an in-depth look at Benton's paintings relative to the art world and the film industry.
About the Milwaukee Art Museum
Home to a rich collection of over 30,000 works of art, the Milwaukee Art Museum is located on the shores of Lake Michigan. Its campus includes the Santiago Calatrava–designed Quadracci Pavilion, annually showcasing three feature exhibitions, and the Eero Saarinen–designed Milwaukee County War Memorial Center and David Kahler-designed addition. The Museum recently reopened its Collection Galleries, debuting dramatically transformed galleries and a new lakefront addition, with nearly 2,500 world-class works of art on view.
Admissions and Tours
The Museum is open Monday–Sunday from 10 a.m. to 5 p.m. and on Fridays until 8 p.m. Admission is $17 for adults; $15 for students, seniors and active military; and free for Members and children age 12 and under. The first Friday of each month is Meijer Free First Friday and Museum admission is free.
Drop-in tours are offered Tuesdays at noon, Saturdays at 11 a.m. and 2 p.m. and Sundays at 2 p.m.