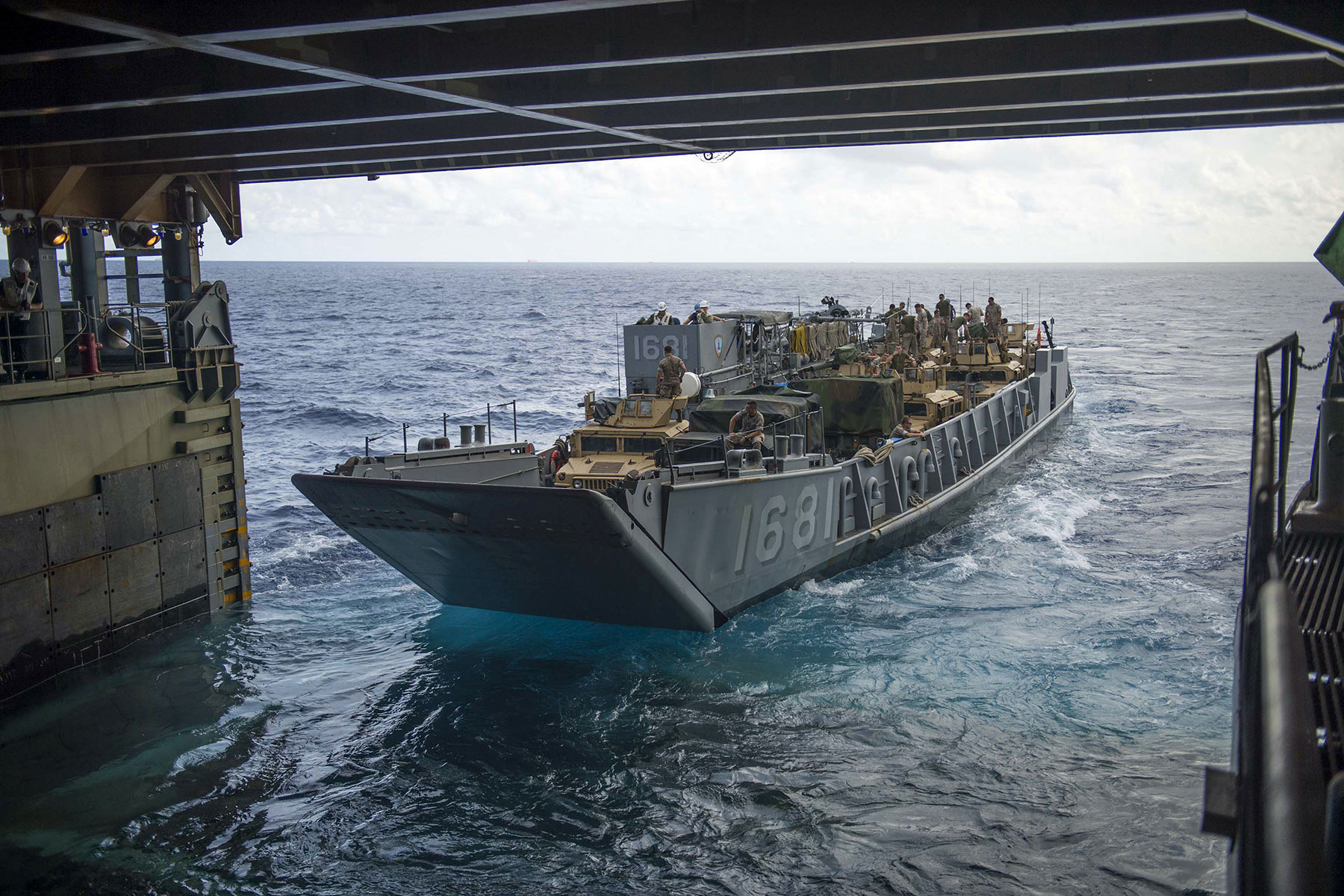 A 2006 Greenfield High School graduate is serving in the U.S. Navy aboard the amphibious assault ship USS Makin Island, and credits his success in the Navy to many of the lessons learned growing up in Milwaukee.
Petty Officer 1st Class Jimmie Carter is an aviation electronics technician aboard the amphibious assault ship operating out of San Diego. An aviation electronics technician is responsible for maintaining and management of the avionics equipment.
"The biggest lessons I carried from my hometown are to remain loyal and to always take care of people and pay it forward," said Carter. "In the Navy, it helps because I am in a leadership position. I have to do my best to serve my sailors and if I don't, I fail in everything else."
Makin Island, one of the Navy's most advanced and largest amphibious ships, is designed to deliver Marines and their equipment where they are needed to support a variety of missions ranging from amphibious assaults to humanitarian relief efforts.
The ship, which resembles a small aircraft carrier, is longer than two football fields at 847 feet, is 106 feet wide and weighs more than 41,000 tons fully loaded. It has gas turbine engines and two variable speed electric motors that can push the ship through the water in excess of 20 knots. It can carry more than 12 helicopters and six fixed-wing aircraft.
Sailors' jobs are highly varied aboard Makin Island. More than 1,000 men and women make up the ship's crew, which keeps all parts of the ship running smoothly, from handling weaponry to maintaining the engines. An additional 1,700 Marines can be embarked. It is capable of transporting Marines and landing them where they are needed via helicopters, vertical takeoff and landing aircraft and landing craft.
"Makin Island is one of the most advanced warships on the waterfront, but she's nothing without her crew," said Capt. David Oden, commanding officer of Makin Island. "They've proved themselves time and time again, and their level of professionalism and dedication is second to none."
These amphibious assault ships project power from the sea serving as the cornerstone of the amphibious ready group. Makin Island was delivered to the Navy in April 2009 and is the first U.S. Navy amphibious assault ship to be equipped with both gas turbines and auxiliary propulsion system instead of steam boilers.
These ships support special operations and expeditionary warfare missions, transporting U.S. Marines from sea to shore through a combination of aircraft and water landing craft. Because of their inherent capabilities, these ships have been and will continue to be called upon to support humanitarian and other contingency missions on short notice.
Carter has military ties with family members who have previously served and is honored to carry on the family tradition.
"I was a recruiter and I actually enlisted three of my cousins into the Navy," said Carter. "My great-grandfather was in WWII in the Navy. I found out about my great-grandfather after I joined the Navy which was amazing to learn about."
Carter has found many great rewards in the Navy and is particularly proud of earning a Navy Achievement Medal for work done on deployment with 7th Fleet.
As a member of one of the U.S. Navy's most relied-upon assets, Carter and other Makin Island sailors know they are part of a legacy that will last beyond their lifetimes.
"Serving in the Navy means that I have the opportunity to meet different people from different walks of life," added Carter. "Most of those people will be my friends for the rest of my life. I would not have had the opportunity to meet them if it weren't for the Navy."