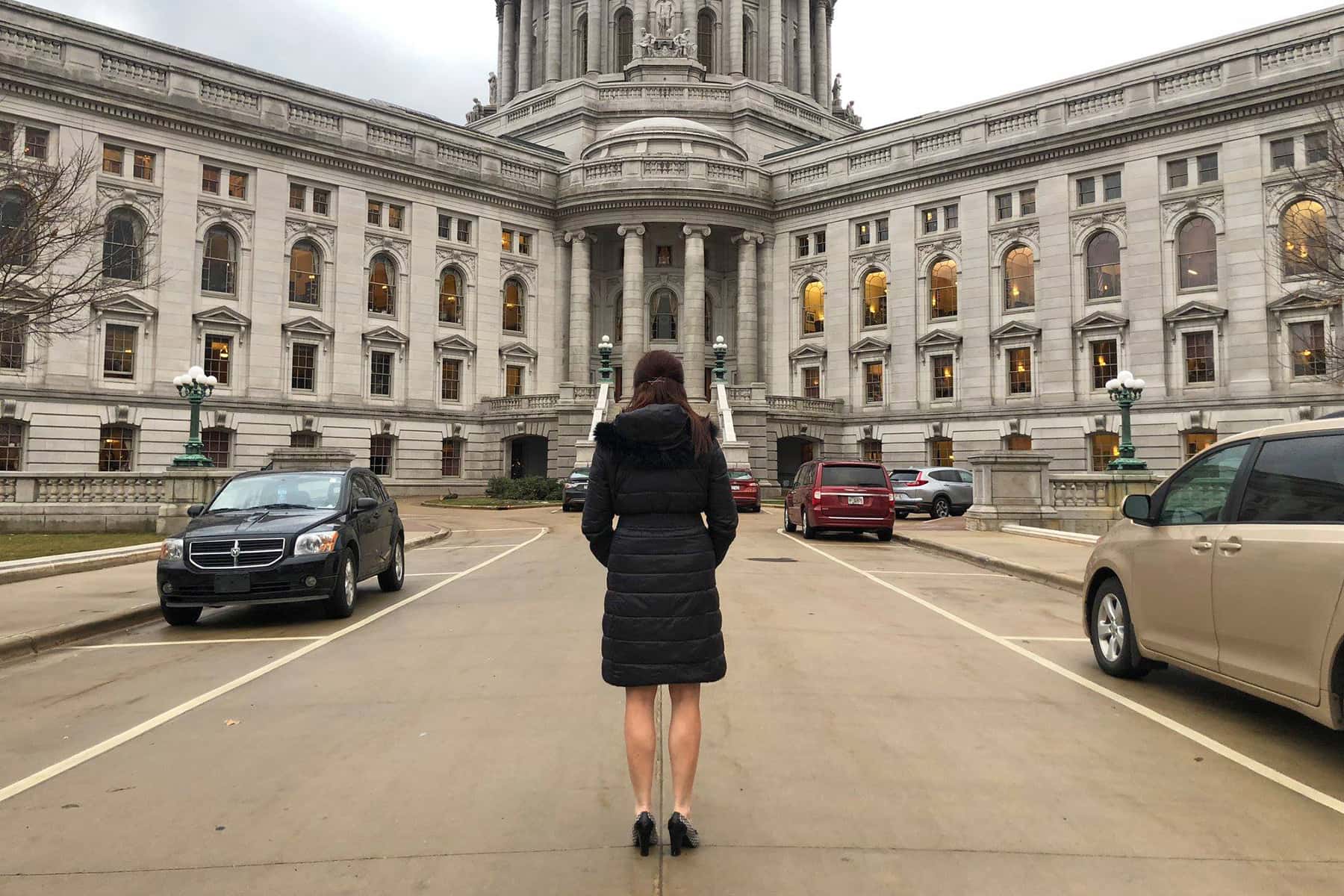 It was publicly revealed recently that Rebecca Kleefisch, a Republican and Wisconsin Gubernatorial candidate, labeled herself as indefinitely confined in March 2020, just before the April presidential primary and general election for State Supreme Court.
On March 27, 2020 the bipartisan Wisconsin Election Commission issued a guidance on indefinitely confined voting in light of the "Safer at Home" Emergency Order by current Wisconsin Governor Tony Evers. It was a health measure that Republicans uniformly rallied against and even took to the State Supreme Court in December of 2020.
"The fact that Kleefisch marked herself as indefinitely confined and yet continued to appear at public events throughout spring and summer of 2020 is the highpoint of her hypocrisy and it proves that she simply is not worthy of our trust," said Milwaukee County Clerk George L. Christenson in a statement.
State Republicans have launched an all out campaign, similar to the Southern Strategy of the Jim Crow days, to prevent Wisconsin citizens from voting. Chief among their efforts to suppress future elections has been a witch hunt directed at nonpartisan election officials across the state, in support of Trump's "Big Lie" to undermine American democracy.
"When I advised Milwaukee County voters of their legal ability to identify themselves as indefinitely confined to safely cast their vote in the April 2020 election during the onset of the COVID-19 pandemic, Republicans decried the practice and railed against me and other clerks who issued the same advice," added Christenson. "It turns out that Kleefisch did the very thing she pretends to vehemently oppose and has vowed to do away with if elected Governor."
In November, Kleefisch filed a lawsuit against the Wisconsin Elections Commission, calling on the state Supreme Court to suspend guidance the commission issued to local election officials ahead of the 2020 election. Her case was seen as an attempt to divert the findings of a state audit that found no widespread fraud or wrongdoing that would have altered the 2020 election results. But the report made more than two dozen recommendations for updates to elections commission policies and state laws governing elections.
Noted elected conspiracy theorist Michael Gableman, who is also running the Wisconsin GOP's partisan election review, took sides in the GOP gubernatorial primary in December. Gableman threw his support behind Kleefisch, who shares his extreme views on undermining democratic elections. Kleefisch has previously vowed to sign voter suppression legislation if elected and said she would not rule out allowing the State Legislature to overturn future election results, should she not like the outcome.
Even with Gableman's support, Kleefisch still faces at least three potential primary opponents. Such political conditions have made other Republican candidates do anything to prove their extreme ideology to win Trump voters, and an endorsement from the disgraced ex-president.
Campaign fundraising reports filed on January 17 showed that Liz Uihlein, co-founder of the shipping supply giant Uline, donated $200,000 in October to a Republican super PAC working to elect Kleefisch. The donation to Freedom Wisconsin PAC came after Uihlein donated $20,000 to Kleefisch's campaign in September, the maximum individual contribution allowed under state law. Uihlein and her husband have reportedly donated nearly $150 million to elect Republicans since the 1990s, with a majority of that total since 2012.
© Photo
Jоhn Hаrt, Lее Μаtz, and Rеbeccа Klееfіsch / Facebook
The
Milwaukee Independent
began reporting on what was then referred to as the mysterious "Wuhan Virus" in January 2020. Other local media did not picked-up on the story until many weeks later. Our early features focused on the economic impact, social issues, and health concerns long before other Milwaukee news organizations even mentioned the coronavirus. Over the following year, we have published hundreds of articles about the pandemic and how it has affected the lives of Milwaukee residents. This extensive body of work can be found on our
COVID-19 Special Report
page, a chronological index of links by month. Our editorial voice remains dedicated to informing the public about this health crisis for as long as it persists.
For medical resources, please visit the
CDC's COVID-19 page
or the
Wisconsin Department of Health Services
. All editorial content published by
Milwaukee Independent
can be found at
mkeind.com/COVID19
. With a mission of transformative journalism, our staff is free from commercial bias and are not influenced by corporate interests, political affiliations, or a public preferences that rewards clicks with revenue. As an influential publication that provides Milwaukee with quality journalism, our award-winning photojournalism and features have helped to achieve a range of positive social impact that enriches our community. Please join our effort by entrusting us with your contribution. Your Support Matters -
Donate Now