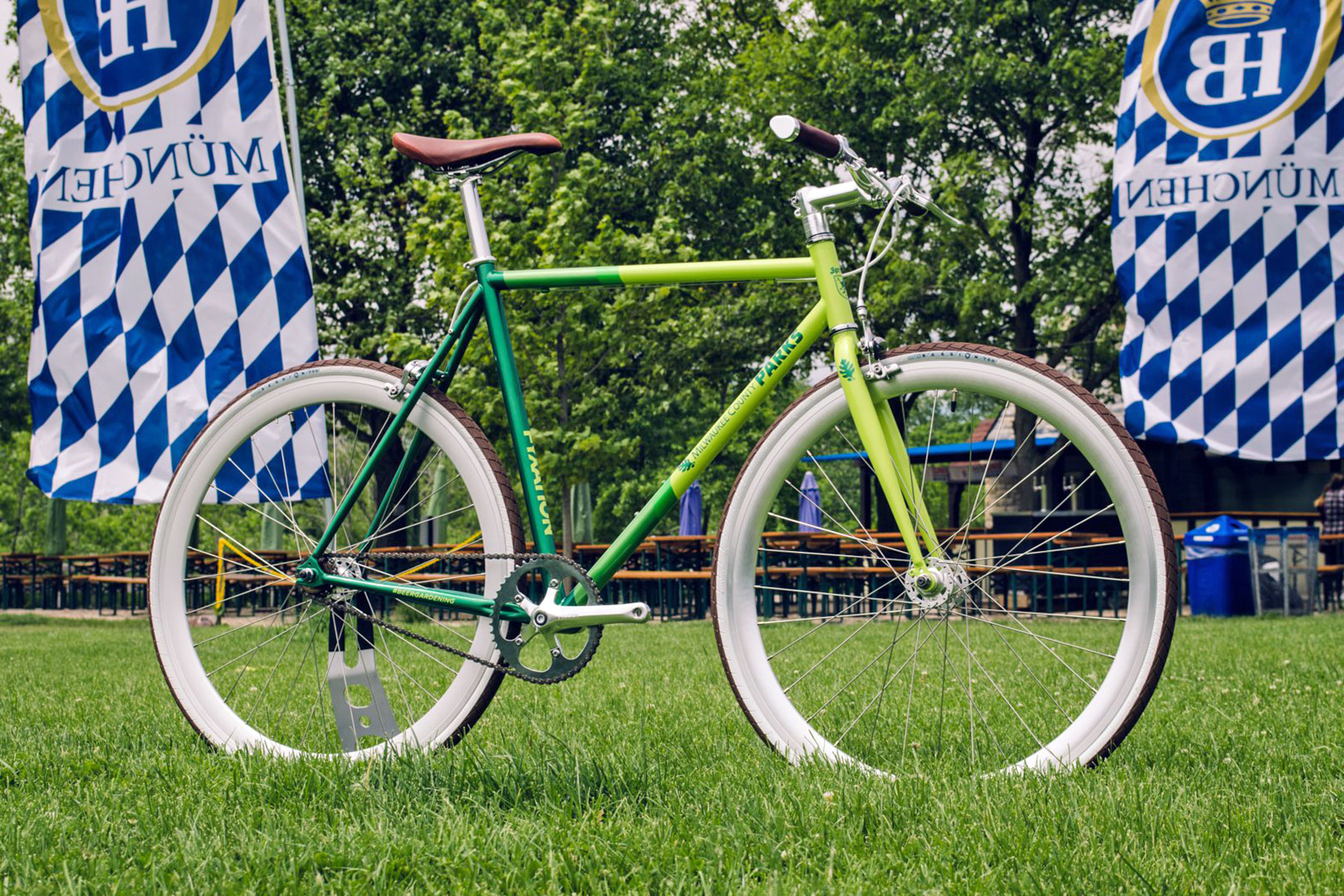 Milwaukee County Executive Chris Abele announced that a custom Traveling Beer Garden bicycle design will be revealed on June 7 at the Kletzsch Park Traveling Beer Garden as part of Wisconsin Bike Week.
The unique bicycles, designed by Fyxation Bicycle Co., features custom colors to match the Traveling Beer Garden branding, white wall tires inspired by the Sprecher Brewing fire trucks, and even include a custom leather stein holder. Visitors to the Traveling Beer Garden throughout the summer will have a chance to win the one-of-a-kind bikes.
"Cycling along the Oak Leaf Trail to one of the Traveling Beer Gardens and drinking a locally brewed Sprecher beer is a uniquely Milwaukee way to enjoy summer," Said Milwaukee County Parks Director John Dargle. "So it's a natural next step to blend the two activities with these amazing Traveling Beer Garden bicycles."
The bike was hand painted by Madison based Ryan Hovde, who also painted Fxyation's Milwaukee Flag bike. Abele, Dargle, and Ginster will reveal the bicycles on Wednesday, ahead of the county's Bike-to-Work day on Thursday.
"We have done many custom bike projects, but the Park bike is one of our favorites," said Ginster. "Milwaukee County Parks provide great green spaces around the city to enjoy with friends and family. We incorporated this green space concept through the design of Parks bike with four shades of green to represent the wide variety of flora across the county's parks. The brown accents and leather grips on the bikes also give them a natural wooded feel."
The bicycles will be on display at each of the Traveling Beer Garden stops throughout summer. Beer gardeners can enter to win the bicycles by submitting one entry form at each stop from June 7 to Aug 13, visiting all the stops will provide eleven chances to win.
The Traveling Beer Garden opens from 4:00 pm to 10:00 pm on Mondays to Fridays and 11:00 am to 10:00 pm on weekends with live music on Wednesday to Saturday nights from 5:00 pm to 8:00 pm.