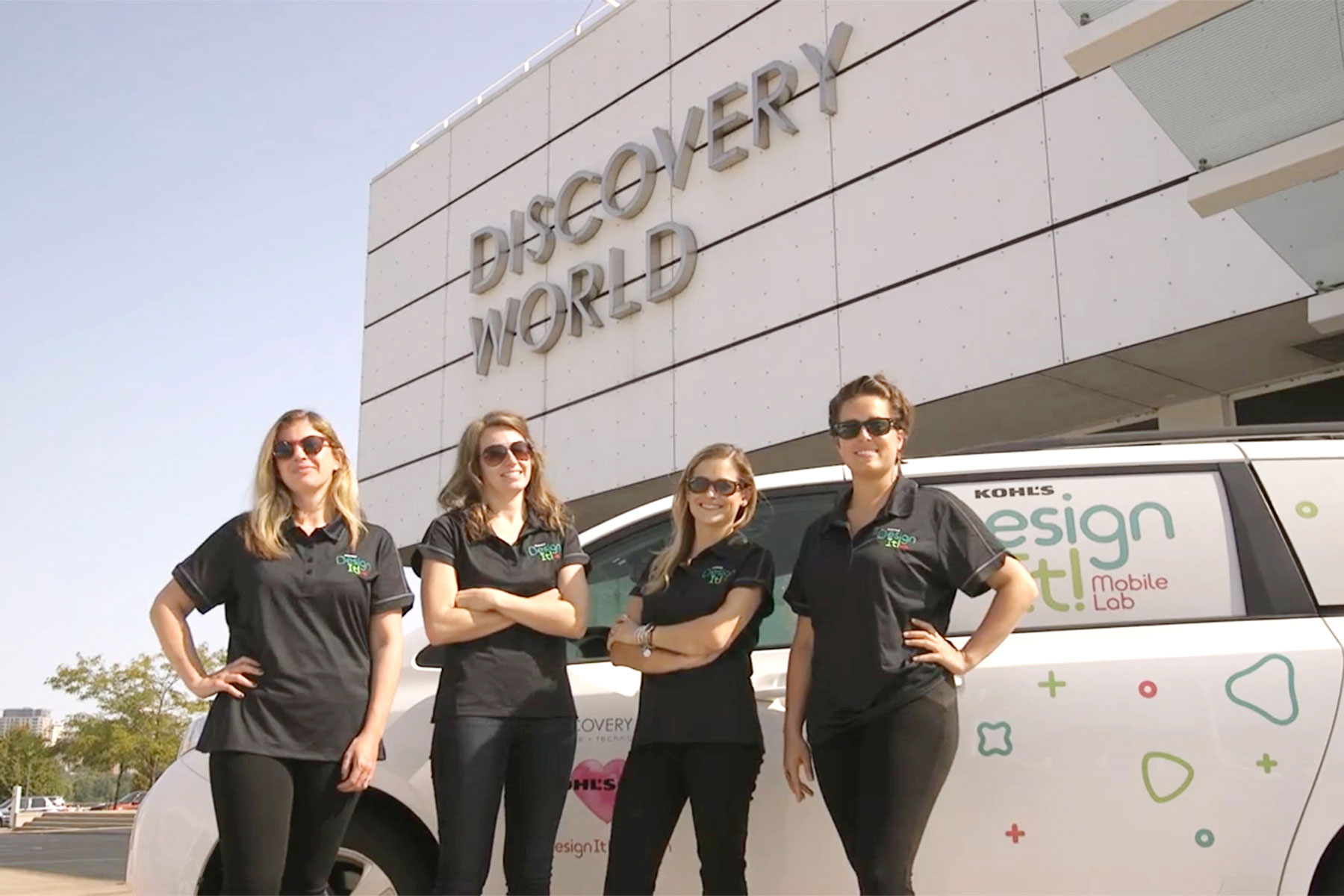 The message Discovery World hopes to drive home with Girls & STEM event on November 11 is that any girl can thrive in the fields of Science, Technology, Engineering, and Math.
The interactive event is designed to spark new interests, make real-life connections, and fight stereotypes and obstacles facing young girls and women in Milwaukee. Girls & STEM hopes to inspire young women to see themselves as future STEM leaders by connecting brilliant female professionals with girls while inspiring creativity and curiosity through engaging hands-on STEM activities. The event will feature more than 35 organizations dedicated to cultivating confidence and empowering girls.
"Through Girls & STEM, we hope to inspire young women to envision themselves as scientists, innovators, entrepreneurs, and the leaders of the future," said Discovery World President & CEO Joel Brennan. "By featuring really cool interactive experiences and introducing area girls to talented women who have established careers in local companies, we can make real life connections that will spark new interests and forge paths that can lead young leaders anywhere they can imagine."
The lineup for Girls & STEM is jam-packed with local businesses, educational institutions, and non- profits who share Discovery World's passion towards developing a deeper understanding that anything is possible for girls in our community.
Industry leaders such as WISN-TV Meteorologists Sally Severson and Lindsey Slater, FOX 6 Weather Team's Stephanie Barichello and Rachael Kaye, engineers from Rockwell Automation, PPG, and Brady Corporation, and MilliporeSigma scientists are only a handful of the professionals who will be a part of Girls & STEM.
Activities include building hydraulic and pneumatic lifts with HUSCO International, examining viscosity and pressure by experimenting with Oobleck alongside the Marquette University Society of Women Engineers, creating and testing unique vehicles with Betty Brinn Children's Museum and the Kohl's Design It! Lab, and designing tennis racket with the St. Joan Antida High School RoboChix FTC Robotics Team. Northwestern Mutual will feature a trio of different activities including virtual reality goggles that can help create a pleasant, comforting environment for kids undergoing medical treatment.
Over the past few years Discovery World has made a concerted effort to offer female-specific programing across the STEM fields. Girls & STEM is designed to encourage even more local girls to take that first step down a path that could lead anywhere in the world.
In order to ensure Discovery World reaches the audience that matters most, the organization has provided more than 600 tickets to local organizations such as Girl Scouts of Wisconsin Southeast, Boys & Girls Clubs of Greater Milwaukee, Journey House, COA, St. Joan Antida, Clara Mohammed School, and Messmer Saint Rose Elementary. Support from partners like Rockwell Automation, the VWR Foundation, and Northwestern Mutual made this possible.
"We are committed to changing the profile of Milwaukee and transforming the city into a technology destination that develops, attracts and retains top talent," said Karl Gouverneur, vice president of digital workplace, corporate solutions and head of digital innovation, Northwestern Mutual and Discovery World Board Member. "Academic preferences and passions start at a young age. By supporting STEM education and events like Discovery World's Girls & STEM day, we can inspire kids to develop an early interest in technology."