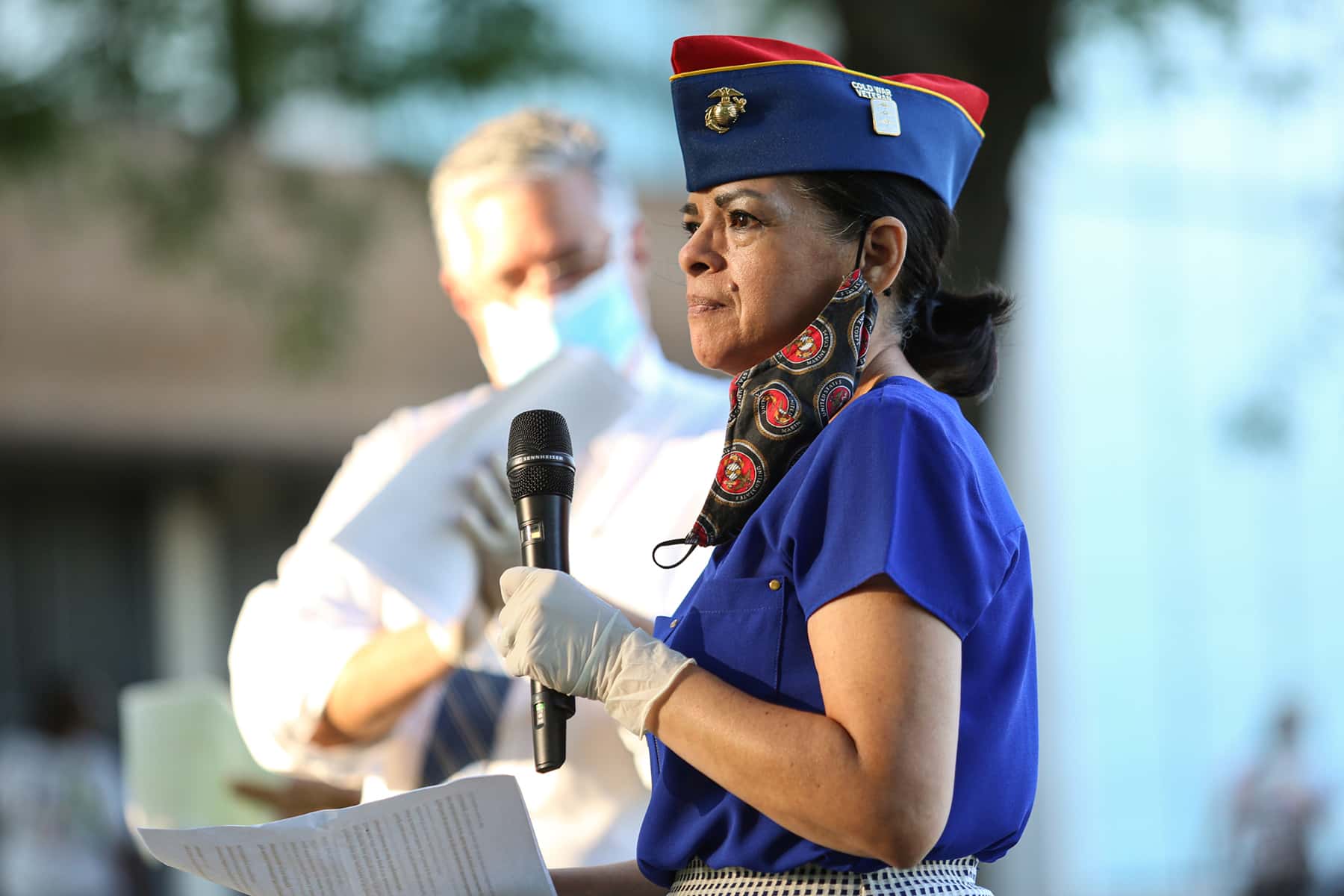 As part of Women's History Month, local veteran Yolanda Medina shared her thoughts about the contributions of Latinx women in the military, and experiences from her own service in the United States Marine Corps.
President Biden said this in his 2021 declaration "Throughout American history, women and girls have made vital contributions, often in the face of discrimination and undue hardship… Our history is also replete with examples of the unfailing bravery and grit of women in America, particularly in times of crisis and emergency— especially the millions [of women] from diverse communities who have strengthened America across every generation."
As a Latinx women, born in Wisconsin, I had yet to learn of the contributions these diverse women made in this country. I was too busy proving my citizenship to those who felt privileged enough to ask, "Where are you from?" This was a constant reminder that I was an outsider to them. Like Langston Hughes' poem, "I, Too," I wanted to shout, "I, too, am America"!
Joining the Marine Corps gave me the patriotic validation I was looking for. In my uniform I was one of the Few and the Proud. But as a veteran, I am now invisible. Without the uniform, I am not part of the servicemen who valiantly protected our freedoms. I was once again, "other."
As part of Women's History Month, I want to introduce you to some of the Latinx women who have a proud heritage in U.S. history. Lalla Rookh Muñoz was part of the first unit of female soldiers to fight as combatants in American history. The Hello Girls, as they were called served in the Signal Corps Telephone Operator Unit as battlefield telephone operators and translators in WWI. During WWII, Eva Romero Jacques was one of the first Latinx women to serve in the US Army Air Forces, serving two years in the Pacific theater and achieving the rank of Staff Sergeant.
During WWII, the Army specifically recruited bilingual Latinx women to work in cryptology, communications, and interpretation. The Puerto Rican Women's Army Corps unit, Company 6 was created as a segregated Latinx unit. Carmen Contreras Bozak was the first Latinx American to serve in the Women's Army Corps. She as well as many others in her unit volunteered to serve overseas in North Africa. Lieutenant Junior Grade (LTJG) Maria Rodriguez Denton was the first Latinx woman to become an office in the Navy Women Accepted for Volunteer Emergency Service (WAVES).
More recently, Maj. Gen. Angela Salinas (Ret.) was the first woman to command a Marine Corps Recruit Depot, and the first Latinx woman to become a General in the Marine Corps. Lt. Col. Michelle Pearce (Ret.) is the first Latinx woman to be named General Counsel of the Army.
There are thousands of untold stories of service and valor in between! Today, 25% of the current active duty and reserve U.S. armed forces are Latinx with 16% of that number being female. Roughly 13% of the veteran population is Latinx and 9% female.
Let us go out and search for those stories. Ask your mothers, aunts, cousins, friends, and co-workers, who you know served, about their stories. Make them visible and include them in the American story.
– Yolanda Medina, USMC
Medina was included in the I Am Not Invisible (IANI) program, a nationwide awareness campaign that featured photographs of women who were military veterans – as a way to spotlight the many faces of diversity in the Veteran community. Medina's portrait was on display during the Wisconsin segment of the campaign that ran in 2019, along with her oral history interview.
Medina graduated from Waukesha North High School in 1980. She joined the Marine Corps with Joe Medina, her then boyfriend, using the buddy system. In 1981 she went to Paris Island, South Carolina, for basic training in the United States Marine Corps. Medina was eventually assigned to the 2nd Marine Aircraft Wing VMAT-203 in Cherry Point, North Carolina where she worked as an Environmental Systems Technician for the Harrier "jump jet."
Medina was discharged from the Marines in August 1985 and moved to Dallas, Texas with her children and husband Joe, while he pursued becoming a pastor. In 1999, they move back to Genesee, Wisconsin and lived there for ten years before returning to Waukesha. Medina is currently the director of the Military and Veterans Resource Center (MAVRC) at the University of Wisconsin-Milwaukee.