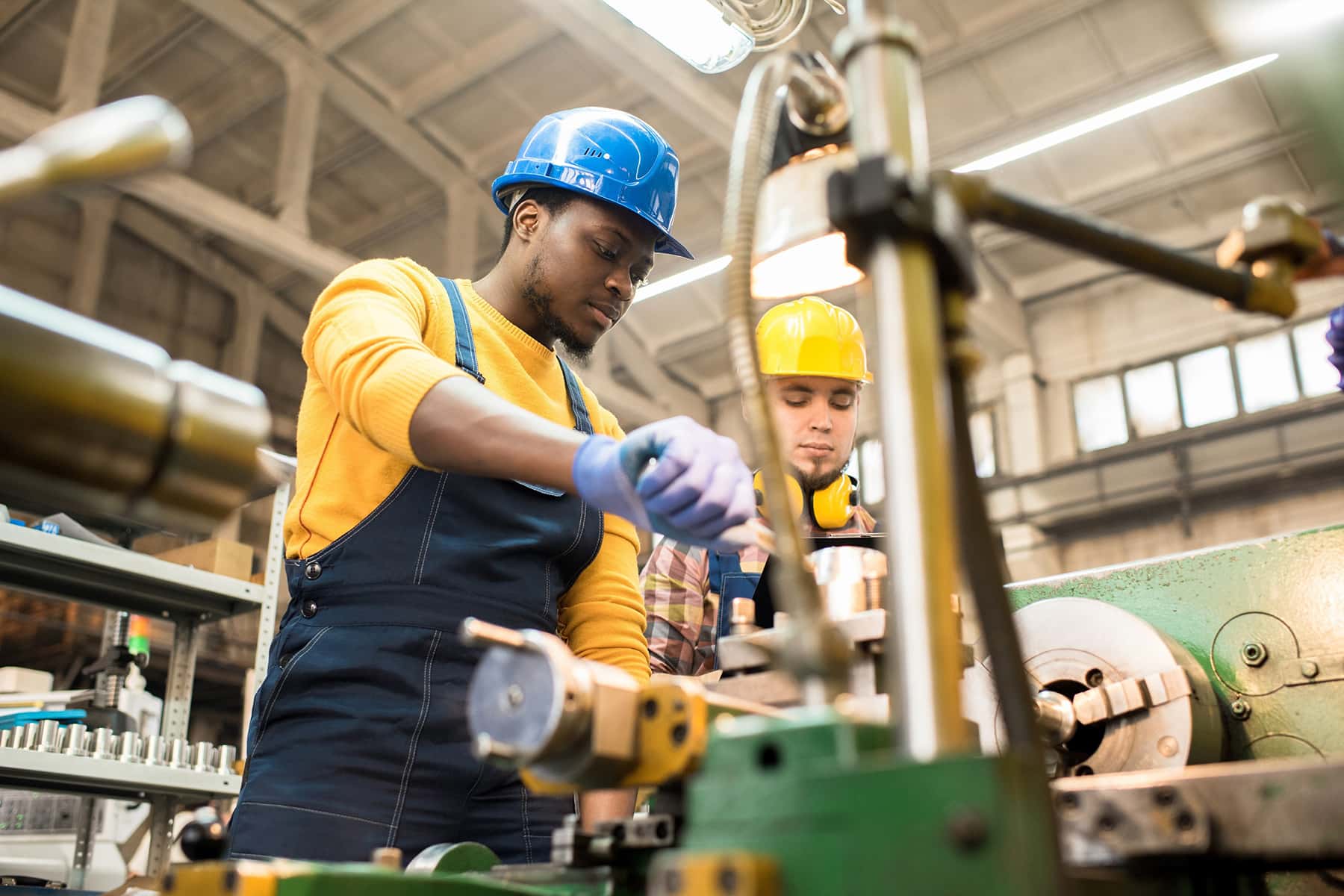 Menomonee Valley Partners and WRTP/BIG STEP joined a new coalition that launched on June 24 by The Century Foundation (TCF), the Urban Manufacturing Alliance (UMA), and seven other urban workforce development organizations to develop training programs that forge a more racially inclusive future for manufacturing.
Concentrated in the Midwest, the partnership plans to strategize solutions for the U.S. manufacturing sector's national recruitment challenges, while deepening relationships between employers and communities. The coalition, selected through a competitive process and funded by Lumina Foundation, launches this effort at a pivotal time for U.S. manufacturing and the nation as a whole.
As the country's manufacturing capacity recently shifted to produce millions of pieces of medical and personal protective equipment (PPE) to fight and recover from a deadly pandemic, COVID-19 has brought renewed attention to the need for a strong U.S. manufacturing sector. Pre-pandemic estimates indicated that the United States needed an additional 2.4 million manufacturing workers over the next decade.
"We are seeing three historic trends converge at once," says Andrew Stettner, a senior fellow at TCF and one of the organizers of the coalition. "The COVID-19 pandemic has accelerated a need for skilled manufacturing workers to respond to the crisis, and highlighted the importance of employer-focused, credential-based training. The resulting recession has created historic levels of unemployment, leaving half of Black workers without work. And a long overdue reckoning on racial inequality has underscored the urgent need to improve access to jobs that pay well and provide good benefits. Our coalition will work at the intersection of these trends to help shape a more inclusive future of work for manufacturing."
With unemployment rates at record levels, especially for Black and Latinx workers, and a renewed focus on addressing systemic racism throughout our society – including employment – U.S. manufacturing's rebirth presents a critical opportunity to open the sector's good paying jobs to more workers of color. A new commentary released by TCF and UMA in conjunction with the coalition's launch outlines 7 lessons for building a more just and inclusive manufacturing sector.
The organizations that make up the new Industry and Inclusion 4.0 cohort include: Jane Addams Resource Corporation (JARC; Chicago/Baltimore) provides high quality skills training and support services to help lower-income and unemployed workers achieve self-sufficiency. Its Careers in Manufacturing Program has placed graduates into apprenticeship programs in the trades and aims to increase the number of women and people of color in the unions, while its Business and Workforce Services program works directly with employers to customize career pathways.
LIFT (Detroit) has invested in more than 40 replicable, scalable, and sustainable education and workforce development initiatives across the country, all aimed at developing a strong advanced manufacturing pipeline of talent. LIFT's Learning Lab in Detroit includes a state-of-the-art interactive learning facility that provides project-based learning and performance-based assessment to solve real-world industry challenges. LIFT's IGNITE: Mastering Manufacturing engages high school students in learning key manufacturing skills.
MAGNET (Cleveland) has helped Northeast Ohio manufacturers grow their businesses through hands-on consulting, engineering assistance, and worker training programs for over 30 years. MAGNET's Early College, Early Career program is a youth pre-apprenticeship program that allows high school students to learn valuable manufacturing skills while earning money for their work at local companies leading to long-term career opportunities.
Manufacturing Renaissance (Chicago) operates Manufacturing Connect and the Young Manufacturers Association, two signature career pathways programs working with youth and young adults to provide training, preparation, and supports to pursue and persist in employment and apprenticeships in advanced manufacturing.
Menomonee Valley Partners (Milwaukee) revitalizes and sustains the Menomonee River Valley as a thriving urban district that advances economic, ecological, and social equity for the benefit of the greater Milwaukee community. MVP's programs focus on introducing youth to manufacturing career pathways, connecting neighborhood residents and employers, and piloting strategies to increase diversity and inclusion while providing support for people with employment barriers to move into sustaining careers.
MxD (Chicago) is where innovative manufacturers go to forge their futures. In partnership with the U.S. Department of Defense, MxD equips factories with the digital tools and expertise they need to begin building every part better than the last. MxD Learn, its workforce development arm, leverages the capability and enterprise of industry partners with academic research and government expertise to prepare the manufacturing and industrial cybersecurity workforce for the jobs of the future. MxD Learn's programs address critical needs from developing high school coursework to upskilling current workers.
Northland Workforce Training Center (Buffalo) is an industry-driven, public-private partnership between employers, educational institutions, community and faith-based organizations and state and local government focused on closing the skills gap of the local labor pool and creating economic on-ramps to training, co-ops, internships, apprenticeships, and permanent employment for Western New Yorkers seeking high-paying advanced manufacturing and energy careers.
WRTP/BIG STEP (Milwaukee) enhances the ability of private sector organizations to recruit and develop a more diverse, qualified workforce in construction, manufacturing and emerging sectors of the regional economy. WRTP/BIG STEP.focuses on tailoring apprenticeships and training programs to address key areas of need in the Milwaukee manufacturing industry.
"The manufacturing sector's long legacy of creating jobs that offer pathways to the middle class for millions of American families will be crucial to a thriving 21st century economy that works for everyone," said Lee Wellington, Executive Director at UMA and co-organizer of the coalition. "We are proud to launch this initiative in collaboration with The Century Foundation and these eight incredible partners to realize the promise of an inclusive manufacturing sector and a more equitable future of work. To build a manufacturing sector that's advancing equity in our communities, we need to dig deeply into the ecosystems that our place-based workforce partners have cultivated — whether it be with public schools, credentialing programs, faith-informed organizations, industry partners, or other community-based groups. Through our engagement with this cohort, we will lean into partnerships that have been forged and those that have not yet been built to create a more inclusive and resilient manufacturing sector."