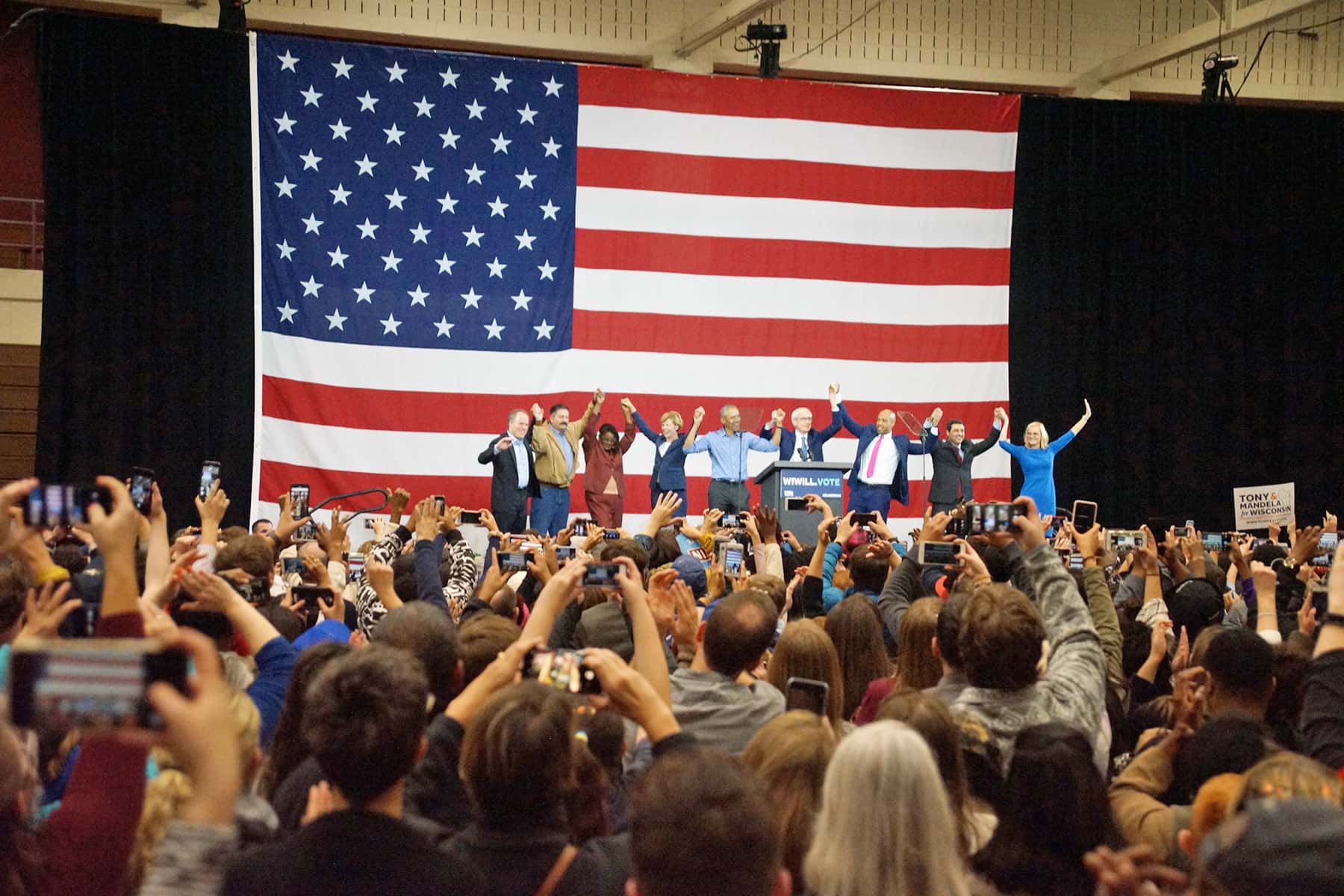 With the November 6 midterm election less than two weeks away, former President Barack Obama returned to Milwaukee after two years on October 26 to give Wisconsin Democratic candidates support and help boost voter turnout.
President Obama came to Wisconsin to stump for the Democratic ticket, and he headlined the rally held at North Division High School. He told a roaring crowd of more than 4,000 people that in spite of growing frustrations with the political system, voting would only make things better.
"I am here for one simple reason. I am here to ask you to vote," Obama said. "To vote, in what might be the most important election of our lifetimes."
Located in the city's 53206 zip code, holding the event at North Division High School had special symbolism. That area of Milwaukee is predominantly black and, according to city election data, many voting wards in the zip code saw double-digit drops in registered voter turnout between the 2012 and 2016 election.
While the decline in African-American voters is not exclusive to Milwaukee or Wisconsin, it could be a game changer in the close race for governor. Midterm elections do not attract as many voters to the polls in the same way that presidential elections do. Voters of color in the state's largest city could tip the scales either way, depending on their turnout.
It was a point that Milwaukee Mayor Tom Barrett reminded the attending crowd, to inspire them not only to vote but get involved.
"Trump won Wisconsin by about 23,000 votes," Mayor Barrett said. "Here in Milwaukee, 45,000 fewer people voted in 2016 than 2012. That's the somber news."
A central issue in Wisconsin's statewide races has been health care coverage. Republican leadership of the state is currently driving a lawsuit to overturn Obama's signature health care law, the Affordable Care Act. GOP candidates, including Governor Walker, have campaigned on repealing ACA, while promising that they will preserve protections for people with pre-existing conditions.
"Do you trust Scott Walker to protect your health care?" asked Tony Evers, the Democratic gubernatorial candidate. "Governor Walker has been against women, and has done everything he could to gut the Affordable Care Act and the pre-existing conditions that exist for 2.4 million people in Wisconsin."
Evers said that Walker had waged war on the working class, and put special interests and his donors ahead of the people of Wisconsin. He then went on to highlight his plans to make education a priority, fund roads, guard the environment, and protect those with pre-existing conditions.
The former president also gave the crowd a sober assessment of how voting advanced political change, but explained that not everything could be fixed all at once.
"If you vote in this election, it's not as if suddenly poverty is eliminated or all the jobs that left are coming back. Or suddenly, there's no discrimination, or women are always treated with respect. That's not how politics work," Obama said. "America is at a crossroads right now. The health care of millions is on the ballot. Making sure working families get a fair shake is on the ballot. Whether the union movement survives or not is on the ballot. But maybe most of all, the character of our country is on the ballot."
At the rally, President Obama showed his support for the campaigns of Senator Tammy Baldwin, Tony Evers, and Democratic candidates up and down the ballot. Congresswoman Gwen Moore, congressional candidates Randy Bryce and Dan Kohl, and other statewide and local elected officials also attended the event to urge voter participation.
Wisconsin is seeing visits from many political heavyweights as the November 6 election nears. Along with President Obama, U.S. Senator Bernie Sanders and President Trump made stops in the same week. Former Vice President Joe Biden is also scheduled to visit Milwaukee.
This audio was recorded live during the rally, and these images present highlights of the speakers and moments from the event that documented the day.