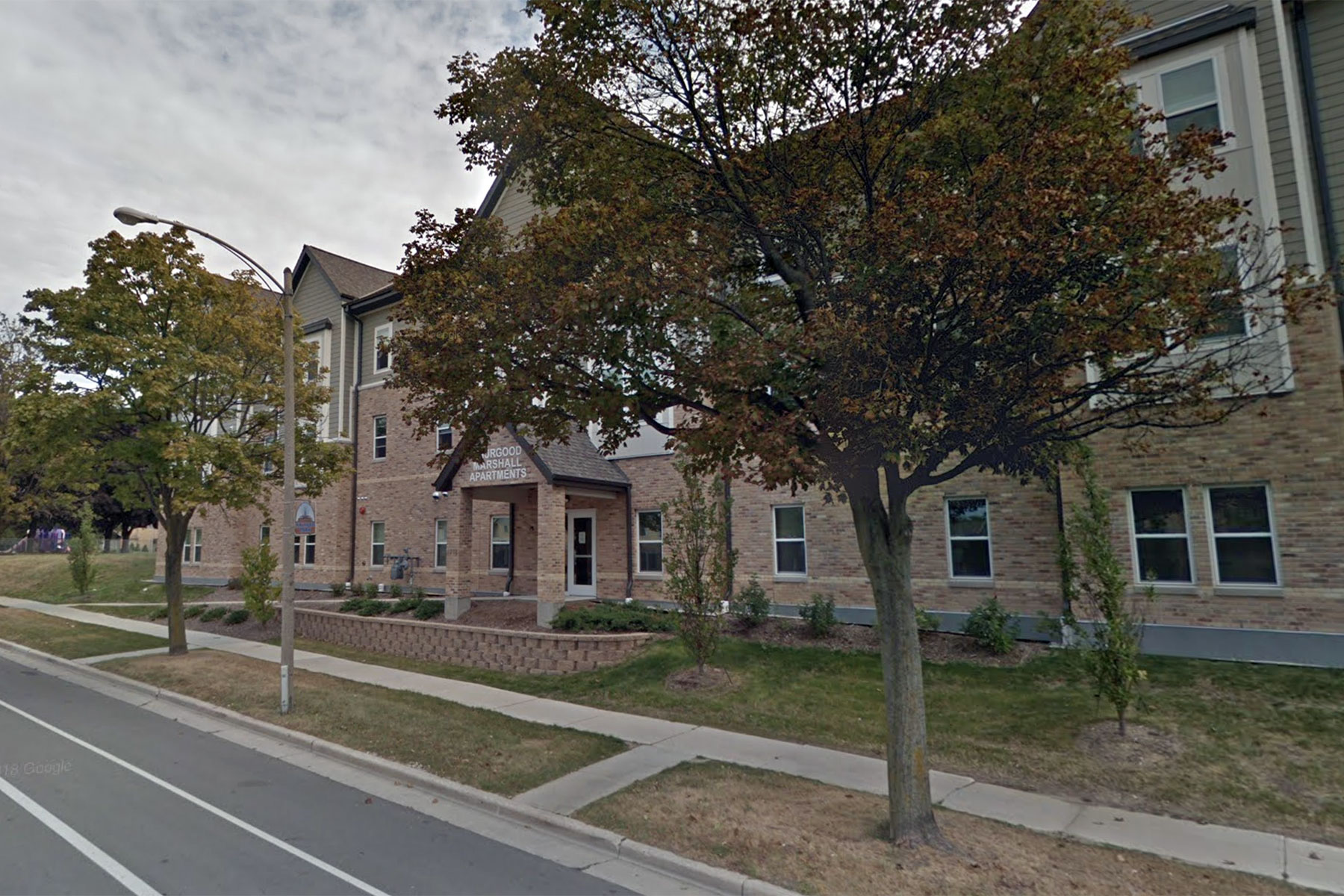 Thurgood Marshall Apartments, a key piece in Milwaukee County's efforts to end chronic homelessness and Wisconsin's first harm-reduction housing development, was recently honored alongside the Wisconsin Housing and Economic Development Authority (WHEDA) by the U.S. Department of Housing and Urban Development (HUD) with the 2018 Secretary's Award for Healthy Homes.
The Milwaukee County Department of Health and Human Services (DHHS) Housing Division established the model for Thurgood Marshall Apartments, as a part of the County's Plan to End Chronic Homelessness. The County partnered with Cardinal Capital Management, Inc., which held a successful track record in working with homeless individuals and truly embraced the commitment to Housing First.
"I am thrilled by the strides our community has taken in addressing chronic homelessness, and this national recognition for the Thurgood Marshall Apartments reinforces the scope of the progress we've made," said Chris Abele, Milwaukee County Executive. "For this project to receive the HUD Secretary's award highlights the critical importance of partnerships, determination and creative thinking in finding solutions to our biggest challenges. Our partnership with WHEDA has been instrumental in helping us get closer to our goal of being the largest county in the nation to end chronic homelessness this year."
The award recognizes WHEDA for its allocation of nearly $275,000 in low-income-housing tax credits in April 2015 to help finance the apartments. The project was fully realized through a coalition that included Milwaukee County, Cardinal Capital, WHEDA, the City of Milwaukee, PNC, First Business Bank, Wisconsin Community Services and Halyard Park Neighborhood Association.
"I am extremely honored and delighted that WHEDA has won this distinguished national award," said Wyman Winston, WHEDA Executive Director. "This gratifying award serves as great motivation for all of us at WHEDA to continue our dedication to special needs housing, including encouraging all developers to add supportive housing units whenever they, like Thurgood Marshall Apartments, are awarded Low-Income Housing Tax Credits for their projects."
Using the Housing First model costs Milwaukee County less than $20 per day for housing that will help end a resident's cycle of chronic homelessness. That is less than $7,000 per year. Providing individualized case management services to address the issues that lead to their homelessness brings the average total cost to less than $10,000 per year for each Housing First resident. These costs are minimal compared to the costs associated with cycling through jail and prison, and encountering law enforcement or utilizing emergency rooms and other crisis services.
"We are thrilled that Thurgood Marshall Apartments have been recognized for this prestigious award," said James Mathy, Housing Administrator for Milwaukee County. "This was Milwaukee County's signature project in our plan to end chronic homelessness using the Housing First model. By providing permanent housing and a very flexible service model that embraces harm reduction, we have seen a major increase in housing retention rates as well as a substantial decrease in emergency services usage, including Medicaid costs."
The Thurgood Marshall Apartments, located at 1918 N. 6th Street, contain 24 one-bedroom units of permanent, supportive housing for low-income adults who are chronically homeless and suffer from chronic alcoholism. Wisconsin Community Services provides round-the-clock on-site social service support seven days a week. The housing with support services follows a harm-reduction strategy aimed at reducing the risks and harmful effects of substance use and guiding an individual's recovery.
Milwaukee County contributes project-based Section 8 rental assistance to the development, as well as 100 percent of the service funding. The Housing Division also uses its unique Housing Navigator model to ensure a high rate of housing retention for residents.
In one example of cost savings achieved through the model at Thurgood Marshall, an individual who had accumulated 200 emergency room visits in one year was referred to the Housing Division for Housing Navigation services. After staff placed the individual at Thurgood Marshall, that number decreased to 13.
"Cardinal Capital Management is very proud to join WHEDA in accepting this award for Thurgood Marshall Apartments. We strive to make all of our developments healthy and offer amenities to enhance the lives of our residents," said Erich Schwenker, President of Cardinal Capital Management. "We are particularly proud to have worked alongside Milwaukee County in the initiative to end chronic homelessness and to serve Milwaukee's most vulnerable residents at this property."
A Milwaukee County Innovation Grant in the amount of $500,000, a City of Milwaukee Housing Trust Fund award in the amount of $385,000 and $300,000 from the Milwaukee County Housing Division for services were leveraged along with the low-income-housing tax credits awarded by WHEDA and purchased by PNC Bank, and a $1.2 million construction loan with First Business Bank to create this innovative model.
For over 45 years, WHEDA, as an independent state authority, has provided low-cost financing for housing and small business development in Wisconsin.