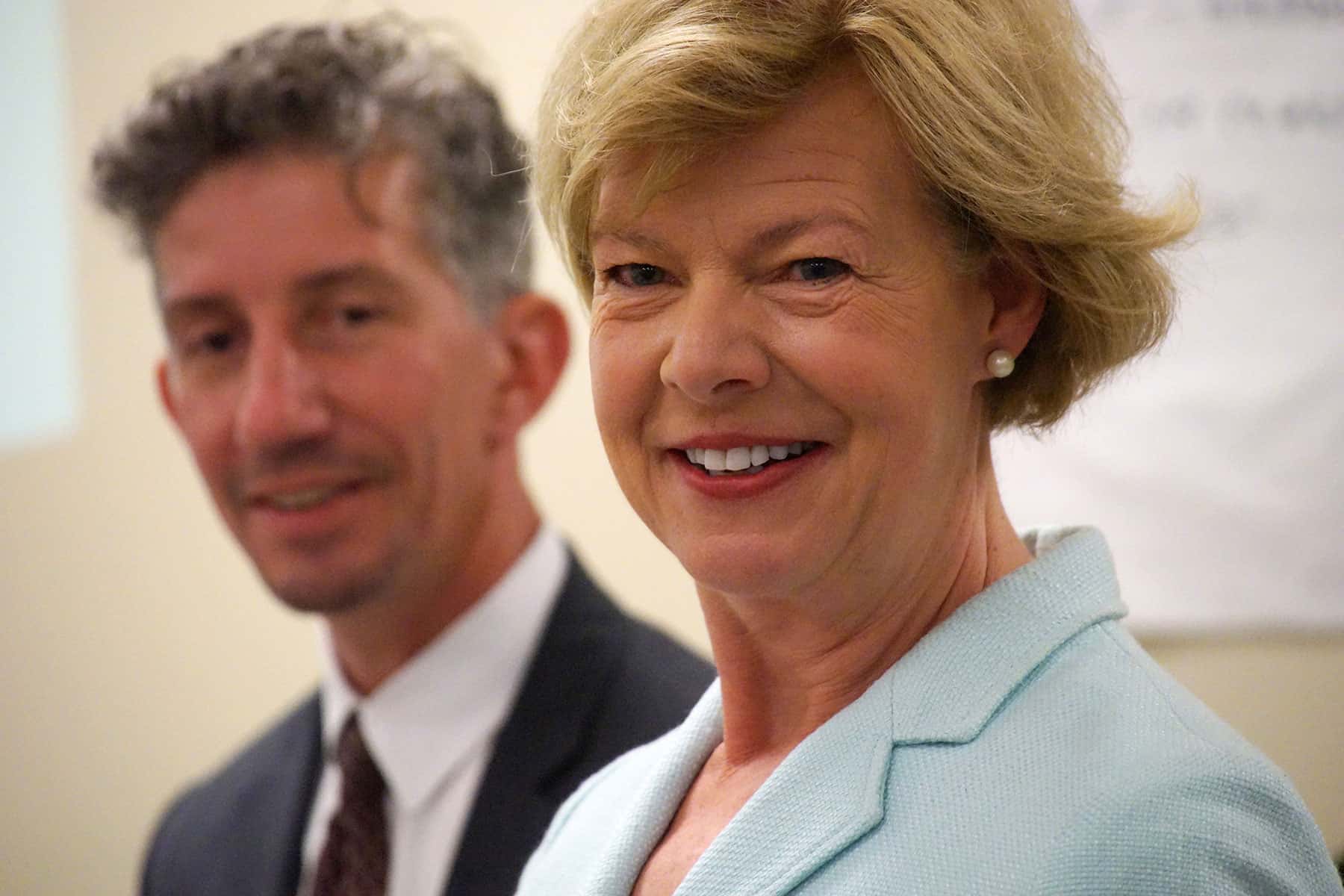 U.S. Senator Tammy Baldwin toured WRTP/BIG STEP in Milwaukee on August 7, which is receiving a Community Development Block Grant (CDBG) from the Federal government.
The Wisconsin Regional Training Partnership / Building Industry Group Skilled Trades Employment Program is a nationally recognized non-profit with a mission to build a qualified, skilled, and diverse Milwaukee workforce to create a competitive economy and a health community.
"Meeting WRTP/BIG STEP students and touring their classrooms shows how CDBG funding helps create jobs and boost Milwaukee's workforce," said U.S. Senator Tammy Baldwin. "This is a smart investment that helps grow our economy and that's why I worked across party lines to reverse President Trump's proposal to eliminate CDBG funding, which would have left Milwaukee communities and job training programs like this behind."
As a member of the Senate Appropriations Committee, Senator Baldwin led the effort to restore the CDBG program in the FY2018 Transportation, Housing and Urban Development Appropriations Bill. Trump's Fiscal Year 2018 budget proposal would have reduced funding from $3 billion to zero. In response, Senator Baldwin and a group of 42 Senators worked to ensure the program maintained its full federal funding.
"The success of the workforce development initiatives at WRTP/BIG STEP show that we should be doing more to support job training in Wisconsin. I'm proud to be working with WRTP/BIG STEP on new legislation to boost apprenticeship programs, so Wisconsin workers can have the tools they need to succeed and help grow our economy."
Last year, $14.5 million in CDBG funding was invested in over 65 organizations in Milwaukee that support jobs, housing, infrastructure, and public services, including the Dominican Center for Women which Senator Baldwin visited this year to highlight the importance of CDBG.
In just one year, half a million dollars was invested in economic development through community-based agencies that provide technical assistance to businesses to help spur new job creation and job retention. Nearly one million dollars in CDBG funding was invested in boosting employment in the city, including transitional jobs programs and industry-specific skilled trade job training and placement programs. CDBG funds also invested in Milwaukee Promise, a multi-faceted effort to address poverty, joblessness, health, crime and education in Milwaukee neighborhoods.
"From touring neighborhood revitalization projects to delivering a Meals-on-Wheels care package, I've seen how Community Development Block Grants help people and drive economic development all across Wisconsin," added Senator Baldwin. "Together, we can continue to make differences in the lives of so many families in Wisconsin."
WRTP/BIG STEP has worked to enhance the ability of public and private sector organizations to recruit and develop a diverse, qualified workforce in construction, manufacturing and emerging industry sectors of the regional economy. In 2013, WRTP/BIG STEP exceeded their workforce goals by serving 1,862 individuals, placing 743 into careers with an average hourly wage of $17.00.
Over the past four decades, the CDBG program has invested more than $149 billion in communities across the country, and helped over 133 million working Americans. The CDBG program has created or retained 100,000 jobs since 2012, and last year provided public service benefits such as substance abuse services, child care, senior citizen care, and services for the disabled to 9 million people. This community development program invested more than $56 million in Wisconsin in just the past year.
The CDBG program has also provided assistance to neighborhood-based organizations, including community development corporations, in support of economic development, housing assistance, or neighborhood revitalization activities in Wisconsin. Funding has also assisted in the reconstruction of public facilities, neighborhood facilities, senior centers, centers for the handicapped, recreation facilities, and streetlights. Importantly, CDBG invests in the next generation of Wisconsinites by providing after-school programs and summer jobs for low-income youth, as well as building recreation centers to provide a safe place for learning, sports, and growth.