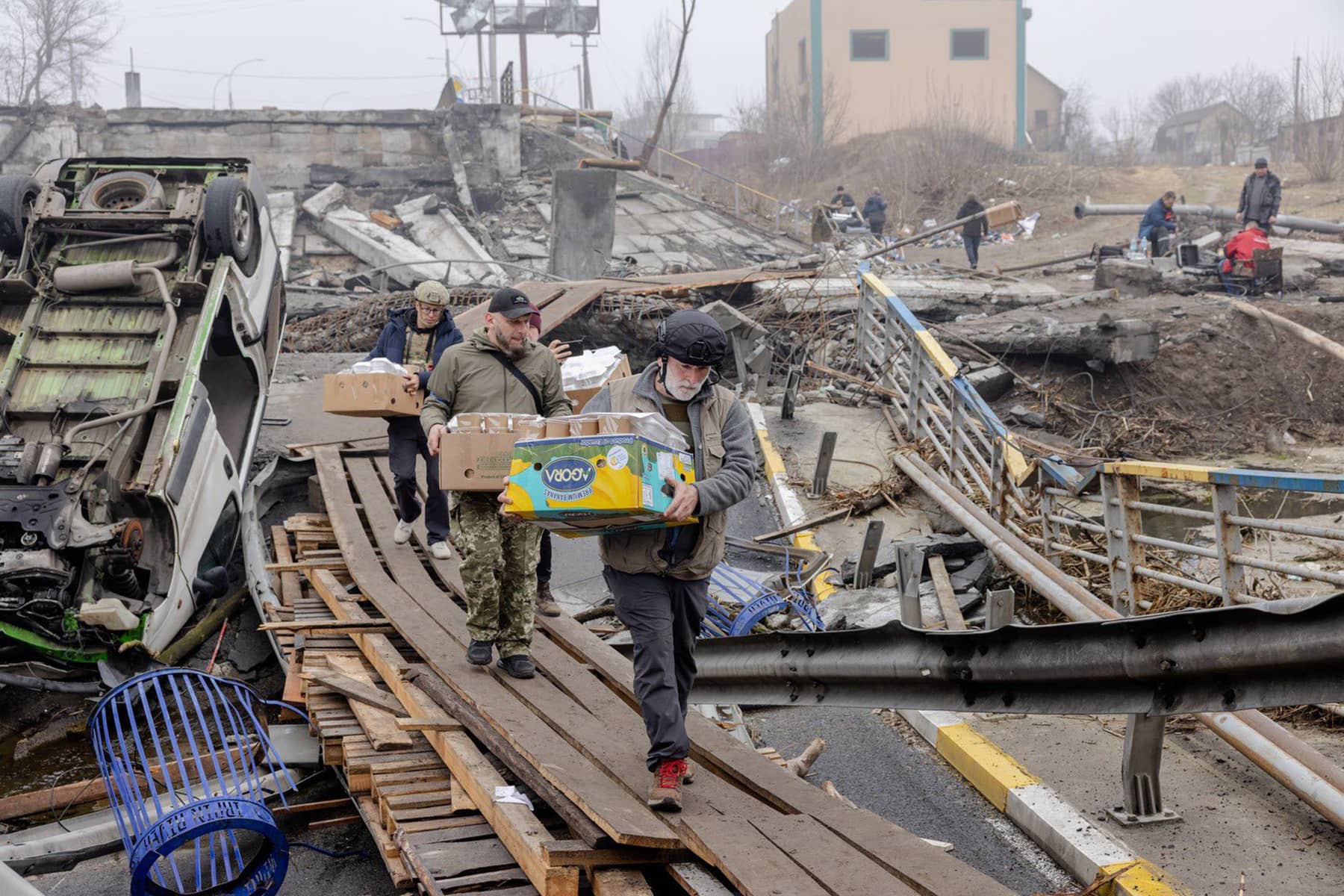 Today marks five months since Russian forces invaded Ukraine, displacing millions of people, claiming tens of thousands of lives, and destroying thousands of buildings and entire communities. But these numbers only partially convey what the Ukrainian people have had to endure.
Refugees fleeing — primarily women, children, and seniors — have embarked on long and arduous journeys, waiting up to 72 hours before crossing the border to safety. People remaining in Ukraine are living through the trauma of constant shelling and the threat of uncertainty as more and more residential areas are targeted seemingly at random.
As the situation has unfolded, the war in Ukraine has also become a war on food. Activity at ports and borders has been disrupted, straining the food supply that feeds not only Ukraine, but the world. Since Chef José Andrés activated World Central Kitchen (WCK) in Ukraine five months ago, WCK food cargo trains, and restaurant and farm partners, have been hit by missiles.
Yet every single day thousands of WCK's Ukrainian Food Fighters show up to provide nourishing meals and food aid to families remaining in the country. On July 16, these incredible teams served their 100 millionth meal in response to invasion.
Immediately following the February 24 invasion of Ukraine, a majority of refugees fled to Poland, crossing the border at all hours of the night in freezing cold temperatures. Within hours, WCK arrived in Medyka, a village on the Poland-Ukrainian border, to welcome families with hot, comforting meals. In less than a week, WCK set up meal distributions at all eight border crossings in Poland, eventually operating 24/7 with a focus on serving hot soups, tea, coffee, and hot cocoa.
Five days after the invasion, Chef Andrés and several members of the Relief Team entered Ukraine for the first time, delivering food to families who were waiting for hours to cross on the Ukrainian side of the border. Meanwhile, WCK support had already begun within Ukraine by remotely working with restaurants in five cities cooking for neighbors in need.
During that time, WCK teams were also expanding their efforts in other countries where refugees were fleeing. In Romania, WCK brought a food trailer to serve meals along the border and soon were delivering thousands of restaurant meals to shelters, refugee camps, and transportation centers. To date, WCK and 57 partners have served 1.26 million meals at 121 recipient locations in Romania.
WCK's first meals in Moldova were provided to families, many with young children, at the Chișinău Airport. WCK then expanded quickly to support border crossings and shelters housing hundreds of people. Moldova is a largely agricultural economy with a majority of exports going to Ukraine which has halted due to the war. To support farmers, producers, and in return Ukrainians in need of food, Chef Andrés coordinated with USAID to purchase fresh fruit that was then transported across the border.
Przemyśl, a city close to the border in southeastern Poland, immediately started receiving many refugee families when Russia first invaded Ukraine in February. Since arriving in Poland, WCK has been serving nourishing meals at shelters and the train station in Przemyśl, where families go to reach the next destination in their journey to safety. Two weeks into the response, WCK quickly scaled up efforts, building a Relief Kitchen to be able to prepare meals at scale.
Because so many families have fled to Poland, Chef Andrés built up the effort, establishing 'cafes' at border crossings so people could sit down and relax while enjoying meals — and during the colder days keep warm with heaters. As refugees went on to other parts of the country, either settling in Warsaw or Krakow, or heading farther west, WCK set up multiple distribution points at bus and train stations to meet people with a comforting plate or travel bag during their long journeys.
In Warsaw, WCK supported local partners to provide fresh food while thousands of people waited in line for a PESEL registration at the National Stadium. Together with 112 local partners, we have served over 11.5 million meals in Poland alone.
Just two hours across the Polish border, Lviv serves as a humanitarian hub for refugees within Ukraine — at one point there were more than 200,000 displaced people from eastern Ukraine staying here. WCK's Relief Team worked to get bulk distribution centers set up — shipments of meat, fresh produce, and dry goods like rice and bulgur were then distributed to local partners cooking and further east into Ukrainian cities like Odesa, Mykolaiv, Zolochiv, and Kyiv. As attacks increased in Kharkiv, Kyiv, and more cities across the country, WCK onboarded additional restaurant partners to serve as many people as possible.
By the end of March, WCK's support of refugees outside Ukraine expanded to two more countries, Hungary and Spain, bringing the #ChefsForUkraine response to six countries in total. In one month, WCK Food Fighters were providing 250,000 comforting meals every day, with more than 3.5 million millions served so far.
In Hungary, Chef Andrés focused on providing meals at two major transit hubs and nearby shelters. The Zahony train station was the first stop where many families departing from Kyiv arrived before transferring to other locations like Budapest. Between long wait times and often delayed trains, many people had not eaten in 24-36 hours, so partner organizations quickly mobilized to provide nourishing meals. As the days went on, many families began to return home to Ukraine and the surge of people crossing rapidly decrease.
On March 31, WCK meal service extended to six cities in Slovakia where Chef Andrés distributed to transportation centers and border crossings. The Relief Team also provided travel bags filled with goodies for kids to take on the train. Out of a makeshift kitchen, hundreds of daily plates were prepared and then delivered one hour away to our reception center in Košice. The reception center saw many refugees who had begun to settle in the area, as well as families resting before the next train arrived.
At the same time as WCK teams in bordering countries were ramping up support, WCK's response within Ukraine was evolving fast — the capital city of Kyiv and surrounding towns were liberated after a month of Russian occupation, so Chef Andrés began to bring fresh meals and food product to communities starting to recover.
In early April, after weeks of sheltering in cold basements with no fresh food, water, and electricity, Chef Andrés and his team were the first new faces many had seen, bringing with them hundreds of hot meals and 6,000 kilos of food for families to cook. Returning each day, they reached more liberated communities like Borodyanka and Hostomel.
Further north of Kyiv in Chernihiv, WCK partnered with a local bakery while the city was still under occupation helping them increase production by 10 times. Following the withdrawal of troops, the fear of missiles and strangers kept many families living below ground. Together with neighbors and trusted loved ones, WCK delivered meals with friendly smiles to doors and windows.
When Russian forces retreated from Kyiv, they then shifted focus and increased attacks in eastern Ukraine. WCK ramped up support, delivering tens of thousands of daily meals in Kharkiv and the surrounding region to bomb shelters, hospitals, churches, seniors, and people trapped on the front lines.
In Zaporzhzhia and Dnipro, Chef Andrés sent food and mobilized restaurants to cook for shelters, hospitals, and train stations. Many refugees in Zaporzhzhia were arriving from the devastated city of Mariupol and nearby occupied cities in the Donbas. Most families escaping from Mariupol come by private vehicle which are often damaged from the dangerous journey out.
At this point with local partners, WCK was providing hot meals and delivering thousands of tons of food by truck and train in more than 30 cities and towns within Ukraine, including eastern communities in Derhachi, Sumy, and Trostyanets where residents had nowhere to go and no access to food.
In an effort to get critical aid into Kramatorsk, a city in the northern portion of the Donetsk region that was bracing for possible attacks, the WCK team sent as much food in as possible. While preparing to set up a distribution center to support the nearly 8,000 people who were escaping by train each day, the station was attacked, tragically killing more than 50 people, including young children. Still, our brave local partners continued to get critical food aid into the city, helping families now leaving by bus and the many residents unable to leave—primarily seniors.
Unfortunately, the attack in Kramatorsk was not the first or last time civilians have been targeted by Russian forces. On April 16, WCK restaurant partner Yaposhka was destroyed when a missile hit Kharkiv. Yaposhka is one of the hundreds of restaurants that bring WCK's Chefs for Ukraine work to life — preparing thousands of meals for Ukrainians in shelters, hospitals, transit stations, and more.
And although faced with the first-hand horrors of war, the team at Yaposhka, including four injured staff, had no other desire but to keep cooking. As the wounded recovered in the hospital, the rest of the Yaposhka team moved all food product and non-damaged equipment to another kitchen location in Kharkiv. Previously, a missile hit about 500 yards away from their business, and some days the team cooked in the dark while hearing planes attacking up above.
Despite all of this and sleeping in bomb shelters, staff at Yaposhka show up every day with a smile, ready to cook for neighbors in need. The bravery shown by WCK's restaurant partners, delivery drivers, and warehouse managers was truly incredible.
Despite the ongoing war, Ukrainian resilience and morale remains strong, it is an inspiration to witness. WCK teams care deeply about helping families maintain traditions and bring joy to innocent young lives with special meals.
Celebrating Easter and Passover, WCK teams across Ukraine, Poland, and beyond prepared holiday meals, sweet treats, and painted eggs. In addition to meals, WCK partner Vortutai in Odesa prepared more than 2,000 Easter cakes. Cooking every day the team said, "Hunger has no days off. If we don't feed the people, no one will. It's our duty." Menu items at the Relief Kitchen in Przemyśl included brisket and matzo ball soup.
While delivering 2,500 grocery kits in the Chernihiv region, WCK met families celebrating Vyshyvanka Day. Recognized on the third Thursday of May, the national holiday aims to honor and preserve folk traditions by having people wear vyshyvanka — an embroidered shirt seen as an important symbol in Ukrainian culture.
In many places, especially towns that were previously under Russian occupation, families are able to cook but are struggling with access to ingredients. Operating out of WCK warehouses, Chef Andrés meet the need by packing grocery kits containing 30 pounds of products such as flour, salt, pasta, oil, cheese, produce, canned meats, and more.
What began as a few warehouses sending product out of Lviv, has grown into a vast network of warehouses across Ukraine — to date, WCK has transported over 35 million pounds of food. Each day, regional teams in places like Odesa, Dnipro, and Mykolaiv receive, assemble, and deliver tens of thousands of food kits to community locations — often traveling long distances and through difficult circumstances.
Between freshly prepared hot meals, sandwiches, and food kits, the WCK team is now delivering 1.7 million meals every single day. In some instances, WCK delivery teams are also helping residents evacuate areas under attack. When possible, the Relief Team has also been delivering pet food to people caring for animals. In Kharkiv, we brought food for animals and staff at the main animal shelter and largest veterinary clinic still operating.
In Irpin, a formerly occupied city near Kyiv, many families returned to homes that are no longer inhabitable. A Railway City has been set up to house families utilizing train cars that now serve as bedrooms, a cafeteria, and more. WCK brings hot meals from nearby restaurants for these families.
The month of June saw an increase in random attacks on purely civilian targets, many happening hours away from the frontlines of the war. Relief Teams operating across the country have responded following those horrific acts to support the communities going through the unimaginable.
In central Ukraine, missiles hit four residential buildings in Mykolaiv killing two people and injuring dozens (June 17). A Russian missile strike led to a large-scale fire at an industrial facility in Mykolayiv and it took hours to extinguish the blaze (June 23). An apartment building in Kyiv was hit, injuring many and displacing families. Rescuers worked tirelessly searching for survivors (June 26). The next day, families going about their day at a shopping mall in Kremenchuk were victims of another attack, killing at least 20 residents (June 27). Again an apartment building was targeted, this time in Odesa, killing 21 people—including a 12 year old child (July 1). In the city center of Drujkivka in the Donetsk region, a big missile attack left massive destruction—a supermarket was demolished (July 9). In one of the worst attacks on residents, at least 48 people were killed in an apartment building in Chasiv Yar; people were being pulled from the rubble hours after the attack (July 13). The central city of Vinnytsia, where our team already serves thousands of refugees every day, was hit, killing three children and an estimated total of 22 people (July 14).
As the world witnesses these evil attacks against innocent families, WCK's team in Ukraine continues to do everything possible to be there as fast as we can in the aftermath with food and water. Each time, local teams have quickly mobilized to serve first responders and affected families. Following the mall attack in Kremenchuk, Chef Andrés set up food tents to allow rescue teams to take a break from the incredibly hard work to sit down and eat a meal. Kharkiv has been under constant attack, so to be prepared to respond, WCK has a special partner restaurant that is always ready to step in and help.
With the situation in many eastern cities intensifying and needs outside Ukraine subsiding, WCK is scaling down efforts in neighboring countries to focus on ramping up a response for the most vulnerable families. Working with the thousands of WCK team members across Ukraine, Chef Andrés will continue to reach as many people in need of hot meals and grocery kits as possible.
WCK envisions, and continues to hope for, a world where we would not have to respond to senseless violence under these circumstances. But Chef Andrés remains beyond grateful to stand alongside more than 4,300 brave Food Fighters who work tirelessly to ensure anyone in need is met with a hot meal. It is because of all the WCK team members, volunteers, and global community of supporters that efforts in Ukraine and in eight neighboring countries have been made possible.