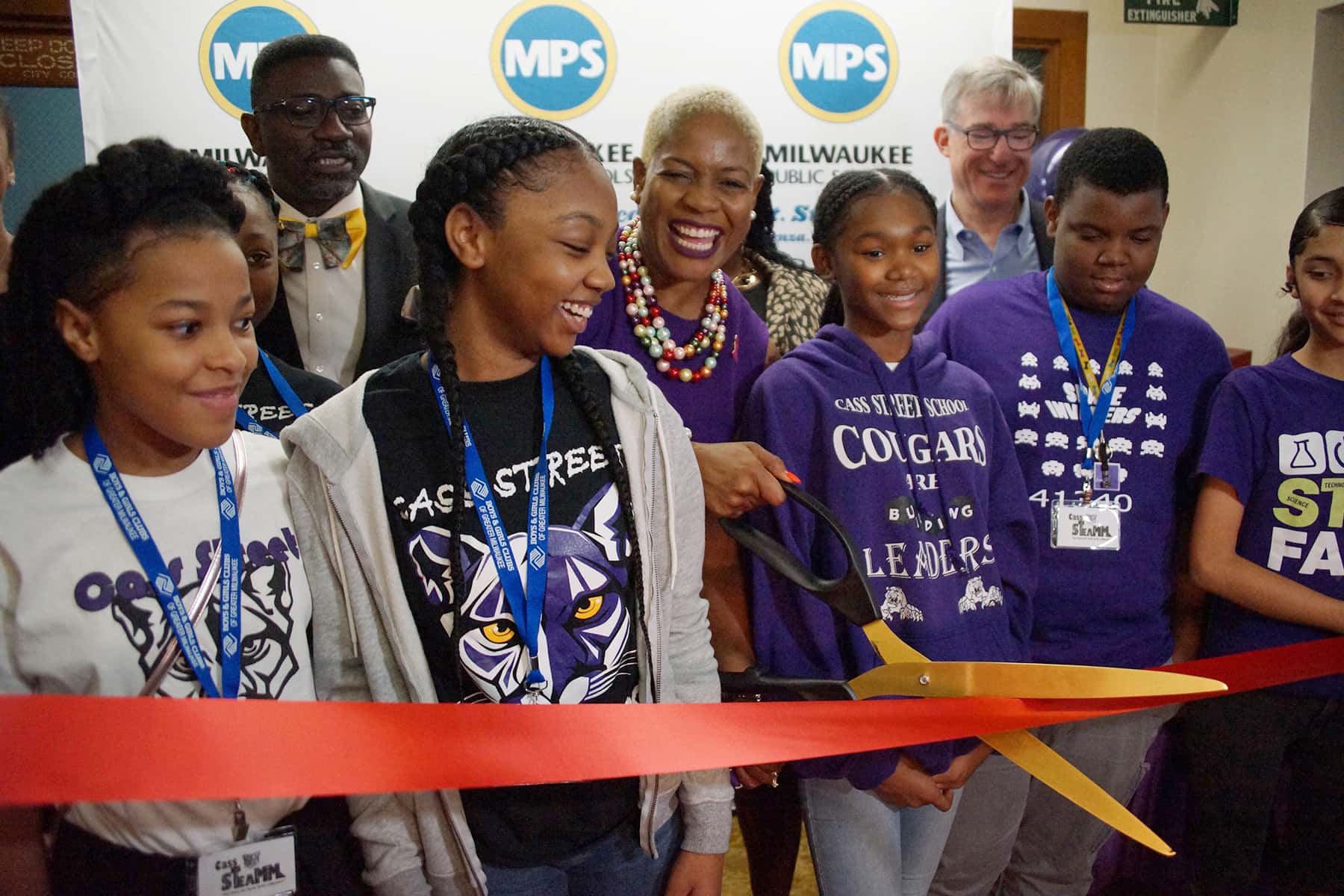 A new science, technology, engineering, and math (STEM) Center was unveiled at Cass Street School on October 3, thanks to the collaboration between Milwaukee Public Schools (MPS), Rockwell Automation, and the Boys & Girls Clubs of Greater Milwaukee.
The STEM Center will provide students with hands-on tools in an environment suited to deliver critical skills needed to solve the complex challenges of our technology-dependent world. Instruction will be based in Project Lead The Way (PLTW) curriculum, which engages and empowers students to develop in-demand knowledge and skills.
"Our students need every opportunity to learn cutting edge concepts on relevant, current technology," said MPS Superintendent Dr. Keith P. Posley. "Thanks to Rockwell Automation, this STEM Center will prepare students to be competitive across many college and career options. Students get excited about hands-on learning, and this facility will promote achievement at Cass."
Funding from Rockwell Automation in the amount of $130,000 has allowed for design of the new STEM Center with updated technology equipment, including tablets, projectors, 3D printers, supplies, consumables and vex equipment for middle school PLTW modules.
"At Rockwell Automation, our brand promise is to Expand Human Possibility, and we extend that promise into our communities – helping to inspire science, technology, engineering, and math leaders," said Blake Moret, Rockwell Automation Chairman and CEO. Moret, "Our partnership with Cass Street School is not new."
The support will result in an increase in the number of students participating in PLTW, an increase in PLTW-trained staff at MPS, and a significant contribution to the future workforce in STEM-related fields. The STEM center at Cass will provide students with a place to use PLTW curriculum, participate in STEM activities, and explore career options during and after school hours.
STEM education helps to bridge the ethnic and gender gaps sometimes found in math and science fields. It also breaks the traditional gender roles in the workplace. Additionally, STEM jobs do not all require higher education or even a college degree. Less than half of entry-level STEM jobs require a bachelor's degree or higher.
"I'm proud that our employees, led by our African American Professional Network Employee Resource Group, have been an integral part of the Cass Street School family for more than five years. We're ramping up that involvement," added Moret. "Our employees have integrated Rockwell into the Cass Street family and are committed to awakening our students to the power of STEM education."
According to the U. S. Department of Commerce, STEM occupations are growing at 17%, while other occupations are growing at 9.8%. STEM degree holders have a higher income even in non-STEM careers. Science, technology, engineering and mathematics workers play a key role in the sustained growth and stability of the U.S. economy, and are a critical component to helping the U.S. win the future. STEM education creates critical thinkers, increases science literacy, and enables the next generation of innovators.
"Milwaukee Public Schools and Rockwell Automation are tremendous partners," said Kathy Thornton-Bias, Boys & Girls Clubs of Greater Milwaukee President & CEO. "We know that when children have access to STEM subjects and have the opportunity to explore their interests in a constructive manner, they are more likely to succeed in other areas. That's why the Clubs are incredibly grateful for this team effort to provide an amazing space for the kids."
Innovation leads to new products and processes that sustain our economy. This innovation and science literacy depends on a solid knowledge base in the STEM areas. Most jobs of the future will require a basic understanding of math and science, yet U.S. students are lagging behind other developing countries.
"We want to make sure that our young people are exposed to STEM early, especially our young females," added Dr. Posley. "It is vital to get them the opportunity to get their hands wet with some of the ideas around STEM, because there are so many career paths in STEM industries."