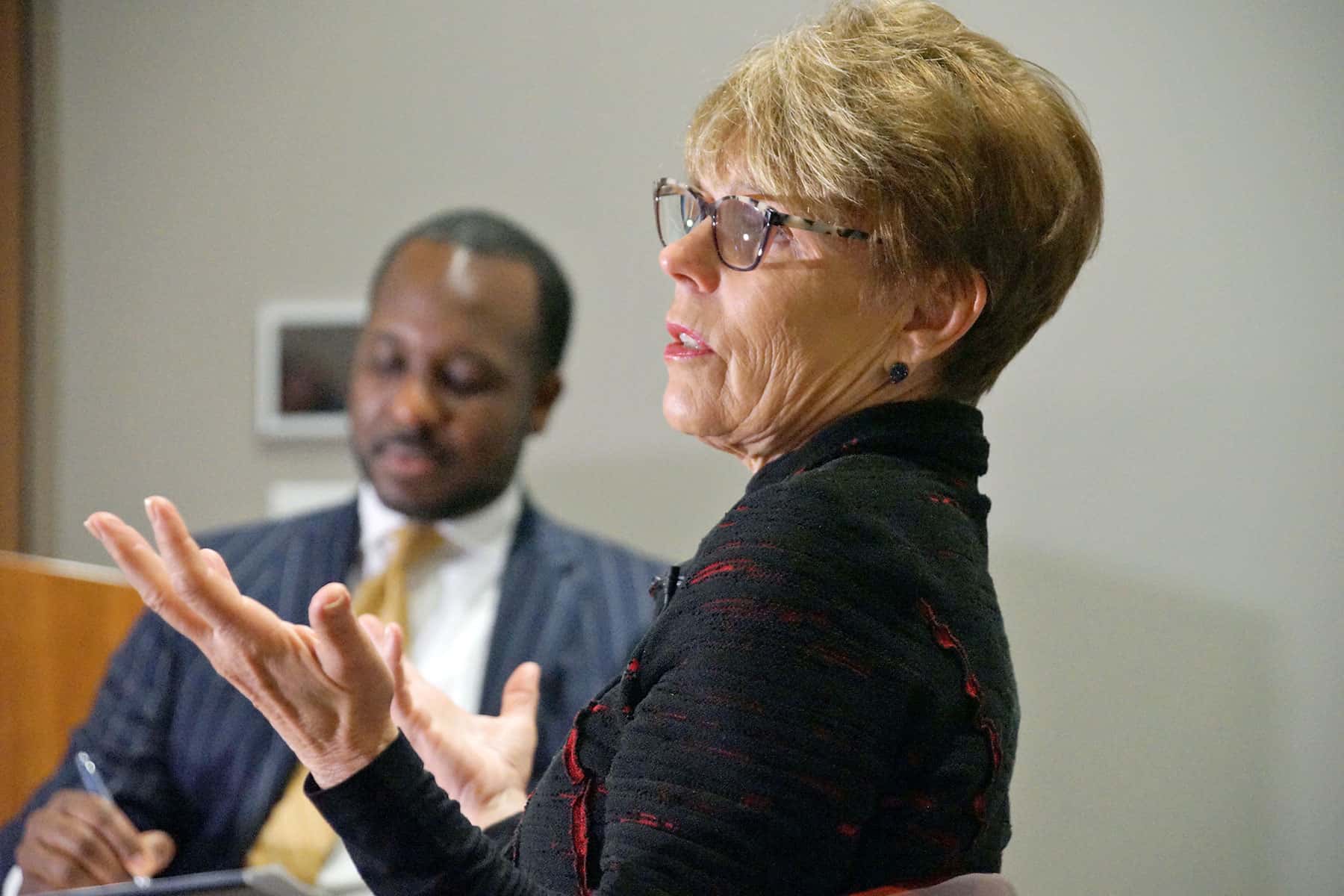 Scale Up Milwaukee presented a public conversation with nonprofit leader Peggy Troy in late January, as part of its "Meet the Masters" series.
As the CEO and President of Children's Hospital of Wisconsin, Troy has been a strong community advocate for Milwaukee. She also volunteers her time to organizations that improve the overall health and quality of life in the city. Children's Hospital of Wisconsin is the only health system in Wisconsin that is 100% dedicated to kids, and Troy was the first woman to hold its highest leadership positions.
The intimate conversation was hosted by Elmer Moore Jr., executive director of Scale Up Milwaukee.
"Scale Up Milwaukee, an initiative by the Greater Milwaukee Committee, believes that we can promote inclusive economic prosperity in this region by using growth as a catalyst for economic development," said Moore. "We understand that giving all the stakeholders of this ecosystem a great example of a successful business growth can be inspirational."
During the interview, Troy talked about how Children's Hospital grew from a small organization run from a row house on Brady Street to a nationally ranked pediatric hospital, with almost 5,000 employees.
"Building a company culture is not about coming in and being a part of the company. It is actually about you as an individual, and how you show up to the company," said Troy. "From our experience, we learned to focus our development of employees by investing in them as people, as opposed to seeing them as employees trying to work for our company."
Troy explained to the audience that the whole idea was based on concept of 'be here now,' which was particularly important in today's digital world. Be here now means wherever people are and whatever they are doing, that is the task they focus on. It is about being present in the moment. That is why when Children's Hospital has internal meetings, people are not texting or looking at digital devises out of respect to others and themselves.
"What I've learned is, multitasking is a flawed concept. There's no such thing," Troy stated. "You can't do anything well if you're trying to multitask. So if you're going to be in the situation, be there now and pay attention, get it over with, and then go onto your next thing."
Scale Up Milwaukee hosts its "Meet the Masters" series each month, featuring a different community leader. A video of the interview is produced, and the entire segment is included here.