Black Lives Matter street mural suffers rain damage following installation at Harambee intersection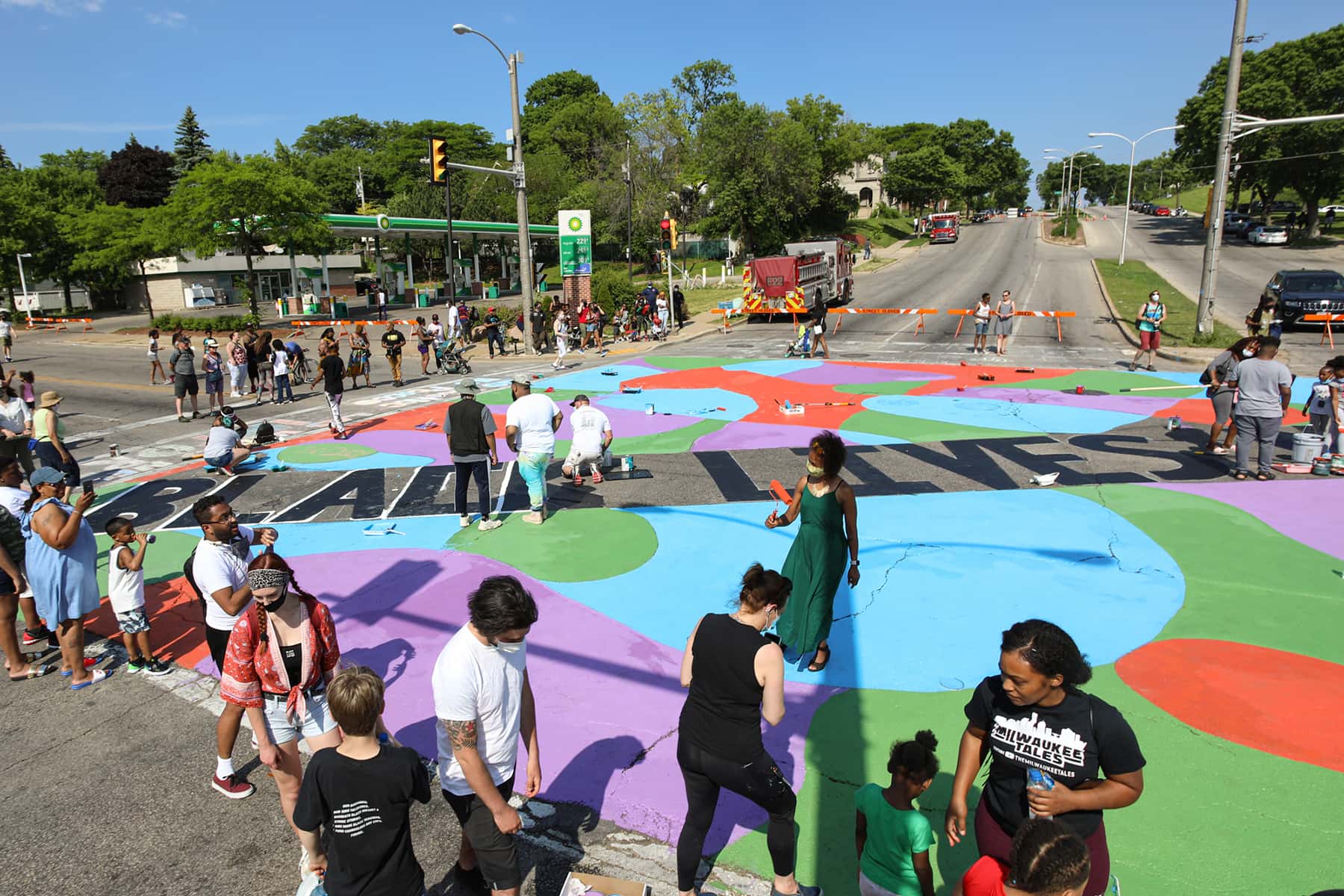 A multicultural assortment of volunteers from the community joined together on June 19 to paint a Black Lives Matter street mural covering the intersection of Dr. Martin Luther King, Jr. Drive and Locust Street, adjacent to the Milwaukee Police Department's District 5 building. Within 24 hours of completion, the creative effort suffered sizable damage due to a thunderstorm.
The words "Black Lives Matter" have been painted in giant letters on streets across the nation following the example of Washington DC, after peaceful protesters were attacked with tear gas by military forces acting under the orders of President Trump.
Representing a movement seeking racial justice for people of color, the phrase was installed in the predominately African-American neighborhood of Harambee on Milwaukee's north side on Juneteenth.
"It's just great to be out in celebration of Juneteenth, and also spreading a message that we truly believe in, that Black lives do matter," said Alderwoman Milele Coggs. "Part of the reason why we selected this location is its proximity to the police district and the area which has been ground zero with all of the unrests which has occurred. Many of the marches have started on King Drive, and though we've seen some buildings be disturbed and that kind of thing, we wanted to use art as a healing tool to demonstrate something beautiful."
The annual Juneteenth Day parade and street market overlap the area, but those festivities were cancelled this year due to the COVID-19 pandemic. The mural effort provided a way for the public to still commemorate the day of freedom for slaves while following social distancing protocols. It proved to be a beautiful day, which was reflected in the palette of vibrant colors painted across the pavement.
As an adjunct professor for the Milwaukee Institute of Art and Design and a Harambee resident, Vedale Hill was given the task to design the mural. Growing up impoverished and constantly moving, Hill finally found stability through art. His natural ability to connect and communicate with urban youth has helped him become a sought-after educator by community organizations.
"The idea was to get Black Lives Matter out here. I feel that this mural serves as – quite literally and figuratively – an intersection for the police department and the community they have taken an oath to serve. So, this location makes sense with or without any protests," said Hill. "The statement is very blatantly clear and not offensive at all – Black Lives Matter. If that's offensive, that's the problem."
The artwork was commissioned by the City of Milwaukee and funded through various corporate and community donations. The Greater Milwaukee Foundation served as the event sponsor, and community partners included the Historic King Drive Business Improvement District, WestCare Wisconsin, Walmart, X-Men United, and Athena Communications.
"The city did not pay one dollar for this to be done," added Alderwoman Coggs. "The city gave permission and is allowing us to cut off the streets, and it helped to promote it."
In an unexpected and late development, Josh Thomas, owner of Thomas Family Home Improvement, posted some photos of the intersection to his Facebook page around 6:30 p.m. on June 20. His images showed the pavement condition after a rain storm earlier in the day, which appeared to wash away substantial portions of mural.
Most likely missing sealant of some kind. Not sure if anybody has seen this, but thee paint is coming up all around and eventually it will be no more.
Thomas offered to repair the damage at no charge if materials could be provided for the work.
This story is still developing, with no further details at the time of publication. The images presented here document the community spirit and effort that a day before installed the artwork.
Regardless of the mural's condition, Black lives will continue to matter. It is with hope that one day white Americans will accept that fact in their hearts and act accordingly.
These headline links feature the daily news reports published by Milwaukee Independent about the George Floyd protests, the revival of the Black Lives Matter movement that followed, and their impact on the local community in for 8 months from May to December of 2020.