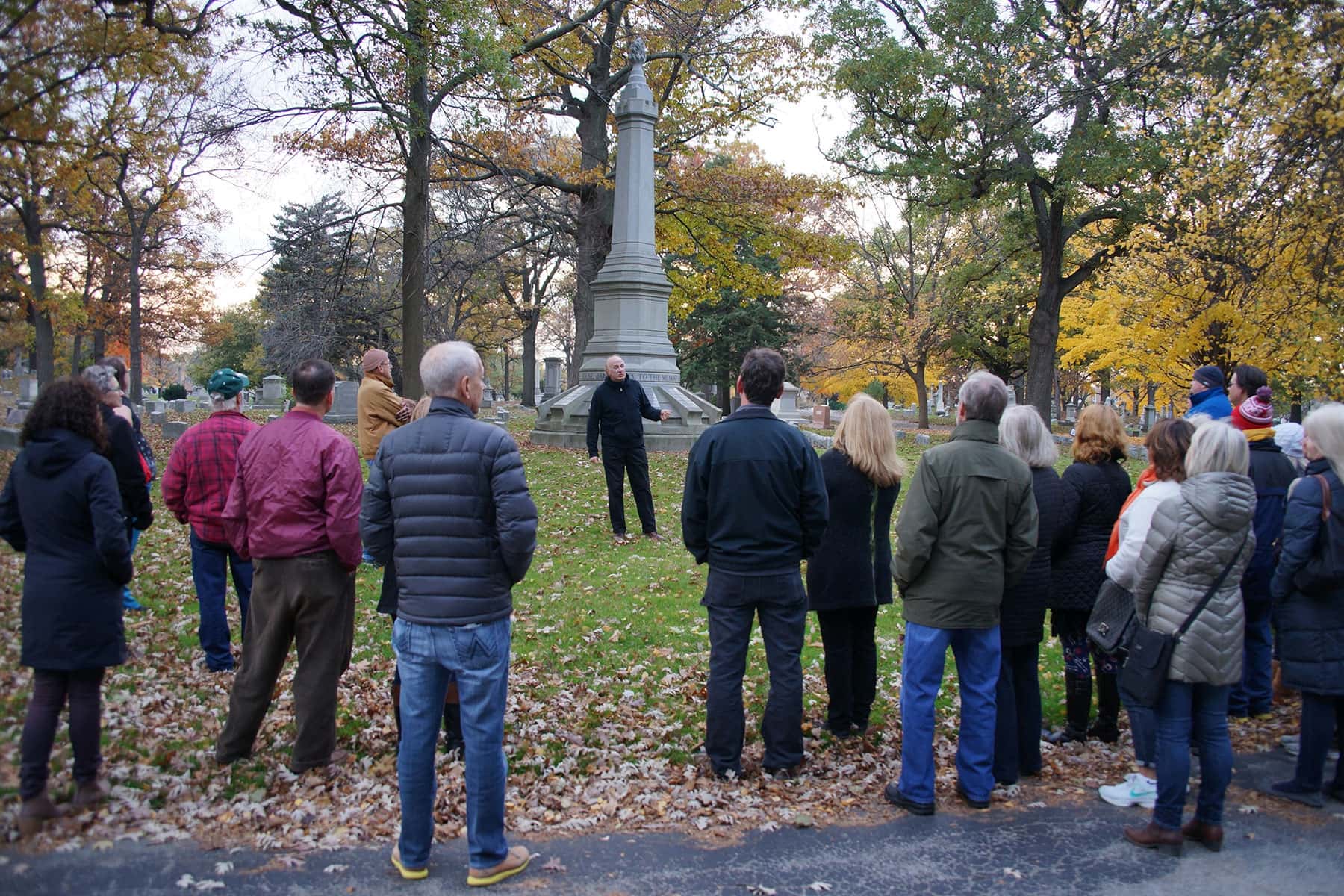 Historic Milwaukee, Inc. held its annual Halloween Tour at historic Forest Home Cemetery on October 31.
The sold out event was attended by several dozen visitors, who walked among the graves of city founders as the sun set and blanketed the cemetery in darkness. The tour was once again hosted by Bob Giese, a local historian who has written a number of articles on various Milwaukee topics, including the Beer Barons, the Milwaukee River, the MacArthur family, City Hall, and how Milwaukee got its name.
Located in the city's Lincoln Village neighborhood, Forest Home Cemetery is the resting place of many influential Milwaukeeans including Byron Kilbourn, the Davidson Brothers, Guido Pfister, Mayor George Walker, and Beer Barons Pabst, Schlitz, and Blatz. The cemetery was first used in 1850, and has grown to 200 acres of locally and nationally historic land.
One of the feature stops along the Halloween Tour was the monument to the Newhall House Hotel fire. Erected in 1857 on the corner of North Broadway and East Michigan Streets by Daniel Newhall, it was destroyed on January 10, 1883 in one of the most devastating infernos in American history, claiming the lives of 75 people.
After the Great Chicago Fire of 1871, Milwaukee was the closest city with hotel space for travelers and the Newhall House Hotel benefited from the demand. The six story building also included apartments, and was an early and popular icon of the city of Milwaukee. The uninsured hotel had two previous close calls with fires in 1863 and 1880.
The tragic 1883 fire started on the first floor and managed to spread up the opulent building's wooden elevator shaft. It quickly reached all six floors that held 300 occupants. The blaze took over twenty-six hours to extinguish, and the exact loss of life was never determined because the guest register burned with the hotel.
In the aftermath, 64 of the 71 victims of the fire were buried in a mass grave at Forest Home Cemetery. The graves are marked by a thirty foot granite monument, which has the names of the victims on it's base.
The inscription reads: To The Memory Of Those Who Perished By The Burning Of The Newhall House Jan.10.1883.
© Photo
Lee Matz, Historic images provided by the Milwaukee Public Library