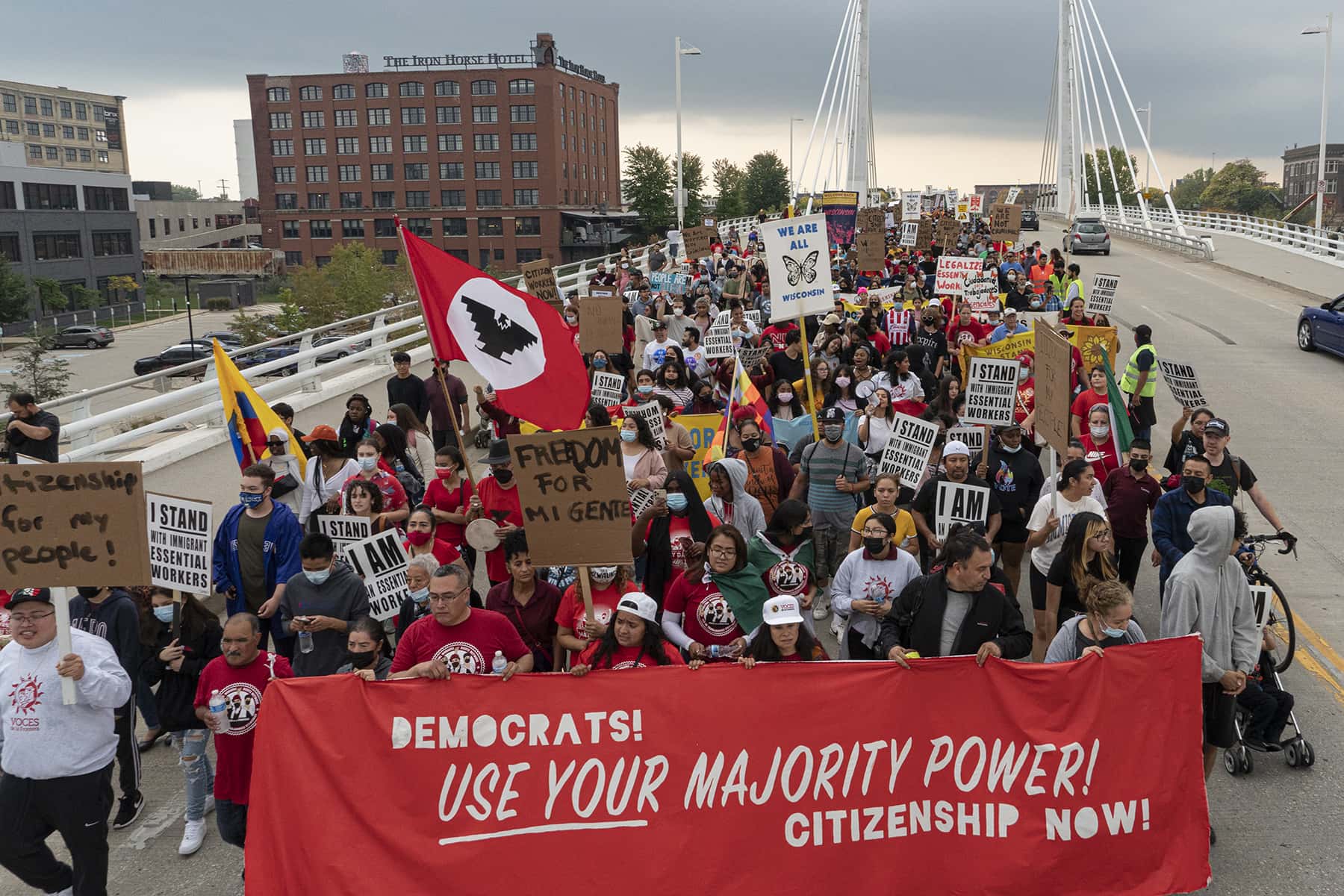 Essential workers in Wisconsin held a statewide "Day Without Latinxs and Immigrants" strike on October 11, Indigenous People's Day.
Thousands of supporters marched, sometimes during periods of heavy rain, from Milwaukee's Latinx-majority southside to the federal courthouse downtown for a closing rally. Others in the growing Latinx and immigrant workforce participated by refusing to work, go to school, or make any purchases the entire day. About 85% of the milk produced in the state of Wisconsin, America's Dairyland, is harvested by immigrants.
The strike initiated a wave of actions in other states, including Washington state, Illinois, and Florida this month, all prior to the October 31 deadline when Democrats will vote on the "Build Back Better" reconciliation budget bill.
The national immigrant rights movement was organizing to demand that Congressional Democrats and the Biden Administration use their majority power to overrule the Senate Parliamentarian and pass their Build Back Better reconciliation budget that includes $107 billion for a path to citizenship for millions of immigrant essential workers.
"It is one year to date that Vice President Harris, as a candidate for office, met with a delegation of immigrant essential workers and their families in Milwaukee and promised that, under the Biden-Harris administration, history would not repeat itself and they would pass immigration reform with a path to citizenship their first year in office," said Christine Neumann-Ortiz, Executive Director of Voces de la Frontera. "Now that Democrats have a majority in Congress and have the power to deliver on their promise, they must deliver a path to citizenship this year."
Democrats in both the U.S. House and Senate have voted in favor of the "Build Back Better" reconciliation budget that includes $107 billion for citizenship for millions of essential workers, Dreamers, TPS holders and farmworkers. However, on September 29 the Senate Parliamentarian rejected including a path to citizenship in the reconciliation package for a second time.
The Senate Parliamentarian is charged with interpreting Senate rules and her opinion is not binding. The decision comes despite multiple polls showing strong bipartisan support for creating a path to citizenship for immigrant essential workers, Dreamers, farm workers, and TPS holders through reconciliation.
"President Biden and Vice President Harris promised that they would pass a path to citizenship this year, and that is in danger of being lost," added Neumann-Ortiz.
Advocates contend that Congressional Democrats, President Biden, and Vice President Harris can and should choose to ignore the Parliamentarian's decision and deliver on their promises to pass a path to citizenship for millions this year.
"I've lived here for over 30 years as undocumented and it's been difficult, especially during the pandemic when I had to work longer hours and put my health and life at risk. It's necessary to win citizenship this year because it's time that this country recognizes us as human beings and our contributions as a workforce," said Eduardo Perea, an immigrant essential worker from Milwaukee. "Our time is now. To all my fellow immigrant essential workers watching – we can't remain in the shadows. We have to unite and march on October 11 and demand that our rights be respected."