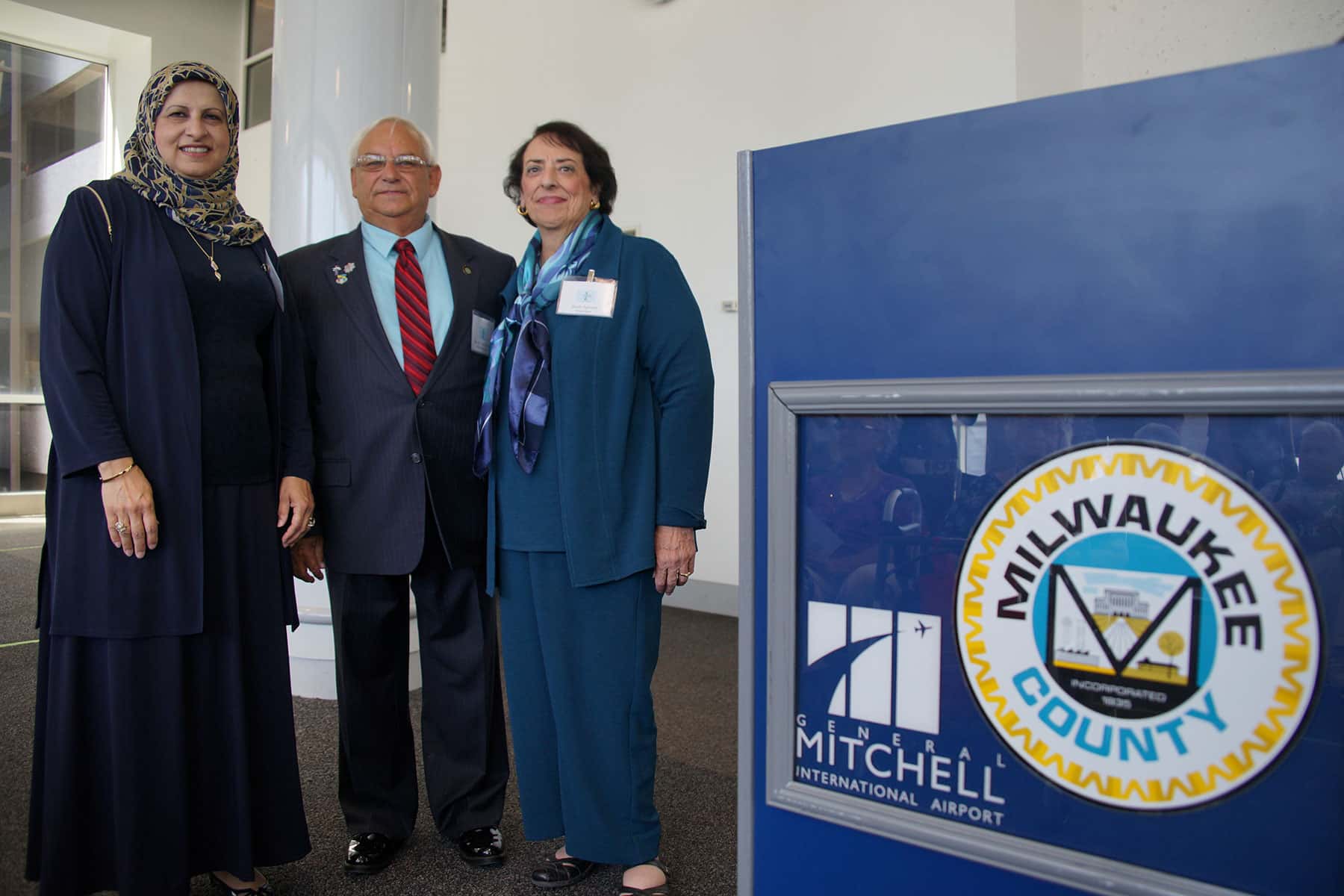 Approximately sixty years ago, the first airport chapel in the United States was built in Boston's Logan International Airport. According to the International Association of Civil Aviation Chaplains report, there are 150 world-wide chapels with at least 40 in the United States.
Eight years ago when it had been decided that St. Stephen, a small parish next to the airport, first built in 1847, would be demolished and a larger Church would be built in Oak Creek, the idea of an airport meditation room was launched.
Suzanne Mckinney, one of St. Stephen's parisheners and a nurse, began her research on how to get a meditation room at Milwaukee's General Mitchell International Airport. It became clear early on that this was not a one person job and required a group of committed people. Although St. Stephen's was a Catholic Parish, an airport meditation room needed to provide a designated space for private meditation, prayer, and public worship services for travelers, airport staff, and interested persons of all faiths.
One year later, I joined the board as the Muslim representative. At the time, the entire board consisted of Catholics, Lutherans, and a Jewish representative. The last seven years have been dedicated to getting approval from the Milwaukee County Board, which was unanimous, securing and working with an architect and builder, Plunkett Raysich Architects and Hunzinger Construction, and organizing dozens of fundraisers including church concerts, golf outing, and appeals by mail.
One of the first major fundraisers for the project was held at the Islamic Society of Milwaukee. The potential of a meditation room at the airport generated a tremendous amount of excitement in the Muslim community because for practicing Muslims, finding a secluded area to pray at airports is often a bigger headache than having your flight delayed. With five prayers every day, any Muslim traveler is bound to have at least one of their prayers while waiting for their flight.
But the most significant interaction between the board was finding common ground and ensuring inclusivity. Making sure the meditation room was inviting to all, including those of no faith, but who just wanted a place to meditate. Some board members had little interaction outside their faith and for some it was what they did every day. Eventually, everyone embraced the same vision of a neutral, peaceful, inviting space.
Seven years later, on July 19, 2017, the groundbreaking ceremony was held for the MKE Meditation Room at General Mitchell International Airport. It will be located adjacent to the east end of the airport's parking structure and the "3 North Skywalk." Attending the groundbreaking were current and former board members, the builder and architect, donors and airport administration, including the airport director, Ismael Bonilla.
Giving remarks were Suzanne Mckinney, Ruth Agrusa, the current board chair, Rev. Carl Krueger, acting chair, Janan Najeeb, Advisory board, and Airport director Ismael Bonilla. The attendees were all invited to write a message on a sheet of paper and drop it into a time capsule which will become a permanent part of the wall.
Milwaukee now joins the growing list of airport meditation rooms around the world. Providing a peaceful space for those that want to pray or those that just want to be with their thoughts on their way to a funeral.
There is still an opportunity to make a donation for the project at mkeairportmeditationroom.org, and have the name of a loved one engraved on the meditation room donor board.