Annual East Side tomato fight slings the red vegetable to help end hunger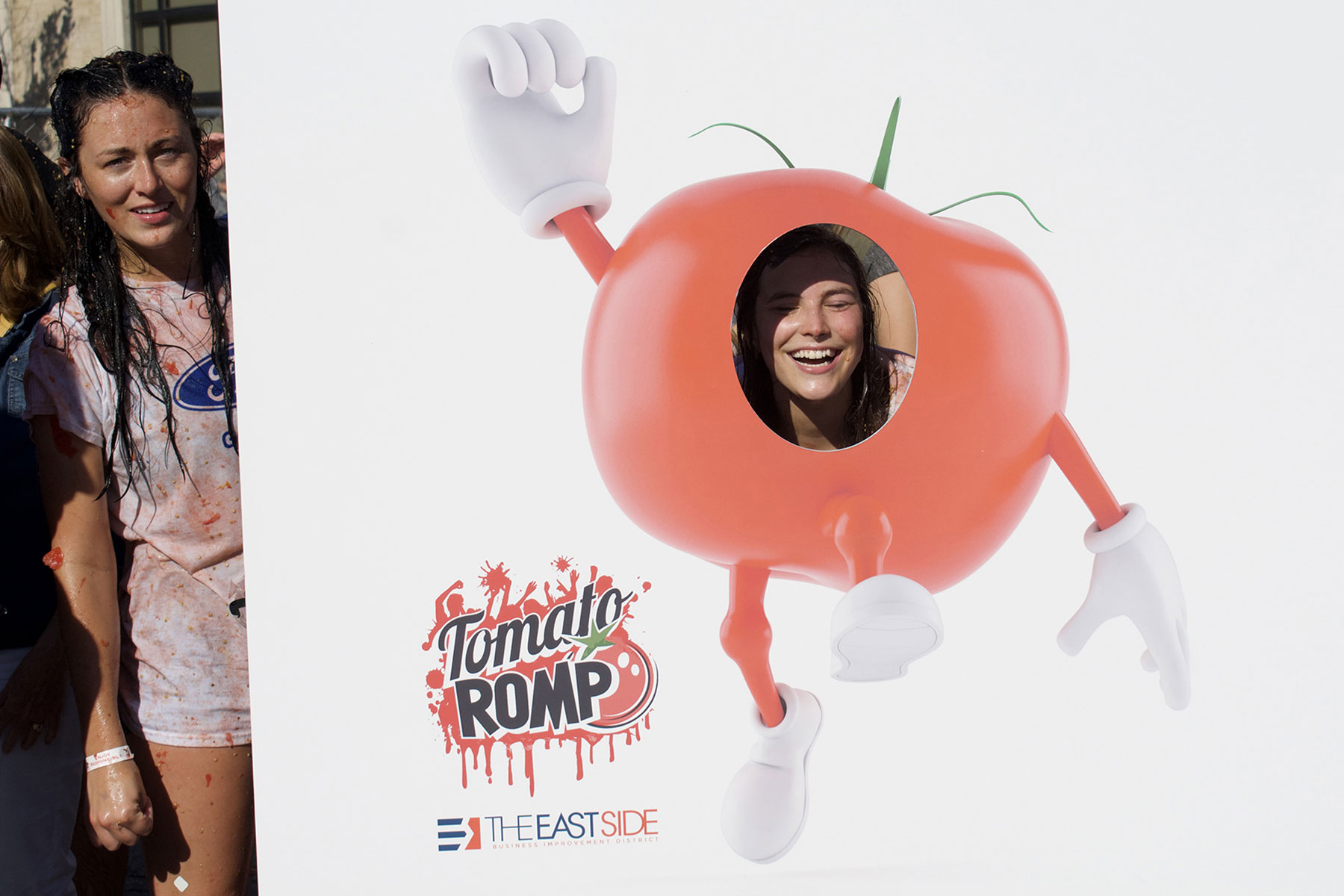 The 11th Annual Tomato Romp Festival, a day of eating, drinking and throwing over-ripe tomatoes, splattered Milwaukee's East Side September 9.
In 2006, the East Side made Milwaukee the first city in America to host a rotten tomato fight inspired by La Tomatina in Spain. Now the event is imitated in cities across the country including New York City, Chicago, Seattle, San Francisco, and Los Angeles.
Maglio Companies donated 8,000 pounds of inedible, over-ripe tomatoes for the tomato fight that took place Murray Avenue. It has become a tradition for many tomato fight fans to dress in costume for the fight, and a Best Costume prize was awarded during opening ceremonies.
All proceeds from the memorable fight are donated to help end hunger in our community. This year's event expects to raise a minimum of $3,000 for the Riverwest Food Pantry.
"We will allocate the money raised from the Tomato Romp to our Healthy Food Fund. 80% of shoppers in pantries report buying food they know is unhealthy for their family because they cannot afford fresh produce," said Vincent Noth, Executive Director of the Riverwest Food Pantry. "We've made a commitment to our community that we will promote and distribute the healthiest food possible. That's why we distribute more than 60,000 lbs of fresh produce and a growing portion of the 260,000 lbs. of food our 12,000 shoppers access annually is low sodium, no sugar and whole grain."
Hosted by East Side Business Improvement District, Tomato Romp is Wisconsin's only tomato festival, most known for its Rotten Tomato Fight for Hunger. The day's activities included an Absolut Vodka Bloody Mary Challenge among East North Avenue establishments to win the East Side's Best Bloody Mary title, the titular Tomato Romp tomato fight, as well as live music and a costume procession led by the Paradigm Drumline to the Tomato Fight.
"We look forward to the Tomato Romp all year on the East Side! This is a great opportunity to give back to the city while enjoying a lively day on the East Side," said Kristin Godfrey, Executive Director of the East Side BID. "The Tomato Romp is an excellent showcase of the community investment and sheer entertainment the East Side works to create. We truly appreciate all of our sponsors and Maglio Companies for making this event possible."