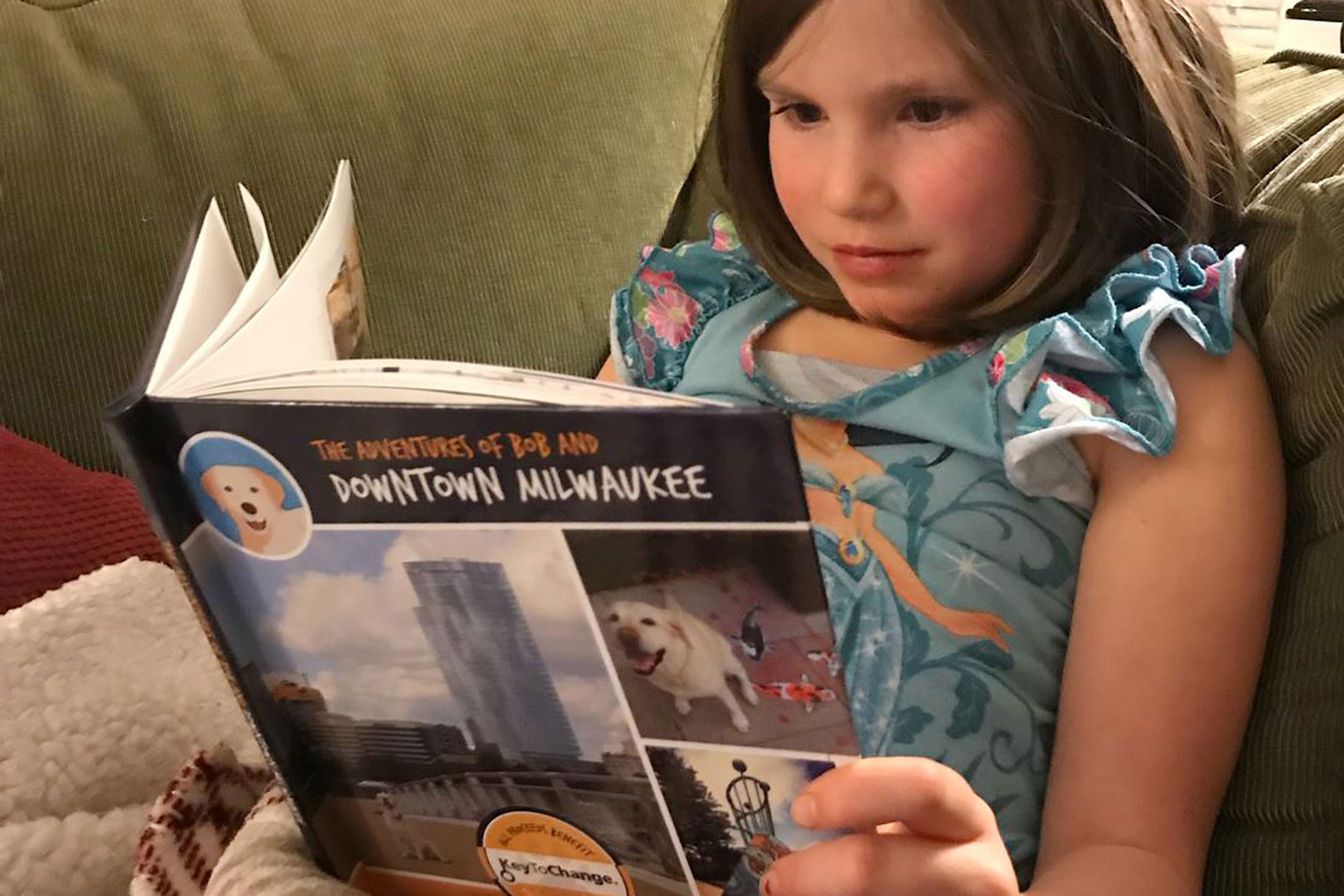 The Adventures of Bob and Downtown Milwaukee depicts a tale of "tails," as Bob the dog explores landmark attractions throughout the metropolitan area.
Produced and published by Shawna Nicols, daughter of Beth Weirick, CEO of Milwaukee Downtown BID #21, the book was release last month as a tribute to the legacy of Joe Weirick, the late Milwaukee real estate executive and husband of Beth Weirick.
With the development assistance of Graydient Creative, the new book about downtown Milwaukee is getting praise from pet and city lovers alike. Bob is the Weirick family's dog, and the central character who introduces readers to sights and landmarks around town.
All proceeds from the book will go toward Key to Change, an initiative created by Milwaukee Downtown, BID #21 to end chronic homelessness, in memory of Joe Weirick. The late Weirick was a board member of Milwaukee Downtown, BID #21 and the Milwaukee Riverwalk District, and played a key role in catalyzing the Milwaukee RiverWalk, The Shops of Grand Avenue, and former Reuss Federal Plaza now known as The Blue.
At the book launch event, Nicols talked about how she always wanted to make her mother proud about the things she did, and that designing the book was very special project for them both.
"Walking into that room, I was astonished by the enormity of love that was spilling out," said Beth Weirick, CEO of Milwaukee Downtown BID #21. "What Shawna created was more than just a book about our beloved family dog, Bob, and City, she created memories that honor the man that I so deeply love. Amazingly, in a way that not only commemorates Joe, but also supports something so near and dear to my heart and that is ending homelessness in this city we all call home — that's my daughter, such a kind and genuinely lovely human being."
Featured locations in The Adventures of Bob and Downtown Milwaukee include The Intermodal Station, Wisconsin Center, Hilton Milwaukee City Center, The Shops of Grand Avenue, Milwaukee RiverWalk, Bronze Fonz, Pere Marquette Park, InterContinental Milwaukee, Cathedral Square Park, Milwaukee Public Market, The Pfister Hotel, Betty Brinn Children's Museum and Milwaukee Art Museum.
"Joe Weirick's enthusiasm for downtown Milwaukee inspired me to write a book about the city my family and I love so much," said Shawna Nicols, publisher of "The Adventures of Bob and Downtown Milwaukee". "I hope to honor his legacy by furthering the initiatives he was so passionate about."
Downtown Milwaukee's campaign called Key to Change includes seven key-shaped coin parking meters throughout downtown. Donations are used to further the mission of Milwaukee County Housing Division's Housing First project, an initiative that recognizes housing as the first step toward stabilization. Since its launch in September 2017, Key to Change has raised more than $16,000 at meter locations and through online donations.