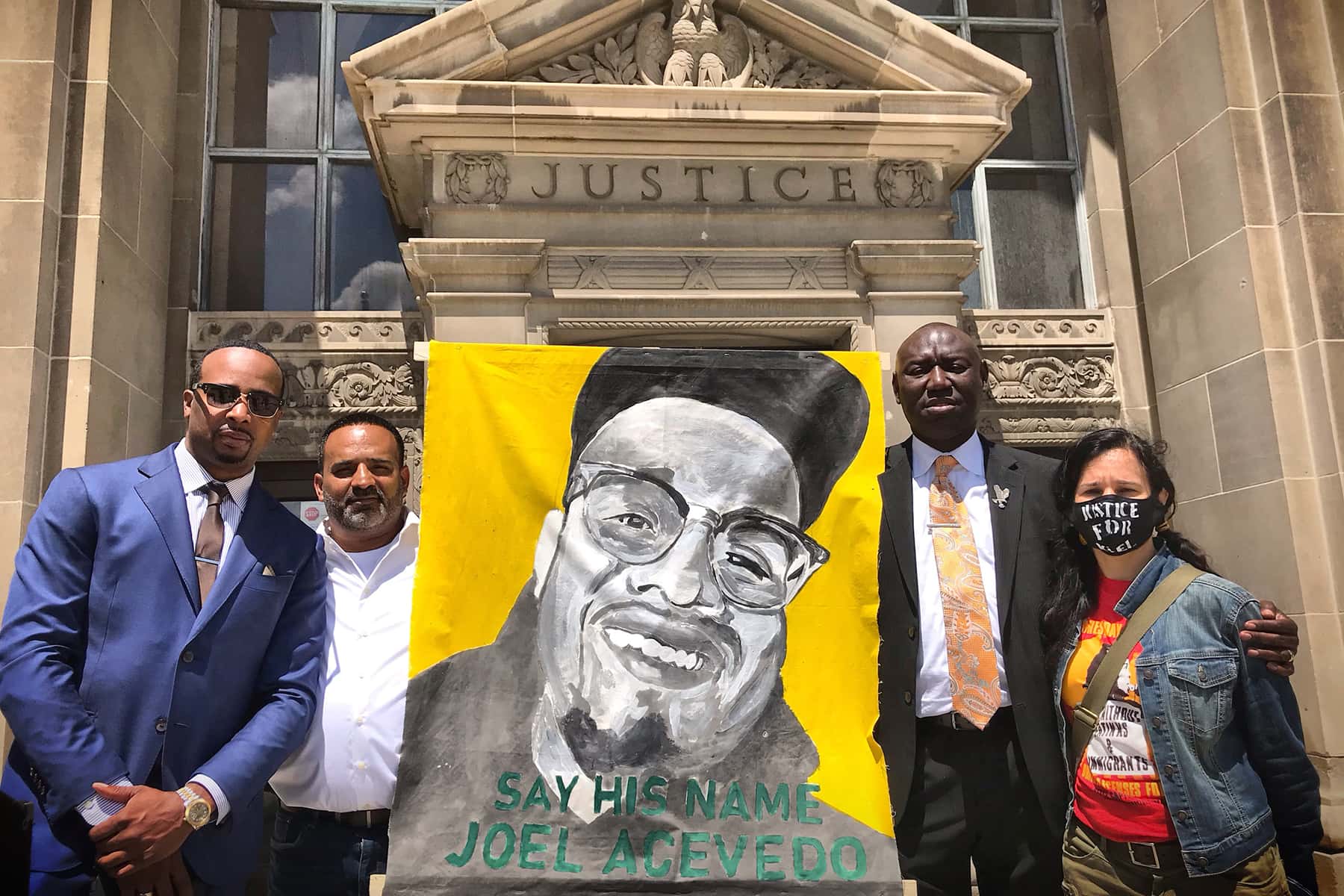 Following the death of George Floyd, civil rights attorney Benjamin Crump joined the legal team representing the Acevedo's family in Milwaukee to seek justice for the strangulation murder of Joel Acevedo by an off-duty Milwaukee police officer.
Facing a charge of first-degree reckless homicide, Mattioli appeared for the first time in a Milwaukee County courtroom on June 24 for his cash bond hearing, which was set at $50,000. A preliminary hearing was scheduled for July 13.
Outside the Milwaukee County Courthouse, protesters holding a "Black and Brown Lives Matter" banner called for the removal of Milwaukee Police Chief Alfonso Morales in the wake of what they believe was inaction in the case, and other killings by Milwaukee Police.
"They don't want to release the tapes because it's evidence of the crimes of those three men," said Maribel Acevedo, Joel's mother, after a preliminary court hearing June 24, 2020, for Michael Mattioli, her son's murderer, who is charged with reckless homicide,"
Voces de la Frontera joined with Joel Acevedo's family in demanding the immediate release of police body camera videos and the recording of the 911 call. Joel Acevedo's body was discovered by the Milwaukee City Police department, face down and unresponsive at the hands of Michael Mattioli and other unnamed participants.
Christine Neumann-Ortiz, Executive Director of Voces de la Frontera, spoke at the rally co-sponsored with Justice Wisconsin and Liberate Milwaukee to crowd of about two hundred. Other speakers included Markasa Tucker, African-American Roundtable; Liz Brown, Justice Wisconsin; Dwight Person, family of Tyrese West, Karen Simpson, family of Donte Shannon, and Cecil Lacy, family of Earnest Lacey.
"We're here to send a message to the judge, to Police Chief Alfonso Morales, and to elected leaders that Joel Acevedo's family is not alone," said Neumann-Ortiz. "We demand transparency in this painful process so the public can hear the 911 call and the videos of what happened, and that the two other police officers who collaborated in Joel's death be criminally charged."
Joel Acevedo was invited to attend a house party at the home of off-duty police officer Michael Mattioli on April 18. While the city was on lock down due to COVID-19, and law enforcement officers were issuing citations to those who did not adhere to stay at home restrictions, Mattioli – a sworn police officer – was not following the very rules that he was supposed to be enforcing.
"I have joined Attorney LaMarr, Kirk Claunch, and the Acevedo family in this fight for justice, because I do have faith in the justice system. I believe that no one is above the law – not even police officers," said Crump. "We must all be held accountable for our actions, and our team intends to make absolutely sure that those responsible for Joel Acevedo's death answer for their actions."
Attorney B'Ivory LaMarr said he believes that law enforcement officers have a difficult job, but that was what they signed up for. And in a system where liberty and justice for all should apply to all people, oftentimes law enforcement officers step outside of the law.
"At what point do we call a police officer's integrity into question? Do we wait until that officer kills another human being, or do we enact procedures and laws to ensure that we keep those who are sworn to protect and serve honest?" said LaMarr.
Mattioli has been suspended from active duty but not dismissed. Neumann-Ortiz, the Acevedo family, and those attending the demonstration demanded he be fired from the Milwaukee Police Department, that his two accessories be charged, and that Police Chief Alonso Morales be fired for refusing to terminate Mattioli and his record of non-collaboration with community organizations.
"The world saw that the police officer had a knee on George Floyd's neck for 8 minutes and 46 seconds," added Crump. "Based on the 911 call and the police body camera video, they choked Joel Acevedo even longer than they choked George Floyd. The tape shows him in a chokehold by Mattioli for more than ten minutes. He was unconscious when the police officer finally took his hands off of his neck, and he remained that way until he was pronounced dead six days later. I am representing this family with Attorney LaMarr because the police continue to literally choke the life out of Black and Brown people."
© Photo
Lee Matz and Voces de la Frontera
These headline links feature the daily news reports published by Milwaukee Independent about the George Floyd protests, the revival of the Black Lives Matter movement that followed, and their impact on the local community in for 8 months from May to December of 2020.